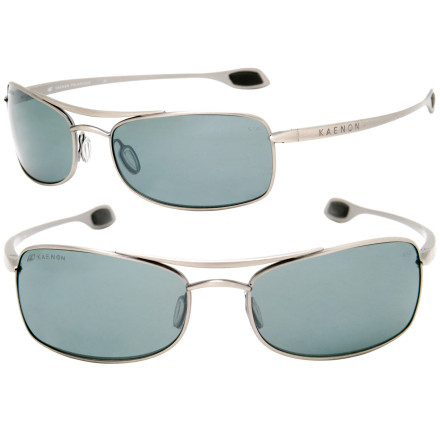 Videos
When you head out on your next lunch date, impress any girl with the smooth, aviator style of the Kaenon Polarized Basis Sunglasses. They'll also protect your eyes from UV and glare. The aviator-style metal frames include Kaenon's SR91 polarized lenses, which eliminate horizontal glare. Kaenon made these lenses with both glass and polycarbonate to keep the Basis Sunglasses lightweight, durable, and completely distortion-free. The Basis Sunglasses include Air Bag nosepads that keep these sunglasses on your face, instead of in your soup.
Kaenon Basis Sunglasses - Polarized
Kaenon Basis - clarity that needs to be believed
These shipped wicked fast and boy what a product. I got the ones with the C12 lens and they have amazing clarity. I have used Serengeti, Rayban, Oakley, MauiJIM and these Kaenons are above all. One just gets a different feeling wearing these. They are made in japan and the build quality is solid.

If I wish to buy another pair then I will go again for Kaenons with the grey lens but from now on it will be a Kaenon.
superior quality worth every penny
I have a few pair of kaenon sunglasses for fly fishing, they were recommended by my serious competitive sailing friends. they beat the pants off of smiths, Oakley, and revo.
I've been looking for a good pair of polarized sunglasses for a while and found a great pair!! The clarity was amazing and I was truly surprised at how much glare reduction there was with the G12 lens. And if your clumsy like me you'll like the SR-91 lens is impact resistant-that's awesome