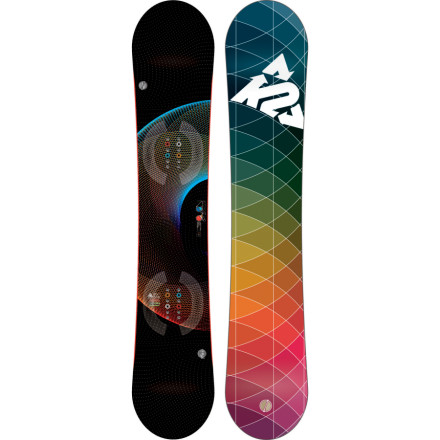 Looking to add more oomph to your riding, subtract from your impact on Mother Nature, and divide the ride between the park, pow, and bombing trees? The ultra-light, set-back twin K2 Zero Snowboard is the solution to the equation. Minimal materials reduce the manufacturing footprint and shave every unnecessary ounce, while K2's Flatline technology means you won't be restricted to any area, condition, or style.
K2 Flatline technology is a no-camber, no-rocker, no-bullshit approach to board building (the board is totally flat with a slight rise at tip and tail) ideal for your eclectic approach to all-terrain domination
Hybrilight is a 'minimal materials' construction technique that reduces weight to let you have more energy to fly high
Hybritaper reduces the amount of material (thinner core and cap construction) at the tip and tail for reduced swing weight
Hyper Progressive sidecut means mellow edge-to-edge transitions with firm hold at high speed for faster, aggressive all-mountain freeride domination
Lightweight Harshmellow polymer is a thin cushion that absorbs vibrations from speed chatter
Honeykomb on the lower part of the core center and outside of binding inserts increases strength while dramatically reducing overall weight
Carbon Matrix II strips extend out from the binding inserts to the edge at contact points for insane pop and reliable edge hold
Carbon-integrated, triaxial fiberglass topsheet traixial glass bottom sheet add stiffness and pop bolster the minimalistic, ultra-light core
What do you think about this product?
Have questions about this product?
This board as far as speed, handle, and just overall ability lets you go beyond what you thought u were capable of. The price may be a bit steep but once you get out on the mountain, you'll forget about it. also it's very tough so you won't need another board for a while nor will you get bored of it. my only complaint is how far back the bindings are set. Where I live in maine, there aren't as much powder days as out west. I try to go up to sunday river and do some off trail boarding when there is fresh deep snow to be ridden. This offset helps me not have a tired back leg. but when the fresh snow is more scarce and its all groomies, We like to take park runs and wat not and I dont no about every1 else but i prefure a centered stance for park. Overall, great amazing ride, not for the kid who only goes park. If you more of a rider, don't hesitate. park kids should go look into the www.