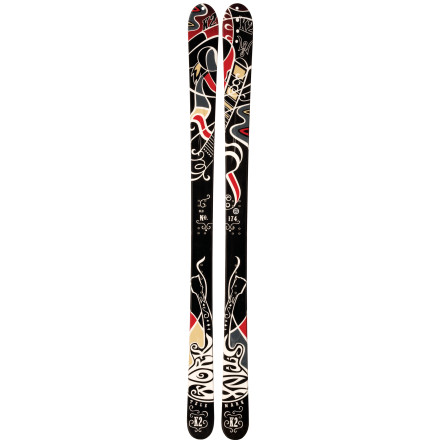 I bought the Work Stinx about two years ago after demoing a half dozen pairs of similar 80-90cm underfoot tele skis. The Work Stinx are super active and responsive on groomers while at the same time light and maneuverable enough to use for a backcountry touring. I found these to have less chatter than most K2 skis, however they won't charge through crud and powder the way some of the bigger 100cm+ underfoot skis do. Overall I love these skis, but will be turning them into my BC set up in favor of something beefier for pow and resort days. The only con I would point out is that the top sheet is not very durable or edge resistant. After a couple seasons my top sheets are so scarred they looks like they got attacked by a weed whacker.If you plan to use these primarily for resort skiing (80% or more of the time) I go for a fatter ski, especially if you like skiing in powder or find yourself in the crud all too often. However, if you ski BC a lot and want a great setup that rips on the resorts, this is a great "quiver of one" option. I mounted them with 22 Designs Hammerhead binding on, but have since replaced them with the new pivoting version from 22 Designs called the Axl.
I'm 5'3 and 135lbs what length of work...
I'm 5'3 and 135lbs what length of work stinx would be the best for me?
I'd say the 167s. I'm 5'9 and 150 and ski the 174s
I ski mostly eastern crud at Burke Mountain in Vermont, but I chose these after demoing many models out west. They are my first ever pair of K2s. I especially loved them in Spaulding Bowl at Copper Mountain. I don't have much technical jargon to say, because I don't know any, but they are really smooth all around in all conditions that I ski like woods, bumps, ungroomed, eastern powder, and even groomers and easy to maneuver vs some of the others I tried. Nice and fat, but great all around. The Atomics I tried were excellent too. Right on par with these. I almost went with them since I had a pair of TM22s for the east, but my wife got me these for Christmas....so that's what i got. The crazy graphics are not desirable to me, but no big deal. All around, these skis do it all and are perfect for the one-ski quiver.
I used these last season at The Canyons up in Park City. They were fantastic for powder days and also
great for backcountry. I prefer them backcountry over my World Pistes even though they are heavier.
They are noticably slower edge to edge compared to the World Piste as you'd expect. On the days when
there was no powder, I'd take my World Pistes into the bumps...this is the only place where the Work
Stinx didn't shine. I also mounted them aft with a pretty active binding and that helped.
I started telemarking last year and the local shop recommended these. I couldn't be more pleased. I ski at Loveland here in Colorado where the terrain is less groomed and more varied. The Work Stinx make life a lot easier Especially for a new telemark skier. I have the BD 02 bindings. Love them also!

You'll be pleased.... I can't wait to hit the backcountry with them.