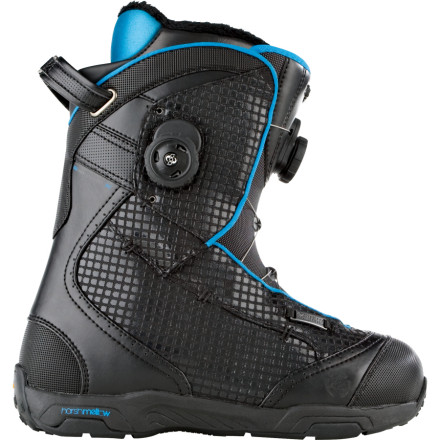 The T1 DB Snowboard Boot updates the K2 team's favorite boot with the twist-and-go convenience of double Boa lacing. Supportive, lightweight all-mountain performance has never been more convenient.
Intuition Pro-Form 3D Ultralon liner's heat-moldable, high-density foam provides lasting support and rebound at minimal weight
Dual independent Boa reels allow liner and shell tension adjustments without completely loosening your boots
Harshmellow dampening technology in soles and footbeds cushions harsh landings and reduces vibration
Vibram Super Light sole delivers slip-free grip without adding bulk
Micro-articulating cuff ensures a smooth flex throughout the boot's range of motion
Perfect boots.
Familiarity:

I've put it through the wringer
Warm, look great. Very adjustable. Fit amazing. Ive had these boots for 5 years and still wear them. They are insanely durable... They've probably seen 150 days with extensive back country hiking and they still look pretty much brand new.
I recently got these boots because they are one of the narrowest boots with a BOA lacing system. (Note to snowboard boot companies: women's feet do not stop at size 9 or 10, please make some larger boots, for intermediate/advanced riders, so we don't have to fight men's boots in order to ride.) I really like the feel of the boot and especially enjoy how stiff they are, I am a trained skier so I am used to relying on my boot for quick responses when on the snow. The BOA system is great, I'll never go back to another lacing system.
Best boots I've ever worn
Yep, they're stiff. But comfy. Super easy to get on and off, and they make my board feel like it's part of me! I'm not a big park rider; I love the trees, powder, and steep groomers, and these boots are perfect for that.

They do take a few days to fully break in, and they did make my feet numb when I tighten them too much, but they're so easy to adjust that I ended up loosening them for the lift and twisting them tight at the top.

Love love love these boots. Used them at Canyons resort and Mammoth so far.
These boots are just awesome! These replaced my DC Judges. This one is great if you are a powder rider. The response is amazing. I forgot how great my deck was until I rode with these boots. They are extremely comfortable. The Vibram sole is great for sticking to the board off those chairlifts. (I hate stomp pads). The harshmellow really is what they say they are. I find it a lot easier to go over bumps. The Boa lacing system is a must. It's easy, fast, and works a lot better than regular laces. Boa is very reliable. It reduces any pressure points on the boots. This is probably not your boot if you ride park. Any little adjustments you make will be directly translated to the board.
Got these boots this year, have worn them twice on the slopes. Super easy on and off, real comfortable on the mountain. Did not get them "heat molded," but they still rock. Will never buy a non-boa pair again. Solid boots overall!
Loved the boots -- off the groomers -- phenomenal in the powder. The response was the best, but beware, because of the stiffness, they love going fast. Sadly, after using them on the hill for a week, they were way too stiff for me and I ended up returning them. With going 60+ days a year I needed something for the days I spend entirely in the resort boundaries.

If you're looking for an ultra-stiff, max-response boot, these are definitely the best.
Great boot. Pretty stiff for aggresive riding and will take a couple trips to break them in, but holy smokes these are great boots. Comfy as hell and very fast acing system.
Jus tried these on in a local shop... amazed at how comfortable and stiff in the right places. These boots are definitely at the top of my christmas list, and I'd recommend anyone looking for killer boots at least try these on. Keep in mind they have a 3-4 day break in period as well, and use real leather (take care of em!)
, ☃bcs_badge_alumni_label☃
2010/2011 K2 T1 DB Snowboard Boot
The T1 DB Snowboard Boot updates the K2 team's favorite boot with the twist-and-go convenience of double Boa lacing. Supportive, lightweight all-mountain performance has never been more convenient.