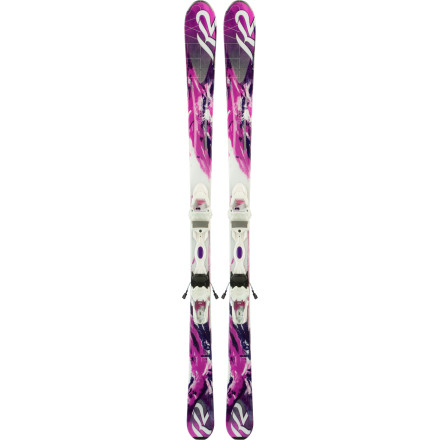 Videos
If you've only skied on rentals or hand-me-downs, the first thing you'll notice once you click into the K2 SuperSweet Ski with Marker ER3 10.0 Binding and glide down a groomer is how smoothly it carves. Hone your skills without worry with this easy-turn pair of skis. The All-Terrain Rocker gives you elevated rocker in the tip and tails for a little loft as you discover what that whole skiing-in-powder thing is all about, and camber underfoot to give you solid edge contact when you make turns. A composite core with Mod Technology, provides the ski with a focused dampener that keeps chatter to a minimum for a peaceful ride.
With 118/74/103 dimensions, the SuperSweet boasts a platform that's stable and has a deep sidecut for sweet, not sweaty, turns. Cap construction with torsion box offer a light and spry, yet stable, feel. The Marker ER3 10.0 binding with Energy Response Plate is lightweight and works with the SuperSweet ski for a smooth flex and efficient movement.

The Marker ER3 10.0 Binding is designed for women; it is shorter than the men's system, which allows the ski to flex more smoothly while reducing weight. Ideal for the recreational to advanced skier, the system utilizes a lighter Compact Toe and a fixed Compact2 Heel to generate more power, precision, and quickness underfoot. The DIN reaches to 10 to accommodate various levels and needs of safety and responsiveness.
Camber underfoot with elevated (rocker) tip
Torsion box, cap construction
Mod Technology
Composite core
74mm waist
Marker ER3 10.0 Binding DIN range of 2.5-10
What do you think about this product?
Have questions about this product?
K2 SuperSweet Ski with Marker ER3 10.0
Skifreak, haven't skied in some years so...
Skifreak, haven't skied in some years so am not replacing anything . I just bought my daughter her first skis and took her skiing and she loved it so i was looking into getting some skis again and these caught my eye but I was also looking at the superific's too
Best Answer
Well I think the 160cm is the right choice. It will bring versatility and allow you to improve without feeling like you need to buy another set. The Superific will be one notch higher performance with its wood core vs a composite core, little bit wider for stability, and again just allow more room for improvement. Little bit more money and then up to you which color of ski you want to look at:)



Feel free to pick my brain if you have any other questions.
If I am 5"7 what size ski should I use?...
If I am 5"7 what size ski should I use? Could I use the 160's?
Best Answer
That should work well for your size. Going down to the 153cm will hinder your deep snow performance. If you are a beginner then you could get away with the 153cm but intermediate to advanced or at least improving I would say 160cm.



What skis are these replacing and what size are they?