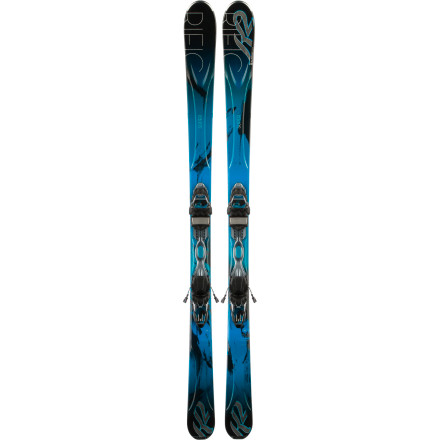 Videos
The K2 Women's Superific Ski with Marker ER3 10.0 Binding is a fun-loving and relatively forgiving ski that is happy not choosing sides. Lightweight and bouncy, the Superific loves to show off her curves. But the Superific has a serious side, too, for when the crud level exceeds your first ex-boyfriend. If you're ready for a bit more ski, and a bit more adventure on the mountain, grab the Superific.
This ski's all-terrain rocker profile offers an elevated tip for softer snow, and 100% edge contact when the ski is weighted into a turn. Keeping your nose in the air isn't snobby, it's helpful for avoiding tip-dives on variable terrain. Full edge contact lets you keep a grip on reality when you're cutting curves down the hill.
K2 created a line of wood cores, dubbed BioFlex, specifically for women to provide a smooth-flexing ski with less swingweight than the men's skis. The Superific core is a 60-40 blend of aspen and paulownia, with dense, strong aspen underfoot and lightweight, flexible paulownia flowing outward to the tips. You get an easily controlled ski that doesn't suck your energy into a snowy vacuum when you're trying turn. Triaxial braiding is K2's unique method for applying fiberglass reinforcements to a wood core. The end result is a ski with torsional rigidity and strength that still bops along like a love-struck teenager. A separate, secondary core, MOD technology, is applied over the primary wood core to absorb vibrations and quiet the ride. Because MOD and the wood core are distinct entities, neither interferes with the other's performance or function.
Unless you plan on decorating a den with skis, bindings are essential to ski function. K2 teamed with Marker to create the ER3 binding. The ER3 is shorter and softer than men's bindings, giving you smoother flexing without the weight. The toe is 20% lighter than before, and a fixed heel design generates power, precision and responsiveness under foot. With a DIN range of 3.0 to 10.0, this binding will work with you from the bunny hills to the blue-black bumps (not bruises).

All-terrain rocker (30% rocker, 70% camber)
Cap construction
BioFlex 1 core (40% paulownia, 60% aspen)
76mm underfoot
Attached K2/Marker ER3 10.0 binding
What do you think about this product?
Have questions about this product?
K2 Superific Ski with Marker ER3 10.0