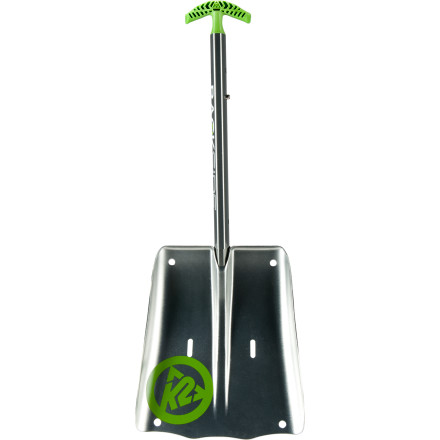 Videos
The K2 Speed Shovel keeps it simple, light, and quick. Light weight, quick deployment, and quick shoveling are ideal for both traveling in the backcountry and operating in the event of an avalanche burial. The best part? You sacrifice nothing in order to reap the benefits of this fully capable yet easy-on-your back shovel.
Lightweight aluminum shaft and blade mean less weight on your back without sacrifice to integrity or durability
T-Grip handle shape gives you the most secure hold on your shovel while you dig or chop
Extendable shaft operates by unlocking the lower shaft via a small push-button that operates quickly and easily, even with gloves on
Rectangular blade shape tapers out at the end and the edge has a wavy shape to provide extra leverage against ice
Blade has small holes that can be used to thread webbing or rope through in order to make a deadman's anchor or rescue sled (with skis)
What do you think about this product?
Have questions about this product?