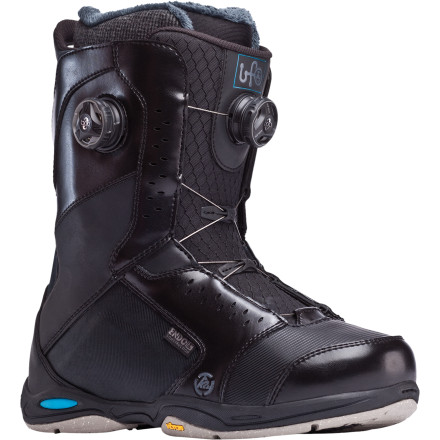 Videos

Community Images
Whether you believe the rumors of UFOs or not, most of the stories usually center around tales of unbelievable technology. It shouldn't come as a surprise then that the K2 Men's UFO Boa Snowboard Boot boasts out-of-this-world technology like Endo construction, Boa Conda liner lacing, and the Super Light Vibram with Harshmellow outsole for superb comfort, response, traction, and shock absorption. Slightly less stiff than the Thraxis, this boot is for riders who need a lot of support for all-mountain charging, but still want something soft enough to have fun when surfing mellow powder runs or cruising through the park.

A comfy boot is worthless if it doesn't keep your foot in place, which is why the UFO has a Double Boa lacing system to ensure the right fit for you. Boa lacing on the shell lets you dial in the perfect fit one click at a time, and a Boa Conda liner lacing system tightens around the liner to securely lock your ankle in place to prevent heel lift and foot fatigue. Endo construction uses a urethane structure will flex zones that increase in stiffness towards the spine of the boot to provide additional support and a lively feel. An Intuition Pro Foam 3D liner molds to the shape of your foot for a comfy, custom fit, which, along with the Triple Boa system and Endo structure, improves response and board feel by making the boot feel like an extension of your foot.

The Vibram ProLite outsole is rugged and tough to ensure traction and durability whether you're crossing icy traverses mid-winter or scrambling up rocks for late season corn shredding. High-rebound Harshmellow cushioning in the heel and forefoot dampens vibrations for a smoother ride and absorbs shock to make landings softer and more controlled, and Harshmellow is also featured in the dual-density EVA footbed for even more cushioning without sacrificing response. Whether you're scaling sketchy peaks in the backcountry or charging double blacks at the resort, the UFO is ready to take on the challenge and leave onlookers speculating as to what exactly it was that just flew by them.


Boa lacing system
Boa Conda liner lacing
Intuition Pro Foam 3D liner
3D-formed dual-density EVA footbed with Harshmellow
Endo construction
Moldable internal J-bars
Integrated power strap
Dual-density 3D-formed tongue
Vibram ProLite outsole with Harshmellow cushioning
Even 40 grams lighter than K2 T1 DB was
Just received them and they look great.

Compared them to K2 T1DB (same size = 11 US, but y2k10 ) and they are:

- 40 grams lighter

- Narrower near to the sole (as result fit Rome Targa without issues T1DB has)

- Materials looks more durable

- Inner boot feels more comfortable

- Same footprint

All other things seems on the same perfect level
Wanted to upgrade from my favorite boots. My k2 maysis we're about 3 years old and had over 100 days on them and I still love them. Saw these on sale, and figured I would go for it.



The are amazingly comfortable! I love them! Can't wait to try them next winter.



I had purchased 2014 burton ions, rode them once, and immediately went back to my maysis!



I agree with everything the previous reviewer has mentioned
Very good, stiff and responsive boot
I put these boots head to head with Burton SLX, Burton ION and Burton Imperials, literally one on each foot on several occasions. I have narrow ankles and have a very hard time finding boots that fit well without ankle lift. I was looking for a medium stiff boot and have gone through a pair of SLX every 2 years, so my expectations were high - I wanted a light, semi stiff, responsive, low profile, reduced footprint boot. At first I was really humbled by how stiff these are and how to properly tighten the BOA. After 6 days or so, as well as wearing them around the house for hours on end, these broke in nicely. They are very responsive (more so than any of the boots I tried), light (1 lb lighter, per boot, than the SLX) have a very reduced footprint (even more than the Burtons!) I am really really impressed with these. If they work for me and my ridiculously high expectations, they will work for you! These are the boots for free riding, turning big boards, charging hard, hiking to that special spot, kicking back, walking the dog in a blizzard and just maximizing the hell out of your snowboarding abilities. Like I said, it was downright frustrating the first few days, but SO worth it now. It pushed me and my abilities in a good way. These are man boots for sure. For reference these were used on 165 Lib Tech Skunk Ape and 164 Jones Flaghship and I am 6'1" 200lb size 11.
K2 Snowboards UFO Boa Snowboard Boot