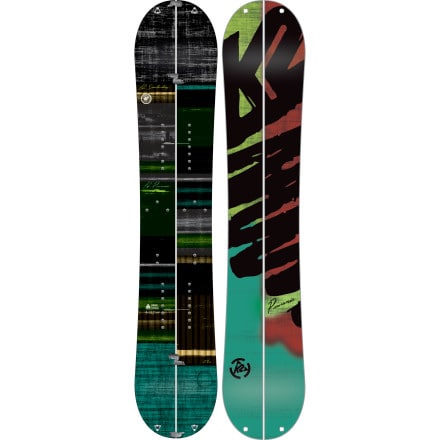 Videos
Description
Escape to the land of milk and honey … or cornices and faceshots.
If your nightmares are filled with images of circling a full parking lot like a vulture, waiting forty minutes in a nebulous liftline, dodging skiers on chaotic cat tracks, or having tourists ruin the powder before you get there, than you need to find a new vantage point with the K2 Panoramic Splitboard. The Panoramic features an array of technology to get you charging pristine powder; just snap it together and go.
The All Terrain Baseline profile is mostly flat for stability, with more rocker at the tip to keep you afloat in deep snow and less rocker at the tail to prevent wheelies when landing. Carbon Web II carbon stringers improve power transfer to make the board more responsive for greater control at high speeds, which is what you want when pointing it down ass-puckering couloirs. They used a Bambooyah bamboo core for its high strength-to-weight ratio and poppy feel, plus it's a highly sustainable natural resource, so bonus points to K2 for eco-friendliness.
A directional shape and setback stance floats better in powder, and it allows for more powerful carves and quicker direction changes. The sintered base is fast to keep you flying down steeps and cruising across flats, and it's extremely durable to withstand the occasional sneak attack from buried rocks. So unless you enjoy getting cut off by gapers in one-pieces every day, take the scenic route on the Panoramic.

Mostly flat profile with medium rocker in the tip and lower rocker at the tail
Hyper Progressive directional shape
Hybrilight cap and sandwich construction
Biax glass with Carbon Web II carbon stringers
Bambooyah Split bamboo core
Sintered base
Voile board clips
Two-point Z-Clip skin attachments at tip and tail
Splitboard hardware and skins not included