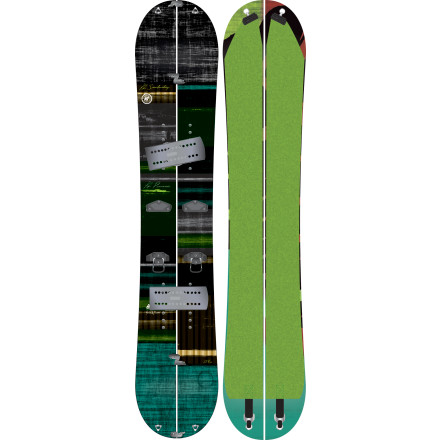 Videos

Community Images
The K2 Panoramic Splitboard opens up whole new possibilities to the powder hound in search of untouched stashes. So, your buddies called and asked if you'd like to go spend a hundred bucks on a lift ticket to to ride bumped-out hard pack with a bunch of skiers. Take a rain check and step into the white room.

The Panoramic starts with K2's All Terrain baseline profile. This hybrid rocker profile employs slightly higher rise at the the tip than the tail to give the Panoramic a loose buttery feel while maintaining responsive edge control and loads of pop. The directional shape uses K2's Hyper Progressive sidecut, with an infinite number of turn radii that progress from mellow at the tips to aggressive between the bindings. The result is a predictable feel with tons of control, but with mellow, non-hooking contact points at the tip and tail. It's K2's perfect blend of precision and forgiveness.
The Panoramic uses K2's splitboard-specific Hybrilight construction. This hybrid construction uses a constant-thickness sidewall for lighter weight and less material used, which is also better for the environment. The Bambooyah Blend core is made with a blend of renewable woods and ultralight, ultra-strong bamboo reinforcements and Carbon Web II stringers. K2 finished off the recipe with the ultra-fast, low-static Ø sintered base.
The Panoramic Splitboard Kit comes with the Voile Splitboard Kit. This package includes all the hardware, Universal Slider Tracks and Slider Pins, and step by step instructions to turn your K2 Splitboard into an all-terrain backcountry exploration machine. The Split Kit works with nearly any binding and board combination. The Panoramic Splitboard Kit also comes with K2's Splitboard Skins. The skins come with K2's innovative Z-Clips, which clip at an angle for a more secure hold on both the nose and the tail.

All Terrain Baseline Profile
Tweekend elongated tip and tail rocker
Hyper Progressive All Terrain shape
Bambooyah bamboo core
Pre-loaded carbon, KEVLAR®, and fiberglass Ollie Bar
Ø sintered base
Voile splitboard kit hardware and pre-cut skins included
Great set up for getting into splitting!
Familiarity:

I've put it through the wringer
I actually have the 11/12 version of this (without the tweekend tip and tail) and have used it several times - with the stock Voile kit as well as Spark Burner bindings (also 11/12 model) and LT Pin system. I am 6'1" 200lb and have the 162. Used with Burton SLX, K2 UFO and other boots, all sized 11. This board is very well designed! The skins are the best I have ever used. They are made be a Swiss company and they skin up anything. Better than the Voile, BD or G3 Aplinist skins. Plus you get the standard Voile kit, all you need is your snowboard bindings and you are set. Pretty sweet. You can not go wrong with this kit if you are getting into the sport. I lent it to a buddy today for his first time splitting and he kicked my butt up the hill (thanks to the great skins this comes with) was able to transition to ride mode quickly and had a blast on the way down. The flat base to rockered nose and tail are easy to climb with and even better to ride with! I have used a few other split boards (Voile Mojo 162 and Venture Storm 166) and the K2 was the easiest to control, the lightest construction and idiot proof. Seriously. The skins are already cut for you, there are specific holes for the skins to attach to thus eliminating any possible misalignment, comes with awesome skin savers, nice pouch to store them in and all the gear you need to get out there. And at the price it is currently at its a steal! Go get your avy training, beacon, shovel, probe, compactor poles and this kit and enjoy the journey!
Hello, I am seriously considering buying...
Hello,

I am seriously considering buying this K2 splitboard kit as my first split board. The only issue that I have is whether the stance width will be sufficient for me as I am a bigger guy (6'4) and usually go for the maximum stance to be comfortable.

Is the mentioned stance width (23 inches for 168 board) the maximum possible width that can be adjusted or medium stance width? I am riding Lib Tech T. Rice regular board which has maximum stance of around 25 inches so I am little worried if this wouldn't be a problem.

Thank you.
Miro,



This board can handle a much wider stance than 23 inches. 23 inches is the "recommended" stance width for that size. I would assume you would be able to cowboy up to the 26 in range.



Give me a call at 1-800-409-4502 ext 4420 and we can talk about this further. If email is better kbrady@backcountry.com.
This board is awesome. I love the flat camber for skinning, seems to grip better than the reverse camber ultra split. The voile plates are a bit outdated compared to new tech but they get the job done. Be sure to keep the weight in mind if you have heavy binders like I do, makes longer tours a bit more exhausting. Other than that this thing rips right out of the box! I am just under 6 feet tall and weigh 175lbs. The162cm is the best fit for me.
First day out split boarding was a lot of work but a lot of fun. I would definitely recommend this kit to anyone just getting into split boarding. The skins did a fair amount of slipping on the steeper hills but that could have been because it was below zero, with warmer temps I think they will be fine.



I'm 5'11'' and I bought he 158
Solid all around kit
Familiarity:

I've used it several times
Haven't put this board through the ringer yet. But after many week long trips and day trips I have good first impressions. First of all, It's not as straight forward or as easy as I thought it would be to set up. feels as if voile is still in the first years of prototyping although its been in production for years and years. Once it is set up it is bomber and very simple. The board itself is top notch, rides great and is good for skinning. Next year I plan to get splitboard specific bindings that I think will make the whole set up feel a lot better.



all in all, the only complaint I have is against the voile kit being very finicky to set up. All K2 branded stuff the kit comes with is the best it gets for the price. To be honest the K2 Backside skins are the best I've ever used.
K2 Snowboards Panoramic Splitboard Kit