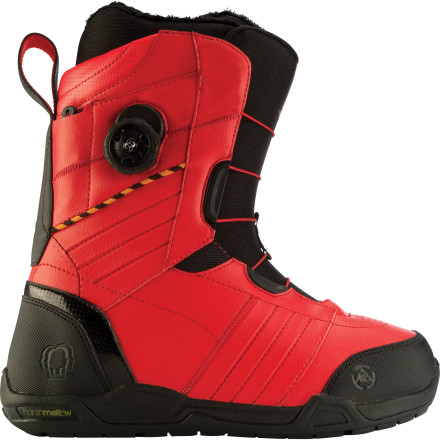 'This is the new that,, 'blah blah is the new wah wha,' and so on … but here is one truth, The K2 New Black Snowboard Boot IS the new black. Well, actually, it is built upon the successful Darko model but it has been augmented with K2's handy Speedlace system. The New Black packs a progression-inducing punch to features all over the mountain, be it park or bottomless powder.
Fast-In Speedlace System lets you speedily snug up your laces without all the hassle and frozen fingers
BOA Conda system lets you tighten your liner laces from the outside with a twist of the dial
Intuition Control-Foam 3D liner blends thermo-forming Ultralon foam and standard foam for dialed-in fit and comfort
3D formed EVA footbed with Harshmellow shock-absorption means you can stomp without the aftershock
Harshmellow is embedded in the Performance outsole, too, to cut the weight as well as negative vibrations
What do you think about this product?
Have questions about this product?
BOA lace lives true to its name
Im a big fan of k2 snowboards so I thought I'd give the boots a shot. It was super convenient to get in and out of the boots with the BOA and it allows for the micro adjustments so it hugs your foot perfectly. The harshmellow dampening definitely does it job of cutting out the chatter when in crud. However, it also reduces feedback to the rider. It depends on what you dig from a boot - dampening or feedback.

At this point, I wouldve given the boots 4 stars... until i wanted to get out of my boots at the end of the day. The BOA lace got stuck and I had to struggle to get my foot out for over 30 minutes. I was even considering going over to ski patrol so they can extricate me from my boot. It got a 1 way ticket back to backcountry. Good product but the BOA system needs some work. This should never happen.
2011 - 2012 K2 New Black Snowboarding Boots