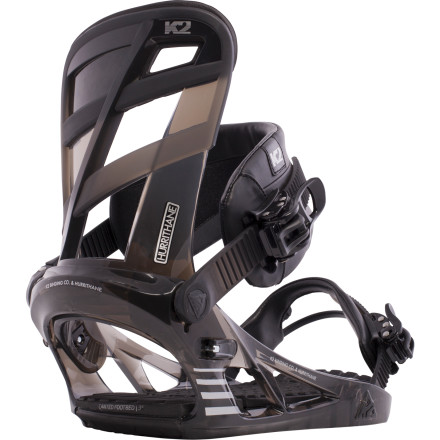 Detail Images

Videos
Description
Built to tweak.
The K2 Hurrithane Snowboard Binding is the one that started the urethane-highback craze a few years back. Since then, the Hurrithane has lost weight and taken greater advantage of its flexible highbacks to make it one of the most comfortable and natural-feeling bindings in the park.

The first thing you'll notice when riding the Hurrithane is the urethane highback. Its soft flex allows you to tweak grabs and slides like never before while also improving comfort. The baseplate is K2's Pro Fusion PC, a soft-flexing polycarbonate chassis with Tool-Less Power Ramp adjustments for on-hill tuning. The canted, seamless EVA footbed cushions hard landings while compensating for the natural angle of the ankle and foot.
Super-cush Custom Caddi ankle straps eliminate pressure points and the cored-out toe straps grip your boots securely, yet comfortably. The Mega RADchet ratchets with Easy Feed Housing are equipped with oversized aluminum levers that are extremely durable and easy to use, even with your gloves on.

Tweekback FS urethane highback
Pro-Fusion baseplate
Canted seamless EVA footbed
Universal disc
Custom Caddi ankle strap
Tool-Less Universal toe strap
Medium-soft flex
Share your thoughts
What do you think of the
K2 Snowboards
Hurrithane Snowboard Binding
? Share a...
So I have a question along the same lines as Emma. I'm in the same situation. I ordered medium bindings cuz that's what I typically use and didn't see the recommended sizing until the box made it to my house. I too have size 9 boots (http://www.amazon.com/Burton-Shaun-White-Snowboard-Boots/dp/B00K7ING2E) but I don't believe they have the shrinkage technology mentioned below. I guess the thing to do is try them together on my board and see if they fit? Are there any red flags I should look out for? I won't have access to snow until October so I can't actually try them out any time soon :(.
Hey there,

I'd recommend going with a Large for the best fit to keep your feet in the bindings securely and comfortably most importantly. Sizing depends on the size of the board the bindings will be mounted to, also whether it's a men's board or a women's board. A good way to tell if they'll work for you or not is to set up the board on carpet and strap yourself in with the boots on and check to see how far your toe hangs off of the board, and if there's any gaps or spaces in the heel of the binding (RED FLAG). Also, if the binding straps are not fully covering your toe you can adjust them to fit, keep in mind the straps are larger on the Large than the Mediums, so they may fit better since you are outside of the higher side of the Medium binding.

Check out the link below for K2's sizing chart of their binidngs for reference.
http://en-us.k2snowboarding.com/bindings/formula?color=black
Using Burton Moto boots in size 9 and made the mistake of going off of Burton's binding chart instead of K2's binding chart.
K2 says I should use L sized bindings for boots 8-11, but ordered M even though my Burton boots are 9. Not sure how much their sizing varies between brands. Was also afraid L bindings will hang over the edge of my 147cm Women's board , but don't want them to be too small either. What do you recommend? (I don't have the board on me for comparison) but here is a picture. Are these bindings way too small?

Emma,

For starters I'd put the boot on your foot and then insert it into the binding. That will be your biggest determining factor. Right now without your foot in the boot, when you ratchet down the straps you have the ability to compress the boot and get a false sense of fit. With your foot in the boot, you'll be able to gauge how far down each strap you're able to ratchet and if there are any pressure points.

Going by the photos, the bindings look like they work nicely for your boots. For your board, your binding size won't affect the toe drag as the bindings wont change your boot sole length.

Keep in mind a size 9 burton moto will have the footprint of a size 8 because of the "Shrinkage FootPrint Reduction" so you'r benefiting big time there (for preventing toe drag). What board model and length did you get?

Shoot me an email anytime you have questions!

Jared D.
Expert Gearhead
801.736.4336
jdowns@backcountry.com e
K2 Hurrithane Snowboard Binding