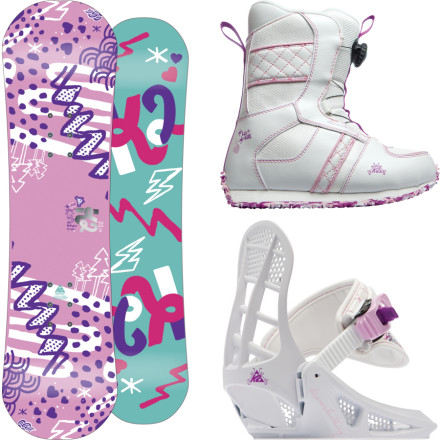 Get the complete K2 Girls' Grom Package S and she'll have everything she needs for a couple great winter seasons. This K2 girls' package features the K2 Lil Kandi Snowboard, Lil Kat Snowboard Binding and Kat Boa Snowboard Boot. One of the few packages out there designed for little girls who love to rip, the K2 Grom Package S will save you the hassle of rentals and save money over time so you can add a few bucks to the Harvard fund.
K2 Lil Kandi Snowboard: tip-to-tail full wood core delivers proven durability and flex, Catchfree Technology gives her a forgiving blend of response and edge hold so she can progress faster, and Hybrilight Construction lowers weight for easier maneuverability without sacrificing stability
K2 Lil Kat Snowboard Binding: integrated chassis/highback is easily adjustable to three different lengths to accommodate growth spurts, EZ Feed ratchets mean less fuss with strapping in
K2 Kat Boa Snowboard Boot: Boa lacing system eliminates lacing hassle, sizing shims allow the boot to grow two full sizes to keep up with growth spurts, EVA insole delivers cushy comfort, internal J-bars dial in support
Unanswered Question
My daughter is 7 years old and wears a...
My daughter is 7 years old and wears a size 1 regular shoe. Does she fit this product?
110cm for the 2 and 3...120 cm for the 4 and 5
What is V-rocker technology and should the...
What is V-rocker technology and should the board I buy my daughter (14 Year old) have it?
There are a few kinds of rockers out there, but the most popular is a rocker in-between the feet. It makes the board come to a distinct point between the feet which raises the tip and tail of the board (and thus the contact points) off the snow. This allows for a really loose and catch free ride and also (if she ventures into the terrain park) allows for more fun on rails and boxes. I totally recommend v rocker because it makes the board much looser and easier to turn but also a lot of fun to ride around the mountain. If she is a beginner she will progress much faster on it. If she has more experience riding she'll have a ton of fun on it. I'm an advanced all mountain rider and intermediate park rider and I just switched to a v rocker board and I've never had more fun on a board nor have I ridden a better feeling board around on the hill. Go for it!