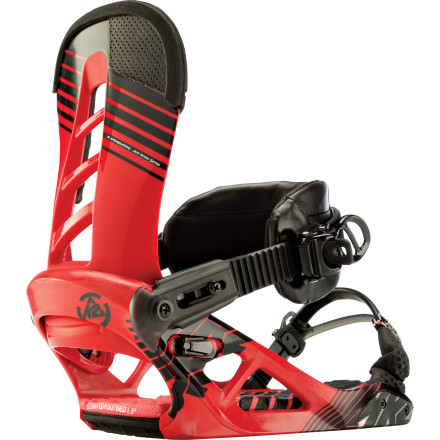 Revolutionize the connection to your deck and the mountain with the K2 Uprise Snowboard Bindings. These lightweight bindings feature EZ-Set Auto tech that allows you to adjust your ankle and toe straps with a single ratchet. Strapping in quickly is just the beginning. You'll be on your way down the mountain while your friends are still struggling to dial in their straps, but the advantages of an asymmetrical highback, cushy straps, and Harshmellow shockpads will also creep into your flow.
Made from fiberglass-reinforced nylon, the Auto Chassis delivers a performance flex to please advanced riders anywhere on the mountain
RockLock Highbacks feature asym shapes that will match up with your natural stance for maximum comfort, utilize EVA Calfpads for more cush, and provide seamless power transfer to your deck
Canted Seamless EVA footbeds match up with your natural leg position and reduce fatigue, allowing you to ride harder and longer
Harshmellow basepads isolate vibration for a damper ride and in turn reduce fatigue while standing at the ready to fend off harsh impacts
Multi Compatible discs mount with 3-hole and 4-hole patterns
EZ-Set Auto toe straps are cored for a lightweight and secure fit, feature independently adjustable top and bottom bands, and automatically cinch up as you ratchet your ankle straps
Custom Caddi ankle straps flex freely, delivering mobility and comfort without sacrificing performance-hungry support
Aluminum Airlite ratchets are super light and utilize longer ratchet levers so you get more cranking power
This is a solid binding...if you like the front toe auto lock. Personally, I don't care for it too much...but thats just my opinion. Besides that its a solid binding.
would ride size 17 boots fit well in these?...
would ride size 17 boots fit well in these? i'm having trouble finding a good fit for these boots.....
That will be too big for these bindings.
Awesome bindings. No complaints whatsoever. Easy to use and comfortable as hell. Get some, get shredding. Good for all mountain and park.
a personal favorite,

K2 has taken all the great features and unsurpassed performance of the formula and add a single ratchet-cable system to the toe stap. by doing so you only have to ratchet ur heelstap and the tension will pull closed your toe strap.

Fast entry, even pressure through out the whole binding, and unsurpassed performance. what else could u ask for.

Check K2snowboarding.com for a video on how it works, it'll blow your mind!
http://k2snowboarding.com/bindings/uprise
2011 - 2012 K2 Uprise Auto Snowboard bindings