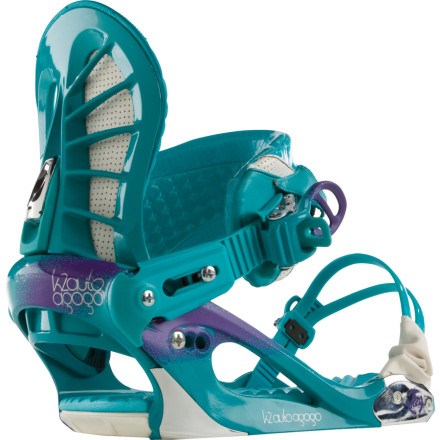 One ratchet is all you need to tighten both straps on the K2 Women's Auto Agogo Women's Snowboard Binding, so you're ready to shred in half the time. In addition to this Auto technology, K2 bundled together a host of advanced, women's-specific features and finished the binding off with ultra-chic details.
Lightweight, super-sleek Airlace Highback features an asymmetrical shape to match your natural stance
Auto A-line chassis offers lightweight performance and a forgiving flex for female riders
Canted footbed angled to match your natural leg position for more control and less fatigue
Harshmellow shockpads eliminate chatter for a smooth, quiet ride
Compatible with three-hole and four-hole patterns for maximum flexibility in your setup
What do you think about this product?
Have questions about this product?
I tend to be a little skeptical of newfangled binding systems, having previously (not so long ago) owned a pair of flow bindings that weighed as much as cinder blocks and were about as responsive as cinder blocks. Ever since then, I approach new strap-in systems warily.

I had read several positive reviews of K2's Auto system, which takes away the need to ratchet down both a toe strap and ankle strap. Both straps are still there, but they are joined by an internal cable system, so when you tighten the ankle strap, the toe strap locks down as well. For me, it was a tossup between these and Union Trilogy bindings, but the K2s won out because of price point (I would still be very happy to have the Unions as well).

When I received the bindings, I had a couple of questions, which included wondering whether the Auto system would really be much faster than conventional two-strap bindings, and whether there was any technical advantage to this system, and wouldn't it make them heavier? The answers to these are yes, yes, and no. After getting used to the system, I find myself strapped in and ready to go well ahead of my comrades. Second, I feel more secure in these bindings than any other pair I've ridden, but without pressure points. Third, they are very light.

The ride is extremely well supported and responsive with these bindings. I would also describe them as precise - they do exactly what I want them to. I can hold a good carve in them, but when I get into the park, they are forgiving enough to flex at low speed, and absorb landings quite well. The setup seems daunting at first (I wish the directions made more sense) but they were easy enough to figure out. My only complaint is that I haven't figured out how to get out of them elegantly just yet...you kind of have to give the toe strap a little kick to release it. But I think I will get the hang of this eventually.