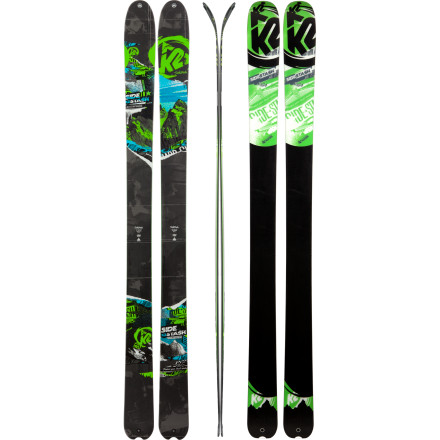 Your everyday powder ambitions have finally met their match with the K2 SideStash Ski. This stable, versatile plank is eager to rip up any readily available blower, but isn't opposed to searching for it well outside the gates. An elongated All-Terrain Rocker floats over deep snow with ease but also charges through manky spring chunks with help from its metal-laminated Hybritech Sidewall construction. The damp, easy-turning feel allows more ambitious couloir descents in the backcountry as well as big, fast lines once patrol drops the ropes on a big resort day.
All-Terrain rocker features 30% rocker in the tip for floating pow and surfing crud as well as 70% traditional camber for maximum edge-hold in icy chutes and couloirs
Aspen, paulownia, and maple wood core yields lightweight touring capability while remaining solid and snappy during long descents with constantly changing snow conditions
Hybritech construction features sidewall construction underfoot for precise performance and durability while its cap construction in the tip and tail provides easy turning and lighter weight for tight chutes, tree runs, and nimble backcountry pow turns
TNC lightweight metal laminate adds rigidity without too much weight, which means you get a more stable ride during speedy descents
108mm underfoot and 139mm in the tip provide effortless powder performance, because that's what it's all about anyway
Progressive Sidecut yields nimble and stable turns in tight chutes and run-outs
Powder Tip design places the ski's widest point further towards the center of the ski so you can float but not hook variable snow with its wide tip
Flat tail permits quick plunges into snow for creating snow anchors during backcountry emergencies
Tip and tail hardware beef up durability and allow easy skin attachment
Pairs with pre-cut skins (sold separately) that fit easily with the tip and tail skin attachment system
Unanswered Question
Any info on how these compare to the...
Any info on how these compare to the Brightsides 173? i am an intermediate tele skier and an expert masters racer. female 42yo 5'8 165#. wand a carver on hardpack yet loose in crud and powder. prefer a light wt ski too.
Binding set up question here... I'm...
Binding set up question here...



I'm primarily an in-bounds skier and I love the performance of these skis. I skied them last year in mixed conditions. I bought a pair this year and I'm wondering if a Rossi FKS 150 is going to be a good binding option. I'm also a former racer and have had knee surgery, so that's the reason for the FKS (bomber and degrees of freedom). For the out of bounds days, I'd deal with a set of BCA trekkers...not ideal, but that's okay.



Any thoughts? I don't care if I'm that guy with a funky set up, I just want to make sure I'm thinking right on this.

Thanks!
Are these skis fine with groomers? I usually ski them because I live near DC, but I also like to get in glades and some powder whenever I have the chance. Are these good for that?


I am a 5' 8", 140lbs advanced east coast...
I am a 5' 8", 140lbs advanced east coast skier( downhill, powder, glades). Never had a powder ski before and I am skiing the alps for the second winter in a row and want a better set of skis. I have been able to ski powder with my current set but with some difficulty being they have no rocker technology at all and are heavy. Just wondering if I should get the 167, or 174. I'm leaning towards the 174, just need some sound advice before I make a purchase...also what set of bindings should be purchased with these skis?
Hey Dre, thanks for the question.

I'm thinking based on your ability level and size that the 174cm is going to be a better bet for you. I'm a 5'3" advanced skier and the 167cm would be suitable if not a bit short for skiing here out west. Thus the 174cm should be just your size.



For bindings you just need to grab something with a brake that is at least 110mm wide. I suggest checking theses out, this is a solid pair that should last you many seasons of use.



http://www.backcountry.com/atomic-ffg-12-ski-binding
Another Allrounder
Gender:

Male

Familiarity:

I've used it several times
The one quiver skis in my quiver are building. At 108cm underfoot the sidestashes are a great go to when weight in the backcountry isnt an issue. The tip and tail caps also allow for quick compatibility with the k2 skins (although I use G3 skins which still work fine).

I would recommend this ski for someone wanting to do 1-2 day backcountry tours, but not anything 3 days or more just due to weight. Also a great buy for the money!
I'm 5'11", 140lbs, (165 w pack), and a...
I'm 5'11", 140lbs, (165 w pack), and a moderate tele skier currently on Atomic RT 86s (183s). Looking for something that floats better and won't go as crazy in the turns. I suspect the Sidestash would work, but it would need to deal with wind crust and survive some boilerplate. Any recommendations between the 174s and 181s?
If you are a moderate skiier at the moment it stands to reason you will becoming advanced soon enough. Based on your height and the fact that you are already skiing the Atomics in a 183cm length, I would go for the 181cm Sidestash. Great allround ski, but not a lightweight which may or may not be something you would want to keep in mind depending on which binding you plan on mounting onto it.
are these pre drilled? and will they accept...
are these pre drilled? and will they accept dynafit radical FT bindings?
These are not pre-drilled and will accept any binding you like - just be sure to have them mounted by someone with Dynafit experience if you're going to put an FT 12 on there.
would the radical FT be a good binding choice for this ski?
All Mountain Quiver
Gender:

Male

Familiarity:

I've put it through the wringer
Didn't buy my sidestashs from backcountry. But must say I love them. I have BD Amperage, Volkl Kendo. These are the best for everything ski. They handle corn, crud, powder, tour (light weight). Even thought the picture shows some chamber I would say the chamber is so small it doesn't have. My only complaint would be to add some stiffness especially torsionally but overall my go to ski.
Day after day I grab these skis, whether its spring corn, deep pow or anything in between, they consistently deliver for me. The rocker/camber is perfect for almost everything. I can lean forward and swivel quick turns or lean back a touch and rocket through the deep pow. Edge to edge performance is pretty good for a fat ski, and with classic sidewalls and metal, these skis can rail and hold a turn on the steep and icy slopes. I have them mounted with dynafit speeds and tour on them 99% of the time, with a light and easy gliding skin and the light bindings you don't notice the weight as much touring because you never lift your skis off the ground.