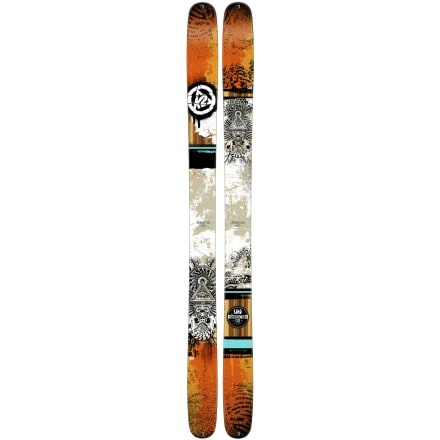 Description
Leave no inch of the resort unshredded.
For a big guy, the K2 Shreditor 112 Ski is nimble. This fun and maneuverable powder ski loves the deep stuff, which you'll notice from the ample 112mm waist, but with the right amount of camber underneath it certainly won't shy away from hardpack or chopped-up snow either. So stick to the powder and trees as much as possible, but once it's all gone, don't worry about having to switch over to that less-than-desirable snow; with this ski, it's call comin' up roses.
K2's all-terrain rocker gives this ski plenty of versatility, as well as just making it really fun to ski. The fir and aspen core gives it plenty of dampening to be able to punch through mank and crud, and the TwinTech sidewall makes for a high amount of durability that won't leave you looking at a busted edge just from grazing a rock.
All-terrain rocker
Triaxial braid with TwinTech sidewall
Fir and aspen wood core
112mm underfoot
Traditional sidecut (135/112/130)
Share your thoughts
What do you think of the
K2
Shreditor 112 Ski
? Share a...
I'm a 6'2" guy, 170 pounds and looking to buy the 2015 K2 Shreditor 112. I'm an advanced skier that likes to charge on groomers and moguls, but appreciate to take it more relax on those rares powder days we've got on the east coast.

So, here's the dilemma : pick up the 179cm or the 189cm? Basically, I already have a good pair of skis that I use most of the time, and was looking for a playfull powder ski that I can maneuver through tight trees, hit some cliffs and stuff like that.

With all that in mind, i'm leaning toward the 179cm, which I know is short (I ski on a 184cm ski normaly), but is it too short? I'm just afraid de 189cm will be too cumbersome for what I want to do with those skis. On the other hand, will I have enough flotation on the 179cm to have fun in deep snow?

Let me know what you think!

Best Answer
Responded on
First of all, I think the right answer to this question completely depends on where you are skiing and your personal skiing style.

In my opinion, a true powder ski should be full-rocker, not just tip and tail with traditional camber underfoot. Check out the product description page on K2's website and I think you'll see some of those things that would make me hesitate to call this a powder ski!
http://k2skis.com/skis/shreditor-112#ReviewHeader
On the other hand, if you're mostly skiing the east you can probably get away with this as your pow ski! On the rare chance it's SO deep you need a snorkel, you can always rent another pair of super fat full rocker pow sticks.
I definitely think you can get away with some extra length at your height and skier ability! Especially if you go for something with more rocker or full-on reverse camber. If you're worried about maneuverability then maybe stick with a softer ski that isn't going to make you work tooooo hard. In my experience, K2 skis tend to be pretty noodley. Also look for something with a shorter turn radius. This one is 20m at 179, which is pretty short for that category.
You said you already have a great all mountain ski, so if you want to diversify your quiver and snag a true powder ski, I would stay away from skis with reviews or descriptions that spend a lot of time highlighting the versatility of the ski! You don't need it to be super versatile, you want to shred pow. Again, that totally depends on where you're skiing and what your typical conditions are like. Also, a lot of people would prefer a more traditional ski on variable conditions, where others are perfectly happy cruising this one around all day every day.

Overall, I think this ski is an awesome candidate! Go for the longer length!
I'd also check out the Volkl One, Atomic Bentchetler, Blizzard Bodacious, and Armada AK JJ. ( Or anything in our Big Mountain Freeride category)
Hope that helps!
Responded on
Thanks a lot really appreciate you help! Going for the 189cm!

Responded on
Woooo yeah! Glad to help. Added bonus - the graphic on that ski is awesome this year! Enjoy!!
Posted on
K2 Shreditor 112