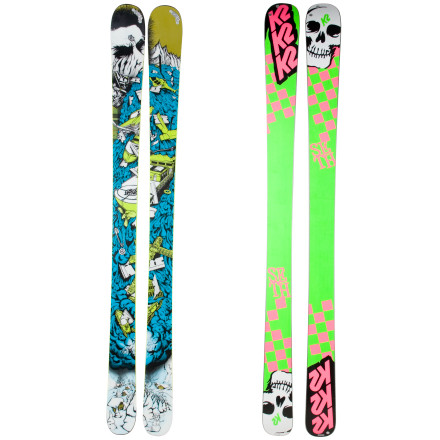 Detail Images
Attack powder in the trees, and pull some g-force as you rail back to the liftline. These are real tools, not jewels, and if you got some balls you can eat up anything in your path. Aggresive sidecut with mini-rocker, you do the rest. Put your wife or girlfriend on a pair of K2 missbehaved and she'll charge as well as you.
Unanswered Question
spend about 70% of time on-piste s I was...
spend about 70% of time on-piste s I was looking to get a twin that is great on piste. tried out the salomon lords and they were awesome how do these compare overall and particularly on-piste? any other suggestions for a great on-piste twin?
, ☃bcs_badge_alumni_label☃
What were the dimensions on last years...
What were the dimensions on last years Seth's? Were they wider than 90 under foot?
Exact same dimensions as last year's ski:130/98/118So yes, both had a 98 under foot.
If your thinking about getting these skis you should. Amazing graphics, perfect dimensions for everything you want to do. This is the sweetest ski I've been on. Blow my K2 PE's out of the water...
I love this ski. Pretty sweet. It has a mini-rocker, not as much as the hell bents, but enough to help you feather over variable conditions. The K2 Seth does it all; from park to powder to every day groomers. If I was going on a trip and could only bring one pair of skis this is what I would bring. Also the K2 Seth is great for riding switch because of the early rise in the tip and the tail. It definitely make skiing backwards easier.
I have skied these 3 or 4 times this season and I am very impressed. I have the 189cm w/ a look px12 binding mounted at +3. They do everything from of course powder to groomers effortlessly, except they kinda suck in the bumps. I am really thinking about making this ski my everyday ski, but don't know yet. They are a little bit soft but still charge and like to move a little bit. If your looking for a soft fat ski, look no further. Its awesome!
the skis are ridiculous. love everything about them. only time i have had a complaint is when i'm mocking on hard pack, the tips start moving a little...it just adds to the excitement! sweet skis!