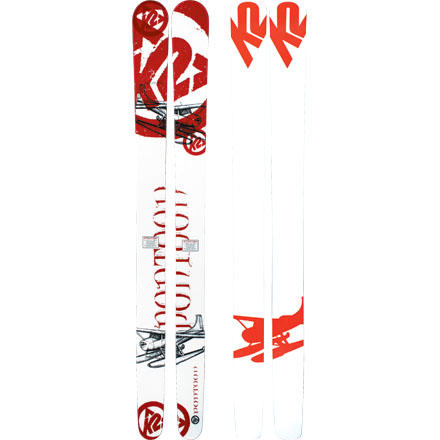 Took these out for a 14" in 36 hour day at brighton. Based on some reviews and a couple hours on them 2 years ago in very packed powder, I was afraid 14" wasn't going to be deep enough for them. I've never been happier to get proven wrong! I was on the 189 which was perfect for me (6'3" and 240). Untouched stuff? Float right through it in an almost sublime relaxed way. Tracked out/chopped up stuff? The flex on the ski absorbs everything that the monster spoon doesn't smash into beautiful powdery dust. Groomers on the return? Surprisingly stable at speed as long as you're not afraid to just point them back to the lift and go for it. Like other reviews have said, the tips do flop around alot on groomers but you never feel, just remember to stay low and forward and don't try carving out any slalom turns because you're just going to provide amusement for anyone on the lift above you. For in the trees? At first I was afraid to venture in, worrying that it was more of a straight line bombing wide open powder fields only ski, but again I was happily proven wrong. Even at 189 these things were surprisingly nimble through really tight trees. Not sure but I think its due to the relatively narrow tail being able to come around really quick. All in all I was flat out blown away and can't wait for another pow day to do some more exploring on them!
So when you get these skis in there intended environment, that being powder or anything soft and slarvable they are amazing! They also handle the groomers quite well. In the pow pow these things just play and have a good time. If you want to go big GS turns you can, if you want trees and lots of turns you can do that too. If you want to through them sideways into a McConkey turn and just keep on rippin' they do that too. They also make landings in big snow amazingling soft. So as long as the snow stays soft these skis are amazing, when it starts to get hard you can survive but sreiously, your only buying these for one purpose. For the powder of any type these skis do it all and make it alot of fun.
I used this ski on probably the worst day you can ski on them. They chatter a little bit, but mostly in the tip, which is rockered anyway, so it doesn't matter, because you don't feel it. On super icy steeps they don't handle well at all, but on groomers and crud they handle great. They felt like a pretty playful ski, but in powder that would probably be more apparent. I rode the 189, but at my size the 179 would be a little better. They were a really heavy ski, I am used to skiing a 185 Rossignol Scratch Steeze, but the Pontoon just felt super heavy.
How are the boards when it comes to chatter?...
How are the boards when it comes to chatter? Going like to lifts on the groomers.
I wouldn't really call it chatter with these skis. More like tip flop. The tip is soft and since its rockered, it sticks up off the snow on groomers. If you are going fast it will be flopping around a bit, which from an observer's point of view looks sketchy as hell. But actually, the pontoon is pretty stiff underfoot, so even when the tip is bouncing around like crazy, the skis don't really feel all that unstable. Just to add to this a little bit, If the condition is really icy and steep the ski feels like a lot to throw around, but if it is just a normal groomer it is surprisingly easy to ski. Not my first choice on a non-powder day, but manageable.
Awesome in what they're made for
I had the chance to try the 189's out in 15 inches of new snow at Solitude here in Utah. They were amazing. Not only was I able to ski faster than I ever have in powder, I was also able to turn these more easily in powder. As long as you don't mind watching the tips flutter nonstop of the groomers, they're not too bad. Let's face it, though, you're not buying these to ski hardpack.
Got a pair of 179 Pontoon last month (5'9" - 175 lbs)(usually ski on 168 Rossi B3), and skied a week in Japan famous Niseko pow. In the backbowls of the backcountry this skis were awesome. They just floated and the energy needed to ski deep powder was minimal. I was concerned about their handling in the trees, but had no problems with quick, accurate turns. Going back to the resort via the groomers was more of challenge, not very comfortable, and the knees and legs took a beating.
A small price to pay for the best rides I ever had in Pow.
For someone spending less than 90% skiing backcountry, I would suggest they look a another ski, for the other, enjoy the ride!
I took a pair out at Snowbird a few days ago late in the afternoon and pointed em towards all the lousy snow I could find. Duh they're good in pow, but what else? I'm surprised to say that they rally pretty much everything in front of you. Nasty chopped up traverses, funky cut up crud, mis-shaped bumps, and even groomers were fun. I was hating on these all year last season just on their looks but admit to being wrong now. The only thing is you have to be comfy standing in the center of your skis on the groomed as there isn't much contact with the flat snow. As a former East Coast Ice Jibber, I'm "lucky" enough to be okay while skiing around kinda upright. Off trail though, just point em! Seriously. I think I'll wax up a pair cuz it's gonna nuke this week. See ya at the bottom!
After hanging out with too many "spat heads" who rocked their spatulas in everything under the sun I decided to buy this ski at the end of last season. I ended up skiing 19 of my last 20 days of the season (march and april) on the 'toons and never once regretted having them on my feet. The one day I didn't use them I demoed a pair of Dynastar Legend Pros which are a great ski but I was wishing for the reverse camber fun of my new favorite ski.

Conditions were powder, tracked powder, soft corn and soft manmade. Everything is fun with these skis! I love throwing the tails out and getting jibby. You have to be comfortable carving on your inside edge (of your uphill ski) occasionally as the odd shape of these skis will force you to throw out everything you know about conventional 'form.'

People who call these skis quiver or specialty skis are not opening their minds to new ways of skiing.