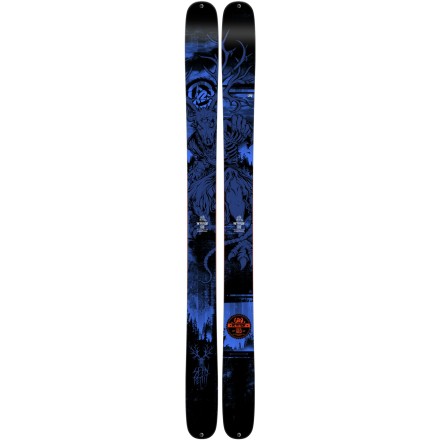 When you're considered one of the preeminent freeskiers on the planet, it's only natural that you'd have a ski that lives up to that reputation as well. That's probably why Sean Pettit helped to design the K2 Shreditor 120 Ski, otherwise known as the Sean Pettit pro-model ski. Don't worry though, this hard-charging ski doesn't rest on its laurels and simply coast on name alone. A slew of features help to make this ski an incredibly well-rounded beast that will have you charging big, fast lines all day. The powder rocker creates a monstrous shovel area that eats up powder and crud alike. The 120 has the stiffest flex profile of any ski in the Shreditor series, helped along by the Triaxial Braided core, wrapped around a combination of aspen and paulownia. In case you feel like getting out of bounds for a while, these come with tip and tail grommets for K2 skin attachments.
Powder rocker
Triaxial braid with TwinTech sidewall
Aspen and paulownia core
120mm underfoot
Traditional sidecut (147/120/141)
Tip and tail skin-attachment grommets
Share your thoughts
What do you think of the
K2
Shreditor 120 Ski - The Pettitor
? Share a...
Any reco's on a good binding for this ski? I am 6'3 200lbs advanced/expert skier. Was looking at the FKS 180s.. but open to other suggestions. Thanks!
I'm 5 foot 6 inches, would the 169 cm be a good length or would they be too long for me?
It might not be too long or short at all. What ski length do you currently ride?

You can call or email me directly. 801-736-6398, or bporreca@backcountry.com
I'm looking to use a g3 skin on this ski, and am wondering if the pre drilled tip/tail holes for skins will interfere with the fit and hold of the g3 skin?
Best Answer
Nope! They sure wont. I would recommend getting the twin tip connector from G3. Will save you tons of head aches when using their skins on a twin tip ski like this.

You can call or email me directly. 801-736-6398, or bporreca@backcountry.com
Is it better to size up on these due to the rocker?
Hey Mt,
I would say that all depends on your riding style. However in general you will want to size up on a rockered ski compared to a traditional camber ski.

I am 5'10" 165 lbs and I typically ride a 188-195 in most of the new rockered skis. This ski should ski quite a bit shorter than a comparable length traditional camber ski.
I have ridden this ski in all conditions. It shreds! Truly I thought that I would only break out this ski only on big pow days for huckin' and squashin' pillows but I was so surprised how it destroys every condition. I even busted through a GS coarse and it ran like my old GS skis. But best of all it has so much float on heavy pow days. Up here in the PNW you need a ski that can hammer through the heavy coastal pow, and it does the trick with the minimal side cut and full powder rocker. Oh yea, and it turns on command.
I am looking for a new pair of powder skis that can perform well switch as well as forward in pow, I also really like playfullness in a ski (butters) but they can still charge hard. I am trying to decide between these, the Mr. Pollards Opus, the Bent Chetlers and even maybe the Magic Js. Suggestions?
Owen, I have skied all these skis with the exception of the Line. The Bents are a way sweet ride. They have a very buttery feel and land very well on big drops but not as much of a hard charger as my
Automatics or my Pettitors. The Armadas turn well but do not charge. It was a toss up for me between the Bents and the Pettitors. I went with the Pettitors because they hold an edge way better than the Atomics. BTW I mounted my Pettitors +3 from tradition.
3 year reltationship
Familiarity:

I've put it through the wringer
I have had every model/every year of the 120 Pettitor and I love em. I'm 6 foot and 200lbs, have always skied the 189cm length. Obviously a different ski, but once I got on the Pettitor I didn't click into hellbents again. Camber is your friend and this ski can really shred any where any day if you can hack it. Great ski for Alta/Snowbird! I like to mount my sets at 5... which on the k2 mounting scale means back -2.5cm from ski center. The camber on this ski is very centered and so should your mount.
LOVE THIS SKI!!!
Gender:

Male

Familiarity:

I've put it through the wringer
ALL RIGHT SO I HAVE LAST YEARS VERSION OF THIS SKI AND MY BUDDY GOT THIS YEARS WITH THE SAME SET YUP I USE THESE SKIS WITH THE SALOMON GUARDIANS. NOW I SKI EAST COAST AND THOUGHT THESE WOULD STRICTLY BE MY BACKCOUNTRY/ POW DAY SKIS BUT AFTER RIDING THEM SO MUCH I DECIDED TO TRY THEM ON THE REG EAST COAST DAY AND AS DID MY FRIEND. AND BOY DO THEY DO JUST AS GREAT WITH CAMBER UNDER FOOT HELPS WITH THE ICE PATCHES AND CHARGING THREW CHOP IS AWESOME! I USE THESE SKIS IN ANY CONDITION LAST WEEK I WAS USING THEM ON GROOMERS AND TODAY ROCKING THE FRESH 12" OF POW AT JAY!
A LIL FAT I KNOW BUT IF YOU HARD CHARGE THE HILL YOU WILL HAVE NO PROB USING EVERYDAY! MY FRIEND AND I LOVE THESE SKIS!