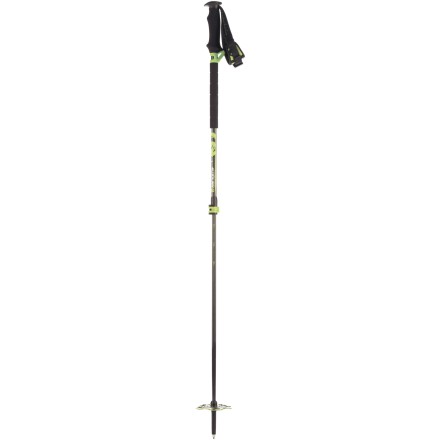 If you're in the backcountry, you're probably plunging your pole into the snow every few minutes while you're on the skinner to make some quick snowpack observations, but you can take your snow-nerd game to the next level with K2's LockJaw Adjustable Carbon Probe Pole. It's a lightweight and durable ski pole with a bomber LockJaw2 adjustment mechanism, carbon shafts, and ultralight adventure grip with an EVA extension and utility hook, but it also rocks two features snow geeks will dig: a built-in bubble inclinometer and 200cm probe. Screw the lower shafts together in no time for some quick snowpack analysis, and then pop it back into pole mode when it's time to safely rip.

Carbon upper and lower shafts
LockJaw2 adjustment mechanism
Ultralight Adventure Grip with an EVA extension and utility hook
Webbed powder baskets
200cm probe function
Bubble inclinometer
Adjustable molded strap
What do you think about this product?
Have questions about this product?
Dumb question: is this a single pole or the standard two pack?
I sure hope it's two for the price. Not to mention the fact that I just bought a set, lol