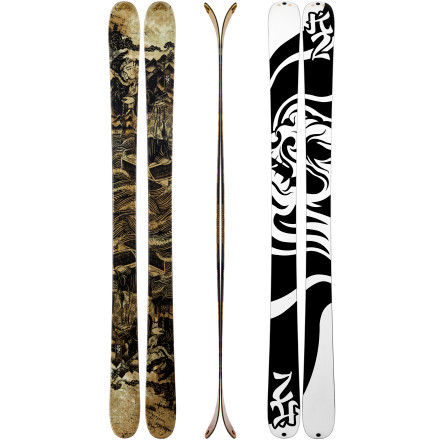 Videos
The K2 Kung Fujas Ski has a smooth, poised feeling underfoot, a certain powerful playfulness, and it's laced with a material similar to the versatile, innovative DNA that made Pep Fujas an institution in the world of freeskiing. And go figure, this ski was actually designed by Backcountry.com and K2 athlete Pep Fujas himself (so you know it's good). Durable sandwich construction shrugs off abusive, rough terrain and delivers edging power in icy chutes, the aspen and paulownia core pops like a can of soda shaken at high altitude, and tip and tail attachments hold skins so securely you'd swear they were welded to the base. This is a ski that feels like an extension of your own body on the ground, in the air, on soft snow or hard, and underneath the tram or way past the furthest backcountry gate.
Early-rise tip (K2's All Terrain Rocker) floats above the light and white and won't hook or catch when you're Maching down the piste or park
Rockered Powder Tip eliminates the need for increased surface area in the tip so you get more flotation with less of a chance of snagging a tip in deep snow
Aspen and paulownia wood core creates a PB&J-like harmony: stable, lightweight, and great for any snow conditions on the mountain
Torsion box construction creates a stable feel throughout the ski, with sidewall construction underfoot and weight reduction in the tips and tails
Twin Tech construction rolls the topsheet material into the 90 degree sidewall, reducing the angle that is prone to damage so you get increased durability combined with the edging power and hold of sidewall construction
102mm waist width helps this ski float on deep days, it provides a stable platform for surviving hard landings, and it's not so wide as to sacrifice edge-to-edge maneuverability
Bi-Directional sidecut taper uses a tip that's just slightly wider than the tail so you can carve deep, precise forward turns and achieve similar turns when you're skiing switch
3.5mm Steel edges can take bigger hits without blowing out, and more metal means a longer tuning life
Screw out the tip and tail hardware rivets and attach a K2 climbing skin to the ski using the integrated attachments that eliminate the ever-clumsy tip clip
Unanswered Question
I'm a beginner/intermediate skier and this...
I'm a beginner/intermediate skier and this ski is on my list. 5'11 175lbs, 90% east coast skiing on hard pack, crud, ice, love the glades and trees and pow when I can, I don't ride the park at all. Other 10% is spent out west for like 2 weeks with my family in Tahoe. Would the 179cm be the right size for me? Other ski's on the list are Line Sick Day 95, Moment PB&J and Armada TST. I'm looking for a One-Quiver ski basically, nothing super stiff and nothing that's a noodle. Any help would be great, thanks again.
Why has this ski been discontinued???
Familiarity:

I've put it through the wringer
Best ski I have ever been on. Floats well enough on the deeper days, powers through the muck and you can rail the groomers. Yes, it is that good.



Over 40, so can't add anything on park performance...



Mammoth Mtn/Boarder/ski



K2 bought Line Skis, are they going to create this ski or do they have something in their line with same performance and specs?



Cheers and happy new year!
Great all mountain!
Familiarity:

I've put it through the wringer
These skis are super sick! I bought em new last year and they were great! Took them out again this year in record breaking snowfalls...UNBELIEVABLE while they don't have the same float as some other skis they handle knee deep fluff great!

however be careful they scratch fairly easy (top sheet AND bottom) also kinda heavy
2 seasons of thrashing
Gender:

Male

Familiarity:

I've put it through the wringer
I'm 5'11 245lbs(sounds pretty crazy i know but pretty athletic) I have shredded on the 2011 179cm for the past 2 seasons. This was my first rockered ski. I live on the east coast but go out west and ski about 10 days a season out there. I love these things and and ride them every time out. one caveat is that the east coast ice is not it's best friend. Gets pretty sketch but as long as you stay over the top of them you'll be fine. Great in the trees and not to mentioned they are powder hounds. They are quite soft but so much fun to ride. I would def recommend for a everyday west coast ski but I don't regret my decision getting them at all. Pray to the snow Gods for another epic winter.
Which skins would be ideal for these fujas...
Which skins would be ideal for these fujas skis?
Ski for anything the mountain can throw at you! Shreds and floats through the pow with ease, charges well through variable snow, and rips the park up!
Soft Yet Nimble!
Familiarity:

I've used it once or twice and have initial impressions
I rented these skis on a day with fresh, light, cold snow. The one thing that i was not expecting when I first got on the ski was how soft it was. However, they were very quick edge to edge and responsive for such a soft ski. This ski skied very well in untracked snow except for the fact that when you started to pick up some speed, it startted to wash out and chatter.
Im 6'1" and have been skiing on 158s for...
Im 6'1" and have been skiing on 158s for the past four years. I am going to get these skis, but im worried the 169s are a little short and the 179 a little long. Which ones would be better as an all-around?
Best Answer
I'd go with 179s or even 189s. I'm 6'3" and ride 189 and they aren't too long at all because the rocker makes it feel shorter. Also 189s are going to be more stable
I'm 5'9" and I demoed the 179. I thought they were perfect for tree skiing. Since you are 6'1" the 189 would be great unless you don't need the extra stability to charge hard.
I'm 6'2", how should I mount them for more of a freestyle ski?


Centremount! I ride these centre and they are totally awesome! Also if you intend on riding alot of other stuff I would suggest marker bindings as some of there models have the ability to slide back up to 4 inches
Got this ski for my go to everyday east coast ski. Very playful but with plenty of power when needed, quick and fun hold a great edge on the east ice "hard pack" trails. Even does well in the pow. only wish it had a touch more rocker 5"11" 170lbs 179cm/.
I am 5'10 and an intermediate to advance...
I am 5'10 and an intermediate to advance skier. I ski primarily East Coast but do make an appearance out west once a year. I am a big tree skier, would the 189's be to big? Should I go for the 179's?
Best Answer
Yes, I'd definitely go with the 179s. I'm also 5'10". I've had the 2010 Kung Fujas' (179cm) for two seasons now and they are just phenomenal. Can't recommend them enough for all kinds of terrain.
I love my 189's and ski the trees without any problems.
Agree with Jason 100% - go 189cm they ski awesome in the tight Whistler trees - for reference I'm 5'11" 200lbs - the 189 is perfect for all conds.
Looking for feedback from anyone who has...
Looking for feedback from anyone who has used this ski as a beginner/intermediate? I'm considering buying a pair for my brother-in-law who just moved to Utah and he's in that stage where he can survive on about anything but will probably grow leaps and bounds over the next year. Has anyone used this ski early on in their progression and how did it work out?
Best Answer
Hey Mark, I bought these as my first skis after being a snowboarder for a few years. Of course, when one thing is all you know it can be heard to be a critic. It's now been two season since I bought the Kung Fujas and have ridden a few others since then so I can compare them with what I think is proper feedback from a beginner and transitioning to intermediate.



-They are very stable. They never get chatter and are totally predictable in turns.

-Twin tips are nice to learn switch. I worked on this just as I was learning skiing because it was a fresh slate.

-They are tough. The top sheet is still in good shape after two hard seasons and I've been over my fair share of rocks, I had my first bit of P-tex dropped in last week.



Verdict: I now also own a pair of K2 Backdrop touring skis. Compared to those, these are much more stable and have far less (zero) chatter than the Backdrops.



Overall: great ski to start with but also tons of room to grow.
Set on picking up a set of fujas and need...
Set on picking up a set of fujas and need to real soon (have a trip coming up). Have a couple questions I would really appreciate if someone could help me with:

1. I'm 5'10'' 165-170 and not sure whether to go with the 169s or 179s. I'm a solid advanced intermediate but like a lot of tight control and never skied anything at wide as the fujas. Also live on the east coast and looking to have a 1 quiver to grow into over the next couple seasons as I get into freestyle / any backcountry...good fit?



2. Also some people have been touching on it but would appreciate any personal feedback on mounting - going Griffin and am still mostly groomers but stepping up quick so want the most versatility if the mood strikes.



THANKS EVERYBODY!
Best Answer
Hey Jake -



So I'm about your size, a few pounds heavier, and I like the 189s for Utah. I think you'll grow into the 179 pretty quickly, and for groomers as well as some east coast pow, it's probably the right size.



Pep comments on mounting point for his skis below - saying that -2cm from center might be ideal for all mountain use. Check out his comment below.
Best Ski Ever
Familiarity:

I've put it through the wringer
This ski is so sick! It crushes everything and I mean everything. I've skied it in every condition imaginable and it kills everything I throw at it. It's average on ice, kills groomers, pretty good on crud/chunder, powder is great, but definitely not a pow specific ski. Floats through must pow, but sinks on the super deep days. It's a little heavy and scratches VERY easily, but none of that really matters because this ski is so much FUN. It's so playful and soft, but despite its softness you can slay anything. It's just an amazing ski. Great job Pep and K2.
Much appreciated if someone could tell me...
Much appreciated if someone could tell me how much these weigh. Thanks in advance!
I demoed the 179 here in New Zealand last...
I demoed the 179 here in New Zealand last week. The binding was mounted about 2cm forward of the traditional mount mark which seemed to ski really well. However I want to know where most people mount Kung Fujas.

I want to mount the 179 Kung Fujas with Marker Barons.
I have the griffin schitzos on the fujas and i have found that 1cm back from centre (4) is where i have left the adjustment for all types of terrain. The forward settings caused them to occasionally dive into deeper powder. Though i haven't skied much park with them so you may want them further forward for that.
Best Answer
Mounting your skis in the right position depends on what you want to do with the skis. I have found that mounting them 1 to 2cm's back from true center is right for me because I like to ride the mountain like a park, catching as much air as possible, riding through tight trees, making small aggressive turns through bumps, smearing high speed turns and ripping switch. Among a variety of other turns, techniques and snow conditions, this ski is able to excel at almost everything at the -2cm from dead center. Deep powder skiing is a bit more challenging when mounted here, so if you are concerned about that then grab the Marker Schizo's. The Schizo's are designed to allow you to change the position of your binding depending on snow conditions. Move them back for powder and forward for everything else.
So, I weigh 200 pounds and am 6'2". I'm...
So, I weigh 200 pounds and am 6'2". I'm thinking of pairing the Barons or Dukes with these. I ski hard, hit some cliffs and spend quite a but of time OB. good combo?
For your size and weight, either of those bindings will be good.
Best Answer
I'd go out on a limb here and say the Barons will be a bit low on the din side of things. You sound like you want something to keep you in. Go with the Duke's.


Whats a good binding to match with this...
Whats a good binding to match with this Ski? Thinking of getting the Kung Fujas in a 179, was thinking about the Marker Griffon Schizo (I am 150lb) for some versatility, as K2 seem to recommend this binding with the Schizofrantic inserts the ski has. I can't find them on backcountry.com though? Wondering what other bindings you do stock woudl be a good match?
Best Answer
The Schizo bindings is honestly a really great option.
Another binding I'd recommend is the Rossignol FKS 140, or if you're super aggressive, the FKS 180. Those are the most bombproof bindings for aggressive skiing and I don't think too many people would disagree.
If you want to take advantage of the pre-cut skins K2 offers for the Fujas and do some side country skiing, try the Marker Dukes or Barons. You get the stability and burliness of an alpine binding, with the option for touring mode