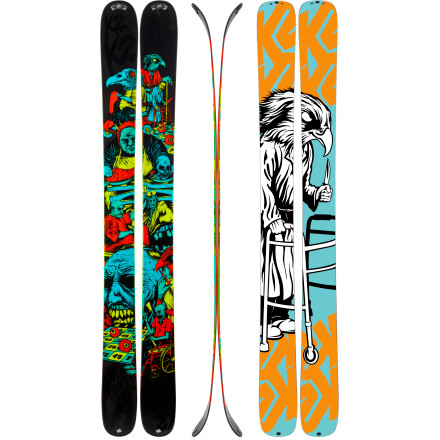 K2 made the HellBent Ski with pure evil—end of story. Ok, we'll admit that there's a freakish dose of width at the waist (132mm to be exact), the most aggressive tip and tail rocker in any K2 ski, and a fir and aspen core that flexes with powerful, yet buttery goodness ... but mostly this ski is just pure, unadulterated evil. It's a fiend for the bottomless feeling of 40-inch storms, the weightless feeling after airing a hand-carved booter, and the butterflies-in-your-stomach sensation of maching switch through blower powder. And should you and your hound of hell run into the nuisance of chopped up and tracked out slopes, there's a touch of traditional camber underfoot to balance out the rocker-happy shape. Can we get a 'hell yeah'?!
Aggressively rockered tip and tail (K2's Powder Rocker) floats high in powder, gives this ski a surfy feel, and won't hook or catch when you're maching down the piste or park
Aspen and fir wood core creates a balanced harmony of stiffness, consistent flex, and powerful rebound
Twin Tech construction rolls the topsheet material into the 90 degree sidewall, reducing the angle that is prone to damage so you get increased durability combined with the edging power and hold of sidewall construction
132mm waist width means ultimate flotation on deep days, and it creates a wide platform for surviving previously insurmountable landings or maching off steep, lippy booters with stability
Directional sidecut taper uses a tip that's just slightly wider than the tail so you can carve deep, precise forward turns and achieve similar turns when you're skiing switch
3.5mm Steel edges can take bigger hits without blowing out, and more metal means a longer tuning life
Screw out the tip and tail hardware rivets and attach a K2 climbing skin to the ski using the integrated attachments that eliminate the ever-clumsy tip clip
Favorite skis
Familiarity:

I've put it through the wringer
The K2 Hellbent is my favorite ski by far! I own 3 pairs! Common miss by most is that they are only a big day powder ski. I disagree - super fun on fresh snow, no matter the depth. With full powder rocker, they are very nimble and being flat under foot reminds me of the agility of my hockey skates. Can't say enough good things about them. Mounted +5 is perfect. Was super bummed when they were discontinued - Can't wait to see how the upcoming Powabunga stacks up.
Are the Hellbents true to size?
Are the Hellbents true to size?
Best Answer
Previous models were not true to size, my 09 hellbents are labeled 179 but are actually 183. They did this because the ski "skied shorter". I believe that they have since realized this was confusing and corrected the problem, so yes nowadays hellbents are true to size.
I'm 5'10", 150lbs, and an intermediate/advanced...
I'm 5'10", 150lbs, and an intermediate/advanced skier. Looking to ski these in the PNW this winter. Will the 189s be too big or will they be manageable with the rocker?
Best Answer
Hey E! Thanks for the question.

The rocker on this ski is pretty dramatic, so as you said it will feel like a much shorter ski when you go to initiate a turn. That being said, the longer length does come with a higher weight, so you should take that into consideration when deciding on size. This is a pretty beefy ski, so the longer length does add a noticeable amount of weight. I do think your size and weight will be enough to help you control this ski. If it's of any help, I am 5'3" 120 lbs and an expert/aggressive skier. I've skied on the 179cm but it was pretty darn tough to control since I am so small. I was able to manage, but it wasn't ideal. It was the actual weight of this ski, not the length that I found so troublesome.
I've tried this ski an all 3 sizes, (the 169cm was crazy fun!)

At 6'2" 180 and being a strong but unskilled skier I really favor the 179cm. The 189 was too much ski to control
An icy steep chute to wide open.. This was my first year skiing.
How does this ski compare to the Side Seth...
How does this ski compare to the Side Seth in pow and over skid crud ? I skiid the Side Seth and loved them.
Best Answer
The Hellbents are much more aggressive in the sense that you can go over anything! Crud isn't a problem. That being said, they will handle completely different from the side seth on firm snow and hard pack. These badboys are made to destroy powder with amazing float and pop!
Absolute blast down a steep pow line at speed or scrubbing speed in a nano second to duck into a tree line. These are too insanely fun to give up. They actually carve a turn on top of the heavier pow we get in the PNW. You still get face shots on the uber deep days. Have tried sooo many pow skis looking for the holy grail. These and the Volkl Kuro should be on your ultra short list. I am 5'11" 165lbs plus gear and mount my 179's +6 Cuz Seth said to previously. He was right on imo. Nailed the sweet spot and way balanced. BTW these will increase your run count by not wearing you out. It's o.k. to have fun skiing.
Amazing in the pow
Gender:

Male

Familiarity:

I've put it through the wringer
Great powder ski that can still get you back to the chair!! I have skied this ski in all conditions. Its amazing in the deep stuff (of course), absolutely plows through the leftover pow and crud! Does surprising well in the moguls. Makes landing switch simple and maneuvers well in the air for tricks and spins. All around a great Pow ski!!
Semi Versatile, And That Says Something
In the world of powder niche skis, you commonly have these properties:



-semi to super soft flex pattern

-a lot of rocker shape with a tiny bit of positive camber

-a fair amount of sidecut (usually) in that small amount of positive camber

-Twintip design made to give it more float, ski switch in pow or get some tricks done if you get enough air.



The K2 HellBent Ski fits all of those requirements, yet somehow feels a bit more jovial and accommodating to ski on. Yes, it does super well in pow with being especially nimble while floaty. Surprising though, the Hellbent also gets you decent performance on the groomed parts as well. I wouldn't say to run this ski full speed down super firm chop as that will lead to some painful experiences, but competency on groomed snow is something that not all powder niche skis can boast about truthfully.



Swing weight is not terrible either but you'll definitely need at least close to a park sized booter to get a few spins down and I wouldn't take it into the pipe much due to the width.



Overall a more than enjoyable ski for that just skiing pow crowd or the park/pipe people who need a ski with a lot of girth but similar attributes to the other ski in the quiver. Careful though as with all the rocker the skis have on them, the Hellbent does tend to ski much shorter than its length shows.