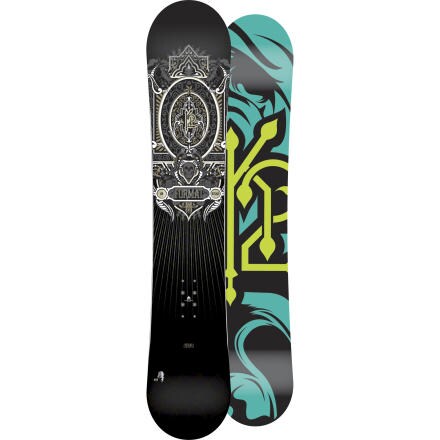 K2 made the Format Snowboard to kill it in the pow or park without murdering your wallet in the process. ICG 10 glass and the poppy W1 wood core combine to make turns as effortless as buttered toast, while giving this stick an easy flex and a solid, snappy ride that gets you in your groove anywhere on the mountain.
Designed for any level rider, the dual progressive sidecut provides consistency in varying situations and forgiveness when you make a mistake.
Camber technology gives you spring out of your turns, effortless power transfer, and stability on the groomers.
Extruded 2000 base adds speed, durability, and makes tune-ups a breeze
Hybritech Construction keeps the sidewall under your feet, while tapering it off at the tips to reduce swing weight and optimize turn initiation.
Share your thoughts
What do you think of the
K2
Format Snowboard
? Share a...
Posted on
Im 5ft10in n i weigh about 150ish.. im...
Im 5ft10in n i weigh about 150ish.. im looking for a good jibb board with a ton of flex... my current board is 158 K2.. what would be a good board size for me?
Responded on
Well im 6' 170lbs and I ride a 154 in the park and all around. I've ridden a 152, but it was with rocker tech which allows you to drop a few cm in length. So if you're looking for a good jib size, I would say around a 152-154 would be best in the park for you. And if you're looking for a sick jib deck, this is not the one to get. If you like K2 the I would go for a WWW(rocker or reg), or a Parkstar. If not I would reccomend Rome decks, because they are sick. Either the Artifact(reg or 1985), Postermania(reg or 1985), or the Graft. All of them are sick in the park and all around. Hope this helps bro
Posted on
180 pounds . I bought a k2 format 158 . I...
180 pounds . I bought a k2 format 158 . I am a beginer is this a good snow board for me?
Responded on
yea it will be ok, its towards the lower end if the range you would want to be in, but being a beginner you will find it easier to control than riding a board that is longer
Posted on
I'm 6'2, will the 163 work for me? I like...
I'm 6'2, will the 163 work for me? I like to go have fun in the park so i was thinking just a little shorter than normal for easier spins and such, but the powder is where i love to be and i'll spend most of my time in it if its there on the mountain.
Responded on
Anything around a 162-163 should work out for you height, considering the terrain, you will be riding, i would just adjust your stance when you change terrain (mountain, park, whatever) to make sure you get optimum shralpage. Hope i could be of help, Goood Luck
Responded on
in addition to riding style and terrain ridden, board length is based on rider weight, not height (a board doesn't know or care how tall you are; a board's flex will however change depending on how much the rider on top of it weighs)... tell us your weight and we can suggest a good length for what you want to do on the hill...
Responded on
I'm 6' and weigh 190lbs and I use a 161 Ride Control. I would *GUESS* that the 163 would work for you, provided that you aren't as skinny as a rail or anything. If you weigh a fair amount less, I might consider dropping into the upper to mid 150's.