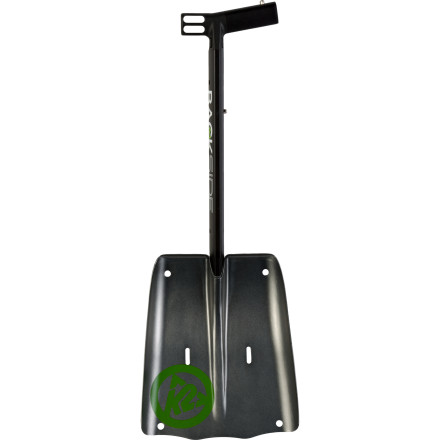 Videos
When it comes to moving lots of snow quickly, the K2 Extendable Rescue Shovel takes the avalanche-safety cake with its big blade, extendable shaft, and hoe mode. This is the shovel you'd want your partner to carry. Its extendable shaft enables better leverage as you dig, its convertible handle attaches the blade so you can use it as a hoe for quick excavation during real-life rescues, and webbing holes on the blade mean you can use it to build a dead man anchor or to build a rescue sled to get an injured person to safety.
Lightweight aluminum blade design slices through ice and moves lots of snow without being too big for your pack
Extendable aluminum shaft supplies extra leverage for heavy debris, and its handle ensures a solid grip and easy shoveling
Handle also attaches to the blade, turning it into a hoe-style shovel for chopping through ice and crud and moving more snow in less time
Webbing holes on the blade let you construct a dead man anchor in the snow or an emergency sled in guiding or rescue situations; all you need is the extra hardware (sold separately)
Shaft packs down to 16in, and the whole shovel only weighs 1lb 10oz for easy hauling during any type of backcountry travel
Always head into the backcountry with a probe, shovel, beacon, and partner
Avalanche gear only benefits you and your party after you take an avalanche course and regularly practice your skills
What do you think about this product?
Have questions about this product?
Favorite Shovel
Familiarity:

I've put it through the wringer
I love this shovel. The hoe feature is really handy. It's strong, light, and easily assembled. The rescue sled is the reason I bought it, and it works great in a pinch. Can't think of a reason not to use this shovel!
Glad my touring partner has this shovel
I had a smaller backcountry shovel and my skiing buddy had this shovel. Although I've yet to be in an avalanche, it makes skiing seem much safer when I know he has this shovel with him. When you convert it to a hoe it removes snow at a much faster rate. Instead of just throwing your shovel at the snow, lifting the snow out, and placing it somewhere else. You can just plunge the hoe into the snow and pull to move as much snow as you can handle. I highly recommend this shovel/hoe combo or the BCA Dozer Hoe Shovel. I am currently planning on buying the BCA Dozer and leaving my other shovel just for around the house shoveling.
K2 Extendable Rescue Shovel