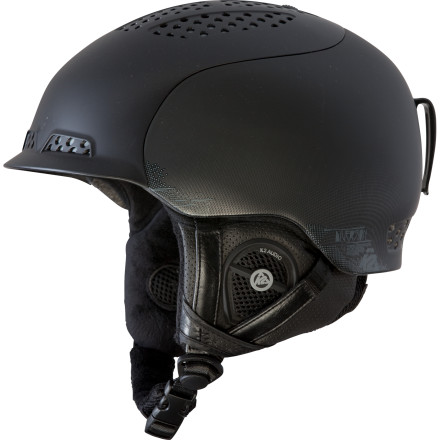 Colors

Videos
Description
K2's top-of-the-line ski helmet for rippers.
A world away from the heavy brain buckets of old, the K2 Diversion Audio Helmet uses hybrid construction to provide lightweight protection so you can focus on your line. This top-of-the-line helmet meets industry standards and certifications to help protect your noggin during a sudden crash or cartwheel session. Equipped with dual active matrix venting technology, the Diversion lets you regulate airflow with the touch of your finger while the goggle vents remain open to keep fogging at bay.

Its 360 K2dialed fit system features an ergonomically inspired three-point adjustable interface to maximize fit and customization with the twist of a dial for superb on-the-fly convenience. And you're going to dig its removable, washable full-wrap liner system that wicks moisture away and supplies breathable comfort when you flip and spin in the pipe. If you're worried about a gap between your goggles and helmet, don't be, as the Diversion's universal brim design works seamlessly with K2 goggles and most industry goggles.
The baseline audio level 3 sound system brings your tunes to your ears and connectivity to your phone when you shred or chill on the lift. Its integrated headphones and on-cord mini-mic connect to your cell phone or your MP3 player for easy connection when you tackle gnarly terrain or spin yourself dizzy in the park.
Hybrid construction
Dual active matrix venting
360 K2dialed fit system
Washable full-wrap liner system
Level 3 baseline audio system
ASTM F2040 and CE (EN1077: 2007) certified
Sizes: small (51-55cm); medium (55-59cm)
Includes: detachable cord, single squeeze button for pause/play and answer/hang up
Great Lid!
Gender:

Male

Familiarity:

I've used it once or twice and have initial impressions
My first impression of the helmet is that its great. It was very comfortable and warm. I skied on a day of 16 degrees F and 40 mph winds. I was very warm, and I have no hair.
The vents were easy to operate and functioned very well.
I didnt try the sound system on the slope, but it was pretty tame in the house. Wasnt very loud, I guess this is to limit accidents.
I would highly suggest trying on your goggles with the helmet with you. I got the Smith turbofan OTG goggles and theres not much room for them with this helmet. The goggles kind of closed up my nostrils a bit due to the lip of the helmet pushing them down a bit. I tilted the helmet back a little to push the goggles up, but the helmet didn't fit all that great pushed back a bit. I think I'll wear a bandana next time to take up a little more room in the helmet, maybe it will sit higher.
The strap was comfy and easy to buckle with gloves on. I felt very natural skiing with it on.
Great helmet...poor audio
Familiarity:

I've used it several times
This is a great helmet. Very comfortable and stylish. If you are buying it specifically for the audio I would recommend looking at something else. When I got the helmet only one side of the speakers was working. I returned it and received a new one. Both speakers work, but the audio quality is poor and crackly.
For $160 you should expect a quality helmet. However, this is a waste of money. I returned it and wasted the shipping money.



To start, the sizing is wrong. I measured my head exactly how K2 says to. I bought the appropriate size based on their sizing chart, even leaving a little wiggle room. However, the thing hurt my head it was so small. Matter of fact, my head hurt for several minutes after taking the helmet off! After returning it for a bigger size that was contrary to what the sizing chart said I needed, I found the next size up too big. It pushed down on my goggles and I was unable to breathe out of my nose. What a joke!



The built in speakers are terrible! I put the volume up all the way and couldn't hear any bass. The volume would be fine if you sat in a quiet room and didn't expect to have high quality sound.



The included audio cable was broken. If I turned my head the speakers would cut out and I would have no music. I would rather use my cheap apple headphones I got for free than use these speakers.



I would find another helmet. I wasted money returning two of these helmets. I bought a Giro that fits great and is more customizable for cheaper. I sent K2 an email and never got a response. I'm done with that company. Don't buy this helmet.
Most comfortable helmet I've owned
Familiarity:

I've used it several times
I have ridden about 5 days in this helmet so far, and I love it. I have owned a lot of helmets over the years, and this K2 Diversion is by far the most comfortable.



This helmet is lower profile than my old Smith Variant, and the vents are easier to use. I'm not a big fan of audio helmets, so I just removed the headphones and the internal cord. The ear pads are much more comfortable without those hard plastic pieces in there.



The fit is perfect with my Oakley Crowbar goggles, and it has a very good fit with my Smith IO's.
Total Comfort
Familiarity:

I've put it through the wringer
Great fitting helmet. I owned one of these helmets a few years back - before they changed the fit system. This newer version is much more comfortable, and you cannot even tell the fit system is there until you begin cranking the dial. The plush inner liner provides comfort well beyond other helmets. Most helmets have only a sparse amount of padding - mainly to save weight, but K2 managed to make this helmet light weight and comfortable.



The weight is on par if not a little lighter than a Smith Vantage helmet, but this fits a little more narrow. If you compare the two helmets side by side, the Smith is more round. Because of that, the Diversion fits much closer - and in my opinion - is a lower profile helmet.



The venting is straight forward and easy to use - even with gloves or mittens.



I am pairing this up with the new Oakley Flight Deck goggles - a great seamless fit. The brim on this helmet is also not as pronounced as the Vantage, making it easier to flip up your goggles when necessary.



The included audio is OK, but I always prefer to swap them out for Chips by Outdoor Technology. Why rely on cords when you can go Bluetooth?
Worth the price
Familiarity:

I've used it several times
I love this helmet. I got the L/XL and the 360 K2 dialed fit system fits to your head just perfectly. The most comfortable helmet I've worn. No goggle gap on these, they ride at a good spot on your head.



Not the lightest helmet on the market, but never a problem. When doing a lot of hiking or working, I get pretty hot in this helmet, even with the vents open.



And about the vents... I notice when they close, they don't really align completely. Some of the vent holes never completely get covered. Hasn't really been a huge problem for me, but it kind of makes it look cheaper than the price point.



The audio is great! Great sound and great setup. The cord is pretty lame. It's difficult to find the control and when you do, impossible to fiddle around with it when you have gloves on.



All in all, no regrets on this helmet!
Stand out from the herd!
Familiarity:

I gave it as a gift but have feedback to share
I gave the lime colored helmet as a gift, as this is the feedback I got back:



First, love the color, but I for one, like to stand out. If you like to blend a bit, go with white or black. Beyond that, the Diversion Audio Helmet gives you a great fit, fully adjustable, ventilation, and a light weight feel that keeps you protected without giving you a headache. The sound quality is great for the price point, but you shouldn't expect some high end surround sound nonsense - that would be way unsafe anyway. All in all, a great buy and a total upgrade from my previous brain protector!
Comfortable, not too hot, decent audio
Familiarity:

I've used it several times
My biggest fear with a helmet is that it's going to be too hot, and the diversion provides lots of options for adjusting airflow, so that's really the biggest features I was looking for--and it's not really found on a lot of other helmets.



It does not feel like the helmet is perched on your head, but rather that it has swallowed it whole--a real "bucket" feel. Adjustability is good.



The audio is surprisingly good. I'm a bit spoiled by good audio in my life and I wasn't disappointed. (It aint carnagie hall, but it will do.)



The audio wire is the dumbest design ever. Clip is tiny and useless. The button for pause/play is so small (and flush) that it is hopeless to think you will find it with gloves on.



Honestly my biggest complaint is that it's hard to tell what "more" I'm getting with this helmet over the lesser priced models. It is hard for me to believe that the venting is $30 extra, but so be it.


K2 Diversion Audio Helmet
Looking to purchase 2 X K2 Audio Helmets...
Looking to purchase 2 X K2 Audio Helmets and checking to see if you ship to Perth, Western Australia and how long it will take for the products to reach us, regards



Tim
hey tim. I don't work for bc, so I don't have your answer. however, instead of waiting for somebody to see this question, you can click on the "live chat" link at the top of the page and get an answer more quickly.
Unfortunately, due to our brand restrictions, we are not able to ship K2 products outside of the United States. Sorry!