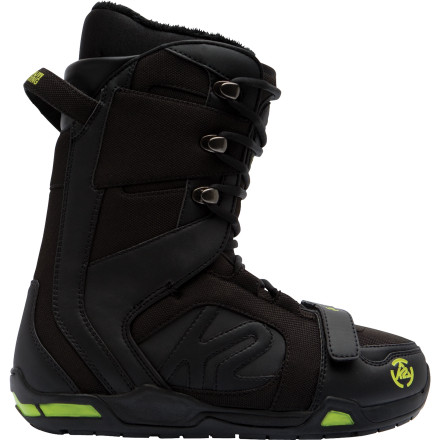 Hey, these boots are nice and all, but after riding them for 2 weeks, the sole is coming off at the toe. Im really disappointed, and i bet k2 will re glue them and send em back. Thats not what i pay good money for.. Forget these, try DC's or 32's.
Ive been riding these for about a week now. There pretty sweet, i give em an 8 outa 10. There warm, comfy and you can audjust em to be super stiff and tight to the point your feet loose circulation, or pretty cruisy to just ride park. Not a bad boot, especially at this price. Rock on kids, buy diz sh!t, you'll be happy.
Does this have a good flex? get back at...
Does this have a good flex? get back at me
Best Answer
i tried the new verison of this boot last season at demo days with the bao liner and lace fronts and it was amazing. the bao liner pulls your heel into the back of the boot and the ankle support was spimply the best, i have the burton ions from 06 and i am not happy with them so i am looking for something new to replace the not so stiff, stiff burton boot. and the darko is it. but the darko can be used as a stiff boot or a forgiving boot because of the bao lace combo, you keep the bao tight and the laces loose and you can have what ever flex you, and K2 rates it a 4 out of 5 on the stiff chart. great boot looking forward to buying 09/10 pair.