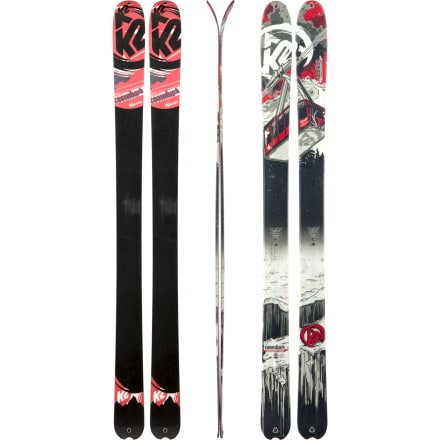 Videos
Description
Takes on alpine, tele, or AT binders and the steepest of the steep.
The steeper and more technical the terrain, the happier the K2 Coomback. After all, it was named after legendary mountaineer and extreme ski pioneer Doug Coombs. The Coomback is solid and reliable in steep terrain, it powers through choppy conditions at speed, and it floats through the deepest of days. Seasoned veterans can use this as their go-to tool for exploring exposed chutes and no-fall first descents, and not-so-seasoned shredders can point this rockered mid-fat everywhere from the trees below the tram to skin-accessed pillow lines. Let's face it, the Coomback is infused with the versatile capabilities of its legendary namesake, and that sounds pretty good to us.
All-Terrain Rocker tip gives this ski a 30/70 rocker-to-camber balance in order to ease edge transition, lift the tip above soft and choppy snow, and aid overall ski maneuverability
Rockered Powder Tip eliminates the need for increased surface area in the tip so you get more flotation with less of a chance of snagging a tip in deep snow
Camber along the rest of the ski provides precise and steadfast power and edge hold on hard, groomed surfaces
Fir, maple, and aspen wood stringers are combined to create a single core that's lightweight, highly durable, and lively underfoot
Triaxial Braided core consists of a wood core with fiberglass braided around it in order to increase torsional strength while maintaining the lively flex of the wood core
Cap Construction creates a durable and lightweight ski by molding a laminate and top layer over the core of the ski
102mm waist width helps this ski float on deep days and provides a stable platform for surviving hard landings, and it's not so wide as to sacrifice edge-to-edge maneuverability
Carbon Web technology increases torsional rigidity at the tip and tail of the ski by laying strips of carbon over the core material in a web-like pattern
Increased torsional rigidity keeps the ski from twisting like the ends of a candy wrapper when turning force is applied, which means edge hold is increased, particularly at high speeds and on chattery hardpack
Snow-repellent SnoPhobic topsheet uses a hydrophobic wax coating that keeps heavy snow from building up on top of your ski while you're skinning or touring
Flat tail allows for easier attachment of a climbing skin and provides utility by allowing you to plunge the tail into the snow to form an anchor with your ski
Screw out the Tip and Tail hardware rivets and attach a K2 climbing skin to the ski using the integrated attachments that eliminate the ever-clumsy tip clip
K2 Donates a percentage of all Coomback ski sales to Doug Coombs' family, and another portion of the proceeds will fund the American Mountain Guide Association's Chad Vanderham Endowment, which is focused on improving guide education and safety
Share your thoughts
What do you think of the
K2 Coomback Ski
? Share a...