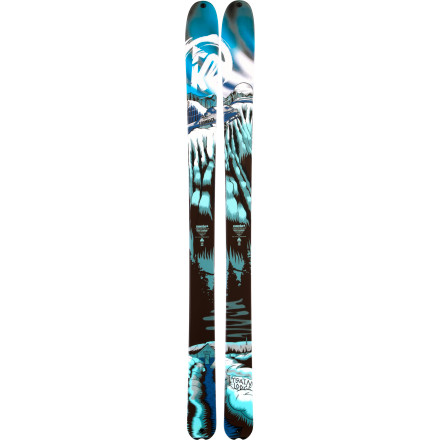 Videos
The steeper and more technical the terrain, the happier the K2 Coomback. After all, it was named after legendary mountaineer and extreme ski pioneer Doug Coombs. His memory lives on in this second graphic in a series of three that portrays Doug's days pioneering the Chugach Mountains. The Coomback is solid and reliable in steep terrain, it powers through choppy conditions at speed, and it floats through the deepest of days. Yup, it does it all, from playing the part of a ski for exploring the unexplored or taking first descents to being a go-to rockered mid-fat ski for lift-assisted laps.
The Coomback is infused with the versatile capabilities of its legendary namesake, like the All-Terrain Rocker tip, which gives this ski a 30/70 rocker-to-camber balance in order to ease edge transition, lift the tip above soft and choppy snow, and aid overall ski maneuverability. The Coomback is lightweight, highly durable, and lively underfoot, because it's constructed with fir, maple, and aspen wood stringers with fiberglass braided (Triaxial Braided) around it to increase torsional strength and a lively flex. If you're bombing it in the backcountry, you need a long-lasting ski; Cap Construction creates a durable and lightweight ski by molding a laminate and top layer over the core of the ski. Snow-repellent SnoPhobic topsheet uses a hydrophobic wax coating that keeps heavy snow from building up on top of your ski while you're skinning or touring. The 102mm waist width helps this ski float on deep days and provides a stable platform for surviving hard landings, and it's not so wide as to sacrifice edge-to-edge maneuverability.
Camber underfoot with elevated (rocker) tip
Triaxial braid, cap construction
Fir/aspen/maple core
102mm waist
Unanswered Question
Any difference(on snow) between Coomback...
Any difference(on snow) between Coomback and Anti-Piste?
I'm debating between the 167cm and the...
I'm debating between the 167cm and the 174cm. any suggestions for this particular ski?



I'm 5'87" , 150lbs, advanced skier. and hope to use these exclusively for backcountry (Sierras and PNW). I'm looking for a ski that can handle some steep and technical terrain as well as longer tours. Plan to mount with dynafit bindings.
Best ski I can remember skiing on, ever
Familiarity:

I've used it several times
I bought these for powder days and I could not be happier with my purchase. They blast through the back bowls of Vail, cutting through the cut up pow and crud and help you save energy on big mountain runs. I grew up skiing in New Hampshire so am wary of powder skis on the frontside/hardpack/ice, but these carve and hold an edge as well as any ski I have been on. Amazing.
Hi, I am 6'1" and 185lb and plan on getting...
Hi, I am 6'1" and 185lb and plan on getting the Coombacks for telemark riding, mostly backcountry/offpist. I am a beginner/intermediate level telemark skier. Would the 181 be the right choice?
I am 6' and 185lb. I own a pair of Coomba 174s. I skied 210

GS and 200 Slalom and Powder skiis 20 years ago and don't think you need to go up to 181s. I have a 210 lb friend who skis them and would stay shorter. I let them run on piste and they carve hardback well. When I go out west I just take the Coombas and they work even if there is no powder. I skied them at CMH on my last two helicopter ski trips at the same length. They felt very good in thigh deep powder, wind pack sections and did very well in tight trees. Steep trees and tight lines is where they shine and I am glad I ski the shorter ski. Even at 174 there is a lot of ski and torsional stiffness to see you through. they feel GS like on hardpack and slalom like in deeper snow. I love my Coombas!
Hey there, I'm an advanced tele skier,...
Hey there,

I'm an advanced tele skier, 6ft, 180lbs, riding with older syner-G boots from garmont. I currently ski a 181cm sideshow, and find that on deeper days, I don't have enough floatation and I find that the boot isn't stiff enough to turn the skis; too much play. Should I get skis that are wider like the coomback or get a stiffer boot?
Kind of sounds like both. Floating in the snow (or failure to float) is usually one of three problems: 1) the ski isn't fat enough, 2) you're not going fast enough, or 3) your boots/bindings are TOO stiff and are shoving the nose of the ski down into the snow when you drop into a turn.



If you feel like there's a lot of play in the boots, though, they're either too big or too sloppy for you; I'm inclined to think the latter as the Syner-G is not an especially stiff boot.
K2 coomback
Gender:

Male

Familiarity:

I've used it several times
I'm a CSIA instructor and backcountry skier and I love these ski. I originally bought them for strictly backcountry but find my self using them for teaching and resort ski All my other ski are collecting dust now. I ski on the 174 I'm 5'10" 170 lbs. and expert skier I put the dukes on them which seem to ice up and hard to get them in lock mode
I am looking at getting a pair of 188...
I am looking at getting a pair of 188 coombacks I am an expert, aggressive, big moutain and backcountry skier at 6 feet and 189 pounds. Reading some of the Q&A I am concerned these will be too long?
These will not be too long Jesse - they will measure longer than 188, but if you ski big mountain and like to mach, you should be fine on a 190+ ski. I'm smaller than you and find the 188 coomback very manageable as it is on the softer side and not terribly hard to ski.
Amazing ski for all conditions!
Familiarity:

I've put it through the wringer
I've skied many different skis in this category, and I always find myself coming back to my Coombacks. They are a fantastic ski! From groomers, to crud, to powder, this ski handles it all well and gives me the confidence to push myself. I think this ski's width is perfect in all sorts of conditions. It floats well on powder days but still isn't too wide to not carve good turns on crud or hardpack. It is by far my favorite ski and I have skied many different skis. If you are looking for an all mountain ski that excels in the side and backcountry, pick these up. You wont be disappointed!
I am 5 ' 5" male with a long torso that...
I am 5 ' 5" male with a long torso that currently skis k2 phat luv 160 cm (135-102-121 I ski the woods and love a light quick ski. First of all what size should I buy and secondly what is the difference between coomback and gotback
Best Answer
I would go with the 167 in this ski if you plan to ski in the trees a bunch since it will turn quicker than the longer lengths. The longer the ski the better it will be for going fast in open bowls or through crud. The gotback ski is the same design but is designed for women so it uses a softer core. Other than that they are basically the same ski. They do offer the gotback in shorter sizes and this helps to make the turn radius on the shorter sizes smaller so the ski gets into a turn quicker than the longer lengths.
I'm a female intermediate to expert tele...
I'm a female intermediate to expert tele skier, last season I was on a BD verdict 170 however..I wasn't impressed with the responsiveness and maneuverability of them. I'm 5'10" 150 should I go with the 167 or the 174? I also love to bomb the front side of the mountain, love moguls, and go backcountry as much as possible :) suggestions?
Best Answer
Hey bcgirl,

Great name by the way! I always prefer to go with the longer option for skis. I love backcountry and like to ski fast whatever snow condition I am on.

Don't be intimidated by the longer skis, it may just take a few turns to get used to the added length!

Pray for Snow!


Unanswered Question
Similar to question below, does the 174...
Similar to question below, does the 174 at 102 provide sufficient surface area that I should size down if on a 174 at 88 (wayback) now for similar performance - all things relative? (I'm 5'10"/165).
Hi - I'm considering this ski along with...
Hi - I'm considering this ski along with the Dynafit TLT Radical ST (100mm brake). The Coomback is 102. Just wondering if you recommend going larger on the brake or if you think most ski shops would be able to make this work? Thanks in advance for any insight you can offer.
Best Answer
The 100mm brakes will work just fine as its just 1mm on each side they have to bend. The next step up is 110 which will give you more overhang than you want. The Coomback+Radical is a great combo and you will love it.
I'm trying to decide between 174cm and...
I'm trying to decide between 174cm and 181cm in this ski. I'm 5'11, 185lbs and solid intermediate tele skier. Thoughts?
Thats a hard thing for us to decide for you but I can try to help. At 5' 11" 181 is probably getting pretty close to your max ski length that I would recommend, especially with these skis. That rockered tip should allow you to cut a few cm's off your sticks and still get that smooth powder ride. Now if you are a guy who just loves speed get that extra stability out of the 181's but otherwise keep with the maneuverability of the 174's. Hope that helps.