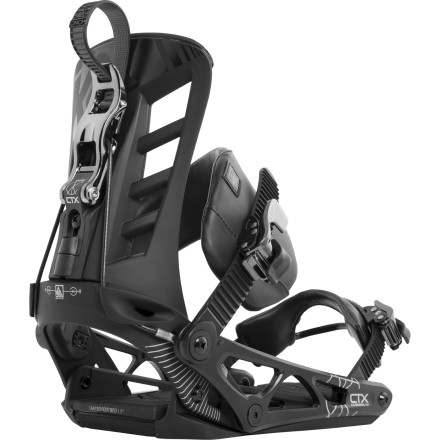 Detail Images
Tired of watching skiers zoom by you on the way to the best powder stashes while you fumble with strapping into your bindings? Make that feeling a thing of the past with the K2 Cinch CTX Snowboard Binding. It has a speed-entry system to get you off the lift and on the run faster, plus it's equipped with K2's top-shelf tech so you can send it on the way down.
There are a couple of advantages to the Cinch system. The first, and most obvious, is how quickly you can get in and get out of your bindings. This is a pretty big deal on a powder day when everyone is making a mad dash to drop in. The other advantage is the set-it and forget-it advantage of never having to mess with your settings once they are right. The entry and exit works independently of your straps, so the adjustments aren't altered every time you get to a lift.
Of course, the Cinch CTX is about more than just convenience. The designers at K2 cored out any unnecessary materials of the Cinch C2 chassis and Cinch Airlock highback to reduce weigh,t so you don't have to choose between quick or comfy. The canted, seamless EVA footbed with Harshmellow shock pads cushions hard landings while compensating for the natural angle of the ankle and foot. The ultralight Asym AT ankle strap features a Harshmellow ratchet pod to eliminate pressure points, and the adjustable universal toe strap allows for either around the toe or over the foot use. The Ultra Radchet ratchets are equipped with oversized aluminum levers that are extremely durable and easy to use, even with gloves on.
Cinch rear-entry system
Mid-stiff all-mountain flex
Cinch Airlock highback
Cinch C2 baseplate
Canted, seamless footbed with Harshmellow
Asym AT ankle strap, tool-less toe strap
Universal discs