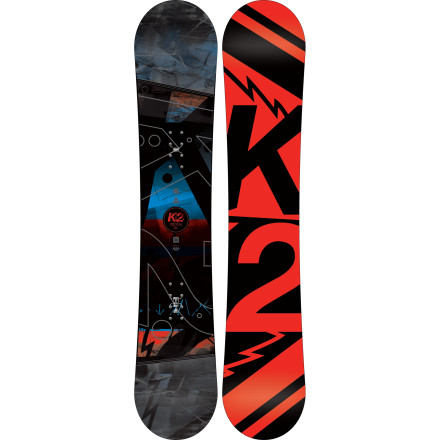 Detail Images

Videos
We aren't born expert snowboarders. If we were, it wouldn't be very fun. Progression is what makes snowboarding fun, and the K2 Brigade is all about progression. The Brigade's friendly, forgiving profile and sidecut give you the control that you need to progress without the broken bones that you don't.
The Brigade starts with K2's Catch Free rocker profile, which is designed to inspire confidence by providing plenty of edge control without punishing you for every little mistake. The directional shape uses K2's All Terrain Dual Progressive sidecut with the contact points lifted out of the snow, so the turn initiates before the edges hook. Construction is K2's patented Hybritech, which uses sidewalls along the running surface that flow into the tip and tail for durability, optimized turn initiation, and reduced swing weight.
The W1 core is made up of one type of renewable wood, strategically chosen to increase strength, reduce weight, and dampen, and finished off the recipe with the easy-to-repair 2000 extruded base.
Catch-Free Baseline Profile
Dual Progressive Twin shape
W1 core
2000 extruded base
I'm an intermediate-advanced rider, been...
I'm an intermediate-advanced rider, been casually riding (avg 4 days a year) for over 10 years now, decided it's time to buy my own board. I can ride most blacks easily and handle easier double blacks.



This board is marketed as a beginner board - do you think it would limit me in any way? I'm no expert snowboarder, but other descriptions of the board mentioned learning to link turns on it and I'm a decade past that stage. Should I be looking at boards that are advertised as more intermediate?



If it helps, I ride maybe 70/30% runs/park. No backcountry or deep powder.
This board would probably work pretty well for you with the level that you're at. It's not super poppy or flexible like a true park board, but also not mega stiff. I don't see how it would limit you other than the fact that it is slightly directional, meaning riding switch will be a little tougher if that's something that you'd like to have the option of doing.
I'm thinking of getting this board in a...
I'm thinking of getting this board in a 155, but I wear a size 10 boot. Should I get the wide version?

Thanks

Steven
Best Answer
Hey Steven, I rode wide boards for years with a size 11 foot, now that I'm more advanced I've only been riding narrow\standard width. At size 10 standard will be fine!

Wide boards are difficult to transition edge to edge and can really effect your turning on hardpack.
Would this work in pow at all
Would this work in pow at all


Best Answer
Hey again Tanner,



I think this board is a little better for deep than some of the other boards you have asked about. With more of a directional shape and rocker in the tip and tail it will really help keep your tip up out of the snow so that you don't have to lean back as aggressively. But it seams like you have a lot of questions on a lot of boards so please give us a call because our Gearheads love talking about this kind of stuff.
K2 Snowboards Brigade Snowboard