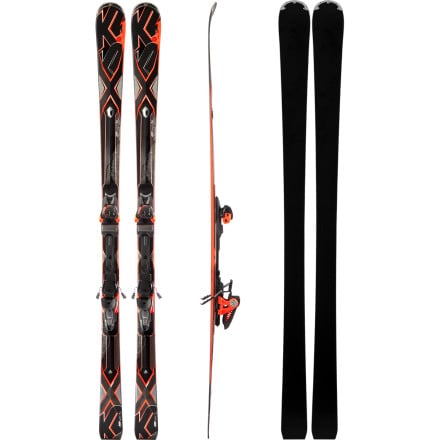 Videos
Description
So fast it'll leave you checking your pants after turn one.
K2 bottled lightening into a ski when it created the Bolt Ski with Marker MX 14.0 Binding. This is the flagship of K2's turn-trenching, Mach-speed armada of frontside skis. It dices medium to long radius GS turns like a sword and gives expert-level skiers a stable, highly-responsive, and laser-precise platform for dominating groomed runs. Ever laid waste to some corduroy while riding a performance ski with a rockered tip? You're going to want to.
Elevated Speed Rocker tip gives this ski a 10/90 rocker-to-camber balance and creates near effortless turn initiation and smooth-as-silk transitions between deep, aggressive turns
Camber along the rest of the ski provides precise and steadfast power and edge hold on hard, groomed surfaces
A stiff and highly durable Fir core creates a snappy and immensely powerful platform underfoot suitable for expert-level skiers who like a consistent and precise flex for trenching turns and going really, really fast
Metal Laminate is K2's most complex construction, and it creates a high-performance platform that's stiff, damp, and stable at speed
Metal Laminate construction consists of alternating layers of fiberglass and full-length sheets of Titanal metal above and below the wood core
Hybritech Sidewalls blend sidewall and cap construction to give this ski both the power and edging accuracy of sidewall construction and the lightweight feel and smooth turn initiation of cap construction
Rox Technology is the careful balance of Speed Rocker, Carbon Web, Mod Suspension, and primary core and structural layers that gives this ski its unshakeable hold and nigh effortless turning capabilities on firm snow
Carbon Web is an x-shaped carbon support that sits on the top sheet, far from the core, where this support independently increases torsional rigidity without affecting overall longitudinal flex (tip to tail flex)
Increased torsional rigidity keeps the ski from twisting like the ends of a candy wrapper when turning force is applied, which means edge hold is increased, particularly at high speeds and on chattery hardpack
72mm waist is all about agility from edge to edge, and it stands as the center of an overall aggressive sidecut shape with a change of 53mm from the tip of the ski to the waist
Mod Suspension is a secondary core that lies on top of the ski's primary core and absorbs vibrations from choppy terrain and dampens the ski to increase overall ski control and reduce tip skipping or wandering at speed
Mod Suspension acts independently of the primary core so overall longitudinal flex is unchanged
Mod Monic is a solid zinc mass attached to the top of the Mod Suspension secondary core that takes on the majority of the vibration-dampening responsibilities in order to make dampening more efficient
Titanal hubs are imbedded into the core of the ski for the most direct transmission of power from the ski binder directly to the core of the ski
Titanal hubs have a 50mm-wide footprint that decreases the distance between the binder and the edge of the ski for greater pressure-to-edge performance
M3 binder mounting plate is directly integrated into the top sheet of this ski and attached to the imbedded Titanal hubs so there's no drilling required for the attachment of the Marker MX system binder
Included MX 14.0 ski binder directly attaches to the M3 binder mounting plate via the imbedded Titanal hubs and operates as an integrated system
MX 14.0 ski binder is adjustable up to an expert-level 14.0 DIN setting in order to provide the most precise control balanced with the highest level of safety
MX 14.0 Ski binder utilizes Inter-Pivot Heel technology and the lightweight Triple-Pivot Comfort MX toe piece that includes a cross-mounted spring, stainless steel AFD, and backwards release function for extra safety
Share your thoughts
What do you think of the
K2
Bolt Ski with Marker MX 14.0 Binding
? Share a...
K2 Bolt w/Marker MX 14.0 binding
Member since
Posted on