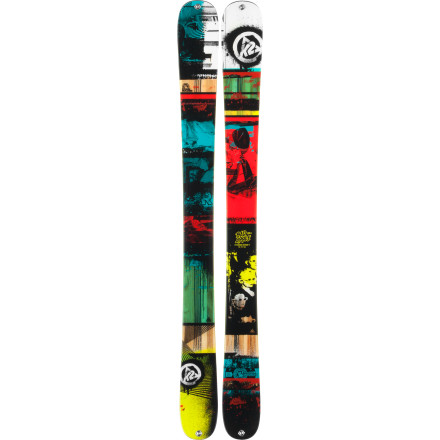 Videos
It seems like only yesterday your little snuggle monkey was rolling around in the snow like a polar bear cub. Now your child has transformed into a powder-shredding monster with an endless appetite for the steep and deep. Watch your pro hopeful feed the (snow) beast on the K2 Kid's Bad Apple Ski, whether you're following her tracks or breaking trail for him.The wide waist (100mm) and short turning radius make the Bad Apple a good choice for powder-hungry, turn-tearing speed-demons with baby teeth still left to lose.
The Bad Apple's mug shot shows a perfect blend of rocker and camber. When unweighted, the ski contacts the snow just behind and just in front of the binding zone. As your kid leans into a turn, 80% edge-snow contact exists, so your future champion will inscribe a beautiful ribbon pattern down an immaculate palette of glistening corduroy. The rocker part of the ski silhouette is evidenced up front; the tip has the longest and greatest rise of all the K2 profiles for the most float in soft, deep snow. For a kid who loves popping through powder and fileting firm snow, the Bad Apple is one good seed.
A blend of aspen and paulownia woods creates a durable and stable core strong enough to withstand aggressive moves and mogul maneuvering. Three streams of fiberglass are woven at off-axis angles, and then wrapped around the wood core to enhance torsional strength without sacrificing the spritely spring associated with wood cores. It might not sound like much, but after you watch your kid throw down deep trenches on groomers and ride rails in the terrain park, you'll be grateful for the TwinTech sidewall construction. Instead of traditional sidewall construction, this innovative construction rolls the top material into the sidewall to eliminate the typical 90-degree angle between the top and the side. This deliberate design reduced abuse and damage to the ski, despite being rode hard and put up wet.
Powder Rocker (50% rocker, 50% camber)
Powder tip
TwinTech Sidewall construction
Paulownia and aspen wood core
100mm underfoot
Swap base
What do you think about this product?
Have questions about this product?