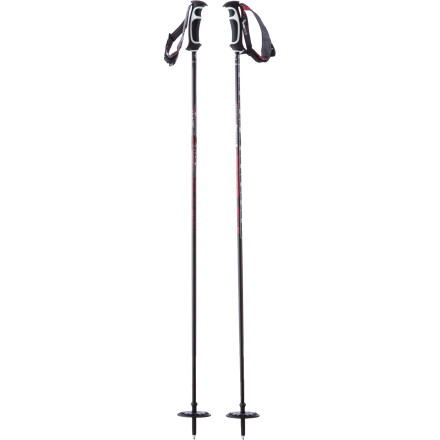 Videos
The K2 BackSide Carbon Pole is a light, stiff solution for backcountry skiers who know exactly what length of pole they need, no adjustability required. Plant this pole's wide powder baskets deep in the trail and skin off into the backcountry when everyone else is fighting to get on a lift chair.
Triax carbon shaft is super strong, stiff, and lightweight
BackSide grip gives you a secure and comfortable hold on your pole, and its slim shape won't interfere with grabs
Ergo strap uses hook-and-loop closure for simple and secure fit adjustment
Larger diameter powder basket provides better deep snow support, and it uses soft webbing that won't skip on hard snow
Snow depth markings mean that you can use the shaft of this pole to get depth readings in snow pits or on the slope
So far, so good.
Familiarity:

I've used it several times
I wanted a good quality alpine ski pole from a known alpine "ski" brand. In my mind this means a big basket, a good functional grip for mogul stabbing, and the shaft can handle some use and abuse. I ordered 3 pairs of poles so I could compare and contrast.



Baskets - The K2 baskets are huge.

Shafts - The shaft seems thick and strong with enough flex to keep from breaking.

Grips - A pole with a significant grip for aggressive pole plants, specifically in moguls. The pole grip material seems quite "grippy" even in cold/wet weather. The grip shape nicely accommodates my hand size. However the bottom "lip" of pole grip could be more pronounced for pole plants.



So far I've skied these poles for 8-10 days, moderately hard. No park tricks but a minimum of 5-7 mogul runs each/every day. We'll see how they fair by the end of the season. I'm giving it 4 stars, so far....
Unanswered Question
I broke a pole last weekend. Are single...
I broke a pole last weekend. Are single shafts available ?
These poles are awesome! If I were to compare these poles to anything it would be unjust, for the complete and utter awesomeness of these poles cannot be compared to anything that I have met or seen. I am a person that breaks poles. It just happens. These poles are light and strong enough to take a beating. Then if by some miracle you break them the carbon doesn't splinter.
Unanswered Question
I just received my poles but I'm not...


I just received my poles but I'm not seeing the inclinometer. Am I missing something?