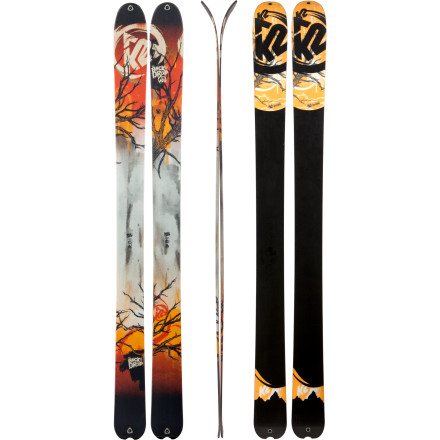 Videos
You love your fat skis, but all that weight is hard to lug up the skin track. Get the next best thing with the K2 BackDrop Ski. This touring slayer features superlight construction, a fattened 112mm waist, and an increased shovel rocker so you're able to slash mad pow turns in the backcountry without the pain-in-the-arse excess weight of a heavy powder ski. This lightweight, durable ski also works well as a quick-and-nimble resort powder muncher or sidecountry gate crasher.
All-Terrain Rocker profile consists of an elevated tip for variable and soft snow performance and camber underfoot for power, energy, and edgehold in firmer conditions
PowderTip design pulls the widest point of the tip further down the ski, which retains float in soft snow and also minimizes deflection in adverse snow conditions
Lightweight core features a blend of aspen, paulownia, and maple, which results in a 15% weight savings over traditional cores
Unique core also decreases the carbon footprint of the ski, which reduces our impact on the winter world
Cap construction offers a lightweight ski with a low swing weight and smooth turn initiation
Trixial braided construction consists of braided fiberglass around a wood core that provides torsional rigidity for added control
Triaxial braided construction delivers a forgiving and extremely responsive ski
Carbon Web technology (webbed carbon overlay located on the tail and forebody of the ski) gives lightweight torsional rigidity, which increases edge grip especially when you skin up an icy sidehill
Snowphobic topsheet technology has a snow-repellent topsheet so snow doesn't collect and add excess weight while you climb
Applying wax to the topsheet also increases its snow-shedding performance
Tip and Tail hardware functions as attachment points for your K2 BackDrop Precut Skins (sold separately) and comes with a removable plug
Tip and Tail holes also allow you to build a rescue sled, construct various ski anchors, and carry less weight while increasing your safety margin
There does not appear to be a boot center line on these skis. Is that true?
Matthew, that seems weird! So we dont have this ski in stock to check but, we looked at a few other K2 Skis. If the mark wasnt clearly on the top sheet then they had the measurements on the sidewall. Ill shoot you an email so you have my contact info, If there arent measurements on there at all I'd like to see a picture I can pass over to K2 to get that info for you.
It is there, but its hard to see. Get a light right on the area where you think mid sole is and angle the ski. You'll see it. Barely...
Great ski.
Familiarity:

I've used it several times
Put the ntn's on em and spent two days on marginal conditions.

Fun, lively ski. Wanted to make some turns on them prior to putting the skins on em. Rode em in marginal icy conditions in the northeast. They do not carve up the ice, but I had fun sliding them around.

Can't wait to get em in the backcountry.
Big guy question. I am an OK telemarker. I weigh 220. 6 feet tall. In my 40s and all my k2 skis are under the 180 mark.

This will be a good snow ski with ntn's on them.

Should I stop worrying and get the 181's or stick with what I know and go with the 174's. K2 skis seem to ski bigger than what they put on em for size.
Best Answer
Depends on how you ski or would like to ski. If you want to ski faster and make bigger turns the 181 will help you. If you like to make shorter turns and are okay with skiing a little slower the 174 will be much more fun to ski.
The 174 it is, much appreciated!
I have the K2 hard side and love to tele...
I have the K2 hard side and love to tele in them. They ski awesome in all conditions. Looking on getting a new pair, the K2 back drop. Will these perform like my hard side skis but give me more floatation in powder?
These will be very similar to your hardside skis with the fact that the tip rocker and the camber are very close. Since the BackDrop ski is fatter all around it will provide much more flotation in the powder and will make it easier to cruise along without having to dig your feet out of the snow as much. It will also make the super deep days easier to cut through that pow pow. If you take these skis on some groomer runs or in some choppy snow you will notice that this ski has a bigger turning radius so you will have to be a little more patient when you put them on edge before they will come around and carve for you.
Unanswered Question
A bigger badder Coomback? I recently got...
A bigger badder Coomback?

I recently got a pair of Coombacks (mounted Tele-22 D Axl) and absolutely love the ski. I want a bigger ski to replace a Volkl Shiro 183 which I just find too unwieldy in snow that is anything other than optimal. I read in one of the reviews that this skis a lot like the Coomback but is obviously bigger and fatter. It is surfy and forgiving like the Coomback?

Me: Vail local, 70+days, hard charging tele guy. Powder, bumps, cruising...I love it all. 185 pounds, 5"10".

I am skiing the Coomback in a 174 which I like in the bumps, but thinking 181 for this a powder charger.
Unanswered Question
I am 5' 6" 115 lbs. I'm a great hiker and...
I am 5' 6" 115 lbs. I'm a great hiker and skier but I find the light skies are tough for me to control on the way down. I've tried the Black Diamond Starlet and it's too light. I don't like fully rocketed skies either. So, would this ski be more aligned with me? My favorite ski ever was the volkl kiku from 2008 before volkl made kiku a rocketed ski.
I am 5''7 and 150, I am an Advanced to...
I am 5''7 and 150, I am an Advanced to Expert skier. I am willing to buy those for around 2 hours touring from ski resort in the Alps. I was wondering if I should go with 174 or 181. I am used to ski on shorter skis....
Any advice on sizing ? I'm 5'8" and 145...
Any advice on sizing ? I'm 5'8" and 145 lbs .... Don't normally expect to ride the longest ski in a series, but the 181 doesn't look that big!
About the same question !


I'm an intermediate resort skiier looking...
I'm an intermediate resort skiier looking to go backcountry. Most of my skiing experience is groomers and resort pow in Nor Cal. I need a forgiving ski that can handle the pow and Sierra cement (for spring days) that won't break the bank. These skis are on the $$$ side but would they work for the descrip above and if not, what do you recommend?
Best Answer
If by backcountry you mean doing some touring these will be great, as they have the notches for your skins.

The elevated tip and camber underfoot on these skis gives you an all around ski for variable conditions.

Another ski you could check out for those conditions would be the Rossignol Squad 7.

Hope this info helps!
Is the extra width/weight worthwhile in...
Is the extra width/weight worthwhile in regards to increased performance? I ski the Wayback which lists as 1.5-2 lbs lighter per pair. Significant weight over a full tour but willing to sacrifice if the performance is that much better.
Best Answer
I think I have an answer but it may not be one that you like. The short of it is, it depends. I think the primary determining factor of whether or not its worth it is where you ski and in what conditions. I find that touring on my fatter skis on days that don't have a lot of power and when I'm not breaking trail don't seem to be worth the weight penalty. But on deep days I find the joy of skiing on fatter skis as well as the added efficiency of increased surface area while skinning on unbroken terrain to be worth the weight penalty. Overall I would say these creep towards being a quiver ski for deeper days, I ski and tour in the Wasatch and I'd say 99% of the time I take out my skis that are in the 105 range underfoot for a good compromise of surface area and weight. But that's just my two cents.
Thanks Arthur. Spend a lot of time on both well tracked and unbroken trails. Sounds like a compromise between these and the Wayback is in order.
the K2 sidestash is your answer

Its last years ski but its the the compromise you are looking for.

check them out. BC has them on for 380$

They perform amazing in pow, on groomer, in crud or slop, not too good on hard pack. would be perfect for what you want.
Can you please put these on sale already!?...
Can you please put these on sale already!? All the other skis are...
Hey R_go>

Sorry about that! We only have 2 pairs of these skis remaining in inventory, which may be the reason we have chosen not to put them on sale. We do offer a 30 day price protection, should you purchase the skis and they go on sale.
Deep pow, all day vertical
I must start off by saying I was surprised at how well these skis performed. I was expecting a spineless and not too playful ski as I ride the sidestash and sideseth a ton, and I find the coombacks to have a speed limit and be a little boring on the high end comparatively. But for the weight and dimensions, I can't believe how fast and fun these skis are. k2 nailed a good balance between weight and performance, and the ski has enough backbone and spring in its step to work really well. Granted I have only used this ski in deep powder backcountry conditions, so I can't tell you how it performs on any other surface, but in those conditions it rocked. In reality though, with dimensions like this, I wouldn't really use it for much else.
Playful, fun ski!
Gender:

Male

Familiarity:

I've put it through the wringer
I switched from the Dynafit Stokes to the K2 Backdrops this season, and could not be happier. The Backdrop is equally playful in fresh backcountry powder and cruisers back through the resort at the end of the day (although it certainly wasn't built for the latter). I found the Stokes to be lifeless, but the Backdrops are springy, and they float better. The All Terrain Rocker compensates for inadequacies in my form by keeping the tips on the surface even if I'm not perfectly balanced (which my friends say happens often). I've even skied these on steep, icy backcountry lines and was pleasantly surprised how well they held -- they will not be mistaken for a carving ski, but they held pretty well. This season, I've skied steeper and more narrow terrain than ever before and my confidence on this incredibly responsive ski is part of the reason. I use the Dynafit TLT Radical ST binding, the Dynafit Titan TF-X boot and the K2 trim-to-fit climbing skins.
I just purchased a pair of K2 BackDrop 174...
I just purchased a pair of K2 BackDrop 174 cm. What is the best skin to pair them with?
Hey Thomas Laffont,



Thanks for the question. The skin you'll pick to accompany your new K2 BackDrop Skis will depend on what kind of skinning you do. The Black Diamond Ascension STS skins work very well with their adjustable tip loops and tail clip. They come in 3 different materials: Nylon (best grip/durability, heaviest); Mohair (lightest and best glide, not very grippy/durable) or a mix of the two (decent grip, glide, durability and weight). So, pick the material that fits what you need most and be sure to pick the width that at least covers the waist width of the ski. Size off of the tip if more skin coverage is needed on the base of the ski.
I use the K2 Trim To Fit skins on my K2 Backdrops and I love them. They are a mohair blend and do a decent job gliding and gripping. They are not quite as grippy as the Black Diamond Ascensions, but they glide better.
Great response
Gender:

Male

Familiarity:

I've used it several times
These ski's have great response and can get through anything!
All Mountain Fat BC Ski
Gender:

Male

Familiarity:

I've used it once or twice and have initial impressions
Dec 2012, Skiied 181 cm K2 BackDrop Fat skis w Hammerhead bindings here in Colorado.. tried every surface at the resort: off-piste virgin powder, nasty tree runs, crusty crud, mogully black diamonds.. these skis impressed me. I was concerned about the ski performance on crusty resort snow, but the skis sailed through the crud with very nice stability. Even at 181 cm, they are light enough to stitch through moguls. For skiiers worried about the width of these skis for resort skiing, I suggest you demo them and decide - I certainly was won over.
Unanswered Question
I'm looking for mounting recommendations...
I'm looking for mounting recommendations either +/- 1 or 2 cm from factory mid boot mark. I'm going to mount em with a pair of Dynafit radicals. Thx.
Thanks for your response. I wasn't even...
Thanks for your response. I wasn't even considering the Backdrop until I read Arthur's review down below. So, if it's essentially a wider version of Coomback why not go with that? I am riding lifts primarily, and while I want something that can handle groomers, I also want something that will excel in power, crud ,etc. I want that one quiver ski. My only concern with the Backdrop is if it's too wide (i.e. more of a powder ski) as opposed to something you can really enjoy every day no matter what. That said, we are not talking Darkside or Pon2oon dimensions here, so maybe my concerns are misplaced?
Yeah I don't think you'll be bummed about the width. But for resorts, I'd just pick between this and the Sidestash and let the guiding factor be your preference on stiffness. Good luck!
I'm debating between the K2 Sidestash,...
I'm debating between the K2 Sidestash, Coomback or Backdrop for use as a telemark ski in the Sierra and NW. Not sure which ski to go with or what size. Leaning toward a 181 but maybe a 174 in the Backdrop. Wondering if that would be too short? I'm about 6' and 180 lbs. with many years of tele skiing under my belt. I'm looking for an all mountain, all condition ski. Have some experience on the K2 Hardside from a few years back. Any thoughts/recommendations appreciated. Thanks, RA
Best Answer
Hi - I think that the Sidestash is just too heavy for my taste if you're going to be touring with it. That being said, for an all around PNW ski, it might be my choice is you are riding lifts primarily due to a bit of extra heft and stiffness. I like the coomback as a tele ski (mounted it alpine and hated it), but it is probably the softest of the three. For the rockies the Backdrop is the no-brainer, but where you are it will just depend on how fat you'd like to go. If you're skiing a bunch of crud and powder while hiking for turns, I'd still go for the backdrop. If you find that you ski groomers and spring corn often and want to carve a bit more in the resort, Sidestash. If you want one ski that can do everything from mountaineering on side ice to powder turns to groomer runs, the Coomback is the all-rounder. Whichever ski you choose, I'd go for the 181. I'm a pretty bad tele skier and I have no trouble with my 181 Coomback.
What length would you recommend for someone 5'11" and around 140 lb. Do I need to size up for the rockered tip? Or at my weight, should I go for the 174, because of the flat tail and since the 181 is going to be at least 184 in K2 centimeters? I'd be using them mostly for touring around Tahoe.
at 140 lbs, you better go for the 174 dude.