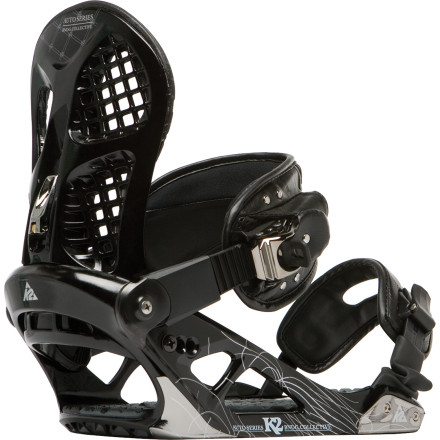 Detail Images
Share your thoughts
What do you think of the
K2
Auto Snowboard Binding
? Share a...
I am currently riding the 1st year model...
I am currently riding the 1st year model of K2 cinches; love them but they are extremely heavy! Debating if I should upgrade to a newer model of the cinches (I heard they have made them much lighter) or switch to the Autos. I have also had an issue with the cinches wearing down the back of my boot. Any info on which binding is lighter or performs better?
I've been riding Autos (and most recently the Auto Evers) for going on 3 years now. At first I was skeptical because the first series kept breaking. Honestly though, when they worked- they worked awesome! After getting mine back from the recall, I've had no issues at all with them. As far as these compared to the K2 cinches- the cinches are cool too- one of my favorite ridin buds rocks em and swears by em...However, when it comes to malfunctions and the fact that they tear up boots the K2 auto wins hands down. The Auto is lighter by 30%, less parts to break, and a hell of a lot easier to get in and out of in deep powder- bottom line, get em- if youre disappointed you can punch me in the face!
Light and responsive binding. I've had no problem with the straps whatsoever, I'm always the first one ready to go down the mountain and always the first one ready to get back in line up the lift. Great all mountain binding with tight response and plenty shock absorption.
What's the difference between the regular...
What's the difference between the regular autos and the auto evers? the regular autos stiff enough for hard freeriding?
The auto evers have a waffle like highback intented to make them lighter. Both of these bindings will be fine for freeriding.
These bindings are amazing!They look awesome the only bad thing is you cant detach the bottom strap
these bindings are the first k2 that i ever owned and i think the are the most comfertable best bindings ever. I was leaning twards athe cinch until i found these and im so glad i made the choice that i did.
These are what you'd hope for
If the negativity shown in these reviews have got you worried then hopefully this may help. My guess would be that most of negative reviews came in for the 07-08 models. I have purchased the 08-09 model after completely checking them out at a local shop. I always recommend seeing the gear before you buy. The Auto is a very solid binding with good adjustments. I had mine mounted and adjusted in 10-15 minutes. The straps are very comfortable and ratchets are smooth. They appear to be fairly light. All mountain freestyle is accurate for the flex they have. The cable is replaceable but not sure if you could do it yourself. After riding them for a day the convenience was nice to have. If reliability is a concern wait one more season to see how the 08-09 versions are holding up. Overall for the price I paid ($130) they are an excellent choice for an all mountain binding.
Excellent binder, best I've ridden
That other ratings spammer is an idiot.. these are plush, easy to use light weight bindings, hands down the best I've ever ridden. Some did have problems last year but all those have been fixed, and this years are fine.
I would highly recommend these as an all mountain quick entry binding, that doesn't have the issues of Flow but is nearly as fast to get into and a lot faster to get out of.

I put these on my Never Summer SL-R for an insane ride this season!
i rode these at a early season rail jam and got alil dirt where the cable goes through and my toe strap refused to tighten. took me an hour and a half to get all the dirt out and put them back together, couldn't even finish the contest. i havent ridden them since. not a good binder in my book
This binding is one of the smoothest bindings I have ever ridden. The feel is very close to surfing or wakeboarding. The response is quick yet it is very fluid. They are quick to get on and super lite, great for everything on the mountain. My buddy had issues with his cable BUT I was fine all last year. The new cable system seems to have fixed all issues that some were having. If you haven't tried them, do it. Plus the new ones have this new foam they use called harshmellow, AWESOME stuff.
Is it reliable ? There older models, had...
Is it reliable ? There older models, had the cable snapping in the toe?
Usually, if last years model has a big problem with something, they fix it in the next years model. So if the Auto's all kept snapping last year, they more than likely resolved this issue.Unfortunately you're not going to know until halfway through the season as everybody's begins breaking again and the negative reviews start coming in. I wouldn't take the chance if I were you though. There's nothing worse than a broken binding up on the mountain.
I have the 07-08 models they broke...alot. After replacing replacing them outright twice. K2 finally issued a recall which just involved swapping out the cable for one with a beefier anchor at the toe strap end, and they havent broke since. I can honestly tell you that these (even when they were breaking) are the best bindings ive owned in my 18 years on a board. Seriously- get these, or the auto evers you wont be disappointed.