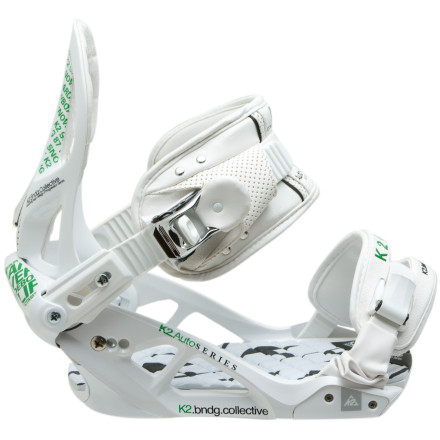 Detail Images
Share your thoughts
What do you think of the
K2
Auto Snowboard Binding
? Share a...
what boards are these bindings compatible...
what boards are these bindings compatible with
K2 is compatible with all companies 4 x 4 hole patterns as well as Burtons 3D. However they will not work for Burtons new ICS mounting system
So I have had step ins, I have had flows, I got these because of the innovation of the auto strap. At first I loved them! The idea is great. Halfway through the year the wire that connects the toe strap to the ankle strap snapped.. I had to ride one footed down the entire mtn.
i'll be the first to admit that I've broken 3 sets of these. However, when they do work, these are the best bindings I've ever ridden! I got the recalled cables and havent had any problems since. The new cable system is way stronger. Get these bindings and you wont be disappointed!
this binding is by far the best binding that i have ever had. not only is it the quickest binding but also the most comfortable as well. if your looking for something that is the next best thing to traditional bindings this is it
If you are looking for a close replacement for step-ins with more sense of security and performance, I highly recomend this. When I first saw the binding featured in one of the videos in YouTube, its like whoa, I gotta have these! I have been riding since 95 and went thru mostly Switches and Flows. This, I have to say is far better than the Flows ( carbon Pro A 03)in terms of weight and speed of entry and is just as as fast as the Switch step ins (X or N type) in some ways. I rode this bindings every week since I got it on mid Dec 07 and finally, the cable snapped on the right side of bindings by the toe side right when I landed a jump on a powder and fell. I ended up sliding down sitting on the board at the backside back to the front and ride the chair down at Bear Valley,CA. I thought that day was ruined bec I just wasted a powder day but the folks at Bear Valley was super nice to loan me another conventional bindings free of charge. I called K2 the week after and with a little spiel, I convinced them that I am not sending these bindings back and have to wait long but instead I have them send me the replacement cable so I can install it myself so I can use it again ASAP. Unfortunately, they sent me a black kit, instead of the white one that I have but no biggie since the performance did not change. After installation, I rode it again weekly until the end of the season and no problems. One of the reasons I think the cable snapped was due to transport. The cable do not get enough protection in the cargo area of a bus or in the plane. Maybe a hard shell case will help but a soft bag won't. The reason I say this is because the cable should always be loosely hanging while at rest and nothing should sit on it and may stress it out and cause it to be brittle. But after K2 had recalled this to change the way the cable attaches to the toe side, I don't think the problem will be as pronounced. I think the 08-09 Contraband from Ride will be more transportable because it won't have this issue.
The Design Still needs tweaking
First off, i love these bindings and agree with TimDog about their comfort. Also like TimDog, on my 5th day of riding the cable broke in the toe strap area! I've never had a binding break on me and was bummed when i was left searching for a replacement for the rest of the day!

The store i purchased from took them back NO PROBLEM and told me that the cable snapping was a VERY COMMON issue. After looking into the issue a bit, i decided to try the formulas instead which is a bummer because i did really love the feel of the autos! Maybe K2 will sort out the issues and i can try another year....we'll see.
Let me start by saying that initially I thought these were the best bindings I had ever used. Super comfy, flexy for the park yet still stiff enough for cruising aroung the mountain.

Unfortunately, after about 5 days of riding the cable broke. The shop I bought them at replaced them and the new pair broke again after a few days riding. I got one more pair after that and those broke as well.

Needless to say, I'm not convinced the cable K2 is using is strong enough for aggressive riding....
I was given a set of auto's to test and have mashed, crashed and smashed the shit out of them and I can't seem to break the wire linkage. I am 6ft 4ins and weigh over 200lbs and have aggressively ridden these in ever situation... how aggressive does this other dude ride? Does he crash into heavy objects alot? To break 2 sets of auto's sounds like the rider is the faulty part of this problem.
I also thought these were soo comfortable, light, and responsive at first. Then less than a month later of "normal riding" the cable broke when I was on the top of the mountain. not cool! I am returning them and going with the formula!
Cool initially, but no reliability
I've had two pairs of these already this season and they both broke the same way each in under two weeks. The wire running from the top ratchet through the base and into the top cap is simply not strong enough for every day aggressive riding. I really did like the way they felt at first but it does not make up for the lack of reliability. This was not just a defect since the pair they sent me after warranty broke as well. K2 had no problems replacing them but I went with a different model this time since I am nearly positive if I went with another pair of Autos they would break well before the end of the season. Sending your equipment back to the company mid season is no fun and you will most likely break these at some point if you are ride aggressively. Since my initial level of satisfaction was so high I would not be surprised to see one of these positive reviews reposted after the reviewer breaks their pair.
This binding set-up is sweet. The ease of entry and exit blows your mind. Toeside response is sharp and accurate. Super stoked to get back out to the pow. Thanks!
People are always skeptical of new technologies/concepts. I was one too until I tried one in the shop, and once more on the mountain. After a few laps of the park, I was sold! You customize the fit of the toe-strap once and find the right fit. After that it will always revert back to that fit when you tighten the ankle strap. Getting into your bindings twice as fast means you'll be able to hit that jump before the park crew comes down and hogs everything in sight. Not only is the AUTO a great breakthrough in technology, the other features are just as good as "normal" bindings. Lightweight, comfy straps, awesome ratchets, great fit all around. Pick up a pair, you'll love it!
I love this binding... It's so light and quick I ride better cause I get more runs. LOL... This binding is a whole nother beast, it rides much more fluidly than any other binding I have ever ridden. The ankle ratchet works the toe strap and tightens all in unison. It's a must for anyone who wants a great two strap binding that rides like your riding on a cloud.
leave it 2 K2 engineers to figure this out. i have been thru all the 'apparent'
evolutions of bindings; step ins, flow/cinch, etc. finally, meaningful innovation but, still 2 straps/traditional feel. this binding is sick, NOT just fast(it is supa fast).
it is the lightest binding i have ever used, and has amazing lateral forgiveness, with solid edge>edge power.
can't explain how it works. go to your local shop, or here, and but them while they last. amazing progression.