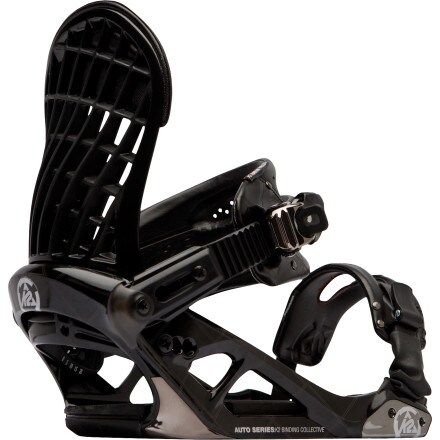 Description
Say goodbye to strap-in stress-outs.
The toe strap on the K2 Auto Snowboard binding automatically closes and opens with the ankle strap, so you don't spend half your time strapping in. Release the ankle strap and the toe strap releases; ratchet down the ankle strap and the toe strap tightens. Easy as jam. Just tighten the Set-and-Forget toe strap and the K2 Auto Binding will remember how you like it each time you strap in. The Custom Caddy ankle strap also has its own tool-free tightening system, so you can still customize fit like your old bindings.
Harshmellow Schockpads dampen vibrations and absorbs harsh impacts
Super lightweight Airlock highback is shaped and balanced for direct energy transfer
Custom Caddy Ankle Strap delivers cushy comfort and rapid response
Tool-less Cored Caddy toe strap fits on top, or in front, of your boot and can be adjusted without the use of a tool
Canted Footbed enhances ollie ability
Tool-less adjust power ramp customizes power transfer and response
LiteSpeed EZ Feed Aluminum Ratchets with Ratchet Covers operate smoothly and are easy to grip
Share your thoughts
What do you think of the
K2
Auto Snowboard Binding
? Share a...
Posted on
o my god magnum
got these about 3months ago and still cant stop raving about them

once i'd stopped playing around with them they just kick ass!
but the most badass thing about these bindings is now i'm a super snake on the hill:-)

total going to get another set for my other board
K2 Rock
Posted on
Not my favorite
Bought these and have ridden twice on them. Not a huge fan. Probably could've spent more time adjusting them but didn't like lack of toe-strap fine-tuning. Also, with a lot of forward lean, toe-strap makes it a pain to get your foot in. Just bought K2 Formula's cause I don't feel like jacking around with these.
Posted on
K2 Auto's, Da Bomb-diggity
First off, let me say that prior to these, I rocked a set of Burton Step-Ins for the past 6 years.

Having said that, I thoroughly enjoyed the convieneience (sp?) of the step-ins and wanted something similar in my next set of bindings.

After looking around, I considered the K2 Cinch CTX, but feared they're weight. Stumbled across the Auto's and never looked back.

Performance-wise, these are GREAT. I've been on them for three straight days in Park City and don't miss my step-ins one bit. They hold my boots nice and secure and the Auto system works as advertised. One strap, and your in (or out) of your bindings ASAP!

Love 'em! These totally make strap-ins worth it. Highly recommeded

And the penguin theme....classy!