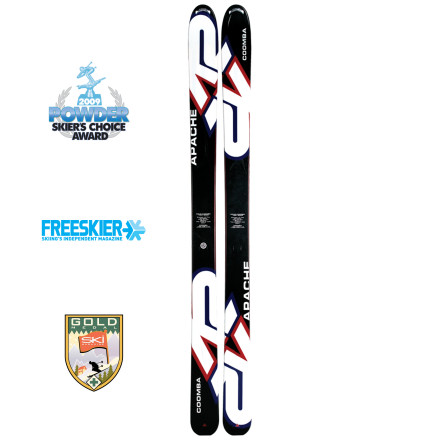 Community Images
i am 5'10" 200 lbs, what size would you...
i am 5'10" 200 lbs, what size would you go with? 174 or 181?
I would say the 181 for sure. Means more float, more stability, and an all around better ride for your size.
Hi! I'm just about to pull the trigger and...
Hi! I'm just about to pull the trigger and buy these awesome things. I heard their actual length is longer than stated, is it true? I am going for 188, but if I could choose I would have wanted a 185-186 cm. Do you think 181 would be a better choice? I also heard that the recommended mounting point is 2 cm in front of boot center, anyone who can comment this?
Thanks for helping!
The recommended point is 2cm forward of the traditional mounting point, or about 4.5cm back from the core center. They run pretty solid at this point, which is my favourite mount for almost any ski except full park. And they do run a little bit longer, not quite 4-5cm, but 2-3 for sure. This is from the slight early rise, but the effective edge and therefore the way they ski handles is as stated. At 181, if you want something a little longer (185 like you said), I would recommend going up to the 188 not down. You won't regret this ski.
So I'm looking for a deep pow, backcountry...
So I'm looking for a deep pow, backcountry oriented ski that is fairly manageable for my skinny ass frame: 5'5, 120 lbs. I'm pretty aggressive on groomers but I've only been hitting heavy pow with narrow equipment thus far (2002 160cm 1080's) and it isn't cutting it. Would the 167 be a manageable size for me since this is a fairly light ski? Any other suggestions?
The 167 should be alright for you, and even the 174 if you are really pushing hard. I always like a longer ski, just for the stability, and the extra float. But for sure the 167 is manageable for you.
Write your question here...I am 63 year...
Write your question here...I am 63 year old male in good shape/not great shape. I am 5'8" 150 pounds and pretty agressive skier .. Black Diamond and deeper powder..not Double Black Diamond. I ski the Atomic Metron Xl in 162 cm and like them... am thinking about buyin the 09 K2 Coomba for deeper snow days and off trail at Alyeska Alaska. What size do you recommend 167cm or 174cm?
It would depend if you like your skis a bit long or not, but also it depends on how aggressively you ski. If you are a pretty aggressive skier and want more stability at speed I'd say go with the 174. Still, the 167 might be the best choice, especially if you are skiing on 162's and they fit you fine.
I recommend the 174 cm length. I have skied on the Coomba for two seasons. It is a great ski, light, easy to turn and stable. You won't have any difficulty handling the 174 and will appreciate the extra flotationin powder.
Unanswered Question
anybody know the weight of the 174? I'm...
anybody know the weight of the 174? I'm mounting my barons on them to tour.

I've been touring on liberty hazmats that have a bamboo core, they weigh 3500 grams (~7.7 lbs) in the 181.

Any info would help. Thanks!

RIP doug
One of the best skis ever
Set-up: tele (BD 01 + BD Push) + 181 coombas. Yes, they are heavy. Yes, they aren't the ideal touring ski. But, I've toured 50+ days on these things and they ski so well that I would tour with them even if they were heavier. They simply make skiing easier and more fun, particularly in marginal cruddy conditions. If you are a super-tight turner (eastern tree skier) go extra short, because they tend to like long-radius turns. Also, they are way longer than marked...my 181s are a good 8cm longer than my 178 Rossignol Sick Birds.
I have the K2 pocket rockets.. love them.....
I have the K2 pocket rockets.. love them.. what's new that is comparable?
The pocket rockets were made by Salomon. They are a soft, foam core twin tip. The Coombas are wider, stiffer, and probably don't have quite the same 'pop', but they are good for charging.
I've only had the chance to ski these for a couple days, as I bought them late in the season to take advantage of the great sale prices. Mounted them with Marker Barons, mounted 2 cm forward as recommended. I found them to be surprisingly quick and responsive as an inbounds ski....not quite the "cornering like you're on rails" feeling I get from my Apache Recons, but good enough that I think I'd pull this ski out of the quiver if there was any chance of good pow off-piste. Because boy, do they float in the pow! This is my first truly fat ski, so I can't compare them to other fat boys, but they sure were a fun ride. More to follow next season.
Great touring/inbounds quiver
Bought these skis for Utah backcountry and inbounds powder days. I am 5'6" 145lbs, and bought the 168s. They rode pretty backseat for the first couple days on them, but I quickly adjusted and found my balance. Sometimes I wished I had more ski under me, perhaps the next size up would have been good. All in all though, these skis are amazing.
In the backcountry I have hit untouched bottomless fluffy powder to windblown faces to damp, heavy sun-drenched snow. On the descent they killed it whatever the conditions. Fantastic float in powder - I couldn't imagine needing much more underfoot (than again I'm a smaller guy), and light enough to whip quick, technical turns in sketchy conditions.
Speaking of light, on the ascent they are unreal. Super light for multi-day tours, strapping to your pack, or slogging through wet, sticky snow. I have them mounted with dynafit tlt st bindings.
Inbounds I used them only for powder days and they were just as good. From the early morning first tracks to late afternoon chopped up crud, they floated and powered through whatever I hit. Great big ski for hucking off whatever you want, and light enough so you feel in control. Granted, my setup wasn't ideal for cliffs with my dynafit bindings, but its hard to have your cake and eat it too. But these skis came damn close.
I get about 50 days in skiing the Wasatch,...
I get about 50 days in skiing the Wasatch, inbounds or side country, 50/50. If there's no freshies, I'm making quick turns in narrow chutes or skiing bumps - I'm never burning down groomers or making GS turns... and I'm not really ever in the park.

Would this be a good single-ski-quiver ski for me?

I'm 5'8" 170lbs and turn very aggressively. I think the 188cm is the right size, do you agree.
The Coombas run 3 cm longer than the stated length, so you are looking at more of a 191. They also have a completely flat tail, so they will ski true to length (unlike twin tips). You don't "burn down groomers or make GS turns" where a longer ski makes sense. But you like "quick turns in narrow chutes or skiing bumps" where a shorter length makes more sense. With your skiing preference and weighing 170lbs it sounds like the 181s or possibly even 174s are a better fit.
What skins will fit my K2 Coomba length...
What skins will fit my K2 Coomba length 188?I see that the Black Diamond Ascension Custom STS Climbing Skins only goes up to 186.Thanks,Ola
I have the BD Clipfix Skins and they fit my G3 El Hombre 185s with much room to spare. I think that they should fit a 188 no problem...
i've been skiing this ski all season. i love it. at 135 at the tip, it's phat. it floats great when skiing powder. i have a 174 so in the backcountry it's great, very nimble and turnable on a dime.. even for it's size. where it doesn't rock is the groomers, it's kind of soft. i had fun on them skiing resort groomers but it's not made for that kind of turning. it's quite a bit softer than the bd verdict.
5'11 160. What size coomba would be best...
5'11 160. What size coomba would be best the 174 since they run long or will the 181 be alright. Mostly BC and powder. I have a pair of heavy 07 K2 Public enemy at 174 and they seem a hair short. Aggresive skier
The 174 coombas will feel slightly longer than your PEs simply because they are directional and will have more effective edge. If the PEs feel just a tad short, then the 174 coombas will work. If you are looking for slightly more stability at speed and plan on doing some bigger lines, then you can go for the 181.
I'm assuming this is priced with the...
I'm assuming this is priced with the bindings???Will you sell just the ski. If so, what is the price???
Best Answer
this price is JUST THE SKIS.-this guy sounds like all the Europeans that try and barter with me on eBay. THIS IS A STORE. THE ITEM PICTURED IS WHAT YOU GET. READ THE DESCRIPTION. What made you assume it comes with bindings? In the description it even says "bindings included? - NO"
In the hunt for a nimble powder ski for...
In the hunt for a nimble powder ski for out or bounds and backwoods "western" skiing. There is such an array, I'm bewildered.I currently ski the Snoop Daddy and a Nordica SUV14. I'm 6'2" and 210lbs. Any terrain, but don't ski 50mph anymore... :)
this is a great ski for that. it's become my quiver of one. it out performs any ski i've had so far. where it's not great is high speed groomers, but those should be the smallest percentage of your time skiing anyway! it's softer than the bd verdict.
I currently have a pair of the 08/09 Apache...
I currently have a pair of the 08/09 Apache Outlaw and am looking for something a little more "off-piste", looking at the Coomba and Obsethed. I am not normally a twin-tip skier and stay away from the park, but I was wondering if anyone has experience between the Coomba and the Obsethed. I do moderate hiking, but not extensive backcountry touring. I am slightly concerned the Coomba will be too similar to the Outlaw to make a noticeable difference. Thoughts?
I normally ski an apache recon, live in the east and ski three weeks in utah each year and do a canadian heli ski trip every three years, and it is great on up to 6 inches of new snow on groomed slopes but goes to the bottom in real powder. i rented a pair of outlaws, 08 version, and found them better in powder with the 88 waist but not enough in the knee deep you live for. plus, it was sluggish on groomed at the same length as my recons. so this year i bought a pair of coombas and am in love. surprisingly fun to ski on western groomed and much better on ice than the heli daddy's i tried last year at CMH. Great in the trees where quick turns are your lifeline, and can lay down GS lines on deep treeless faces like a champ. i don't favor twin tips, liking the bite in turns and compression rebound into the next turn the flat tails give me. know many kids with Seth and Obseth's but never tried them. if i ski back east it is all recon; out west i only take my Coombas. Doug Coombs must be smiling down! Best buy i have made in years. i weigh 178 and ski 174 recons and coombas with a 20 pound pack.
Willie,I noticed you tried the Coomba, how...
Willie,I noticed you tried the Coomba, how does it compare to your Bacon. Of course the Bacon has a lot more sidecut plus width but curious about the overall feel to the Coomba. Is it a more fun, lighter, Obsethed type feel?
It is a fun ski, but totally different type of ski then the bacon,its a flat tail directional energetic big mountainski, where as the bacon is a backcountry jib/powder ski, if you like the obseth you would like the coomba, kinda same feel for someone who likes a traditional ski. If i didn't just ride twins i would own a pair.
I have Coombas in the 181. What climbing...
I have Coombas in the 181. What climbing skins do you recommend?
Try these:BLD1105Black Diamond Ascension Custom STS Climbing Skins 130 mm, 179-186 cm I just ordered some for my K2 Anti-pistes (Same dimensions as the Coomba) in a 181, they are on sale right now too.
I'm 6'0" and ~185 lbs (give or take). ...
I'm 6'0" and ~185 lbs (give or take). Given the terrain, I can be a relatively aggressive skier, but a bit timid in the tight trees. Having trouble picking between the 174 and 181. This will be a primarily touring ski with dynafits and spirit 4's driving it. Any recommendations?
, ☃bcs_badge_alumni_label☃
Best Answer
If you are intimidated by trees, but actually ski them a lot, i would say that the shorter option of 174 out be a better choice. But if you love to rip open bowls and chutes, the 181 offers more float and stability. Up to you, but I think that the 181 is a wicked ski.-------I'm 6'2" and 165 and ski the 181 anti-piste (which is the Coomba but with a slightly rockered tip). I have NO trouble at all with tight turns, and given your weight, you'll be able to handle the 181 just fine. You'll overpower the 174...-------My friend skis the 174's and she is 5'7" and probably 125lbs. She loves them for just about anything. Granted, she's a pretty aggressive skier, but based on your significant size difference, I'd go with the 181.