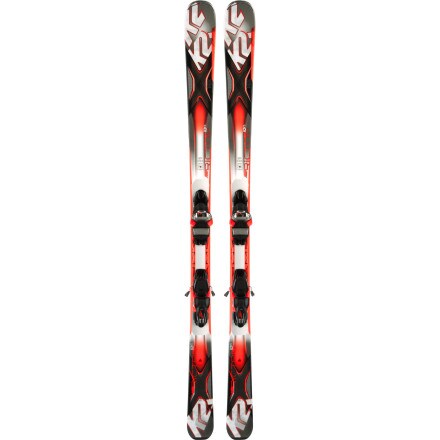 Videos
Description
Top-shelf performance.
When you're at a party, and people ask you what you" do," you avoid describing the drudgery of your day job, and you simply say, "I'm a hard-charging resort skier and I ski on the K2 Amp Rictor 82 XTi." They are impressed and hand you another drink, but the conversation is boring in comparison to the scintillating performance, unmatched edge hold, and unrivaled control of your Rictors. You wish you would have brought them with you.
To achieve this level of satisfaction and command this undying love, K2 loaded the Rictor with All-Terrain, a 30/70 rocker-to-camber balance that eases edge transition, lifts the tip above soft and choppy snow, and aids overall ski maneuverability. An energetic combination of aspen and paulownia wood core materials make this ski nimble, lightning fast edge-to-edge, and consistently snappy from tip to tail. The Rictor 82XTi is the talk of the party and the hill, because it is built tough without compromising feel and performance. Metal Laminate (alternating layers of fiberglass and full-length sheets of Titanal metal above and below the wood core) is K2's most complex construction, and it creates a high-performance platform that's stiff, damp, and stable at speed. Hybritech Sidewalls blend sidewall and cap construction that gives this ski the power and edging accuracy of sidewall construction and the lightweight feel and smooth turn initiation of cap construction. Adding to this ski's unshakable hold and effortless turn initiation is the AT RoX technology featuring Mod Suspension. This secondary core that lies on top of the ski's primary core, absorbs vibrations from choppy terrain, and dampens the ski to increase overall ski control and reduce tip skipping or wandering at speed. Titanal hubs are imbedded into the core of the ski for the most direct transmission of power from the ski binder directly to the core of the ski.
The included MX 12.0 ski binder directly attaches to the M3 binder mounting plate via the imbedded Titanal hubs and operates as an integrated system. The MX 12.0 ski binder is adjustable up to 12.0 DIN setting in order to provide the most precise control balanced with the highest level of safety. It utilizes Inter-Pivot Heel technology and the lightweight Triple-Pivot Comfort MX toe piece that includes a cross-mounted spring, stainless steel AFD, and backwards release function for extra safety.
Camber underfoot with elevated (rocker) tip
AT RoX Technology
Metal Laminate, Hybritech sidewall
Aspen/paulownia core
82mm waist
Progressive sidecut
Share your thoughts
What do you think of the
K2 AMP Rictor 82 XTi Ski with Marker MXC 12.0 Binding
? Share a...
K2 Rictor 82TXi
Member since
Posted on
I am a 73 year old skier, aggressive for my age and have now had a week on my new K2s in icy conditions with little off groomer terrain available.
In 50 years of skiing I have not encountered a ski that holds an edge better on ice, yet gives me the freedom to exceed 50mph (according to my Skitrax App)with perfect control. It excels at both short and long turns and from the little crud I have so far encountered seems able to power through that. I am in no doubt that the 70/30 camber/rocker ratio will make this a great ski in powder when we get some.
Highly recommended
K2 AMP Rictor 82 XTi Ski with Marker MXC
Member since
Groups:
Posted on