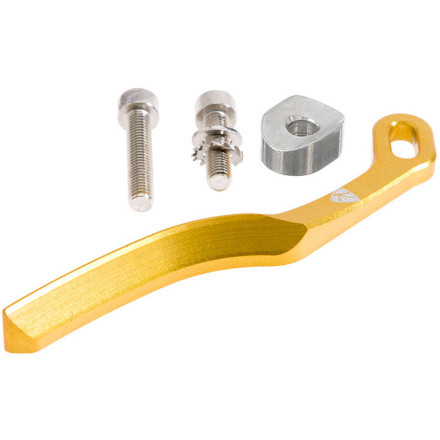 The violence of the spring classics' cobbles can make a chain do bad things mid-shift. It's for this very reason that pro team mechanics have long fashioned one-off metal widgets to keep chains from dropping between the inner chainring and the bottom bracket. Like 44t Record chainrings and custom-embroidered saddles, these anti-drop chain retention devices have long been exclusive to the pros. That is, until now. With the K-Edge Braze-on Chain Catcher you get the same safeguards: your chain will never shoot inward beyond the inner chainring, giving you the confidence to slam it into the small ring at will when you round a corner on an unknown race course and are faced with the fleeting terror that comes with the first sighting of an abrupt climb. The real benefits, aside from quick and worry-free shifts, are protection for your lovely carbon fiber race bike and your chain will be right where you want it to be when you aim to grind your rivals into the tarmac.
The K-Edge Braze-on Chain Catcher is made specifically for braze-on front derailleur tabs. What this really means is that you need to use either a braze-on front derailleur, or a clamp-on front derailleur that does NOT have an integrated clamp (i.e. it's a braze-on front derailleur mated to an adapter clamp.) It's made from CNC-machined 6061 T6 aluminum in Boise, ID. It weighs 10g and is available in six colors -- Black, Blue, Gunmetal, Gold, Red, and White. It comes with 2 mounting bolts -- 20mm for Shimano or Campagnolo, and a 25mm for SRAM. It's worth noting, too, that the instructions are phenomenal.
I have tried a few chain guides, all will work if installed properly. This model allows you to make adjustments to it without messing up your front derailleur operation. Every other model makes you loosen both the chain guide and FD. Love the colors too, I got a Red one!
Makes the most reassuring clink ever
Familiarity:

I've used it several times
After building up a new bike, my first carbon frame mind you, I wanted to ensure that there was nothing that would do damage to it. So to help with scuffs, or chain damage, I wanted to make sure that I was covered with my K-Edge. This has been perhaps the most reassuring part of this build that I have made. This $20 part has already caught my chain at least two times so far, delivering the most reassuring clinking sound I have ever heard. In fact, I got to test it on my first ride. Thank you K-Edge and Competitive Cyclist for helping me stay riding, and my bike in the best shape possible! Get this for your ride, you won't know why you'll need it until you find out why on a steep hill. Get it.
Don't build your bike without it!
Familiarity:

I've put it through the wringer
This $20 item is worth every penny! Shift with confidence anytime knowing that your chain is not going to drop ! Putting one on my other 2 road bikes! Don't leave home without it! It's the best $20 you'll spend!
NOT AN OPTION?MUST HAVE!!!
Familiarity:

I've used it several times
A MUST MAVE!!! I made the mistake of buying one AFTER my chain dropped and wedged between the crank and frame. Leaving a nice dent from the chain and scratching the clear coat off. My brand new (2wk old) carbon fame…..the first bike I've had that is glossy and not flat black. I literally want to throw up! Another lesson learned the hard way.
Peace of mind - a bit tricky to install
Familiarity:

I've used it several times
I never had issue with my chain dropping on my alum road bike, but brought this product to protect my new carbon bike. Installing was a bit tricky - hint - hold the chain catcher & derailleur cage while tightening the bolt to the keep correct spacing of the chain catcher & derailleur position.
simple, elegant and functional
Familiarity:

I've put it through the wringer
Excellent design, simple to adjust, many colors to match components or frames. Nothing is worse than downshifting in the front and having your chain drop when you're about to attack on a steep climb. This has saved the day on several occasions.
Works great
Familiarity:

I've used it several times
This is a great product that works flawlessly and as intended. Looks great as well and like the fact that you can adjustable how close want to chairing.
WHY not have one?!?!
Familiarity:

I've put it through the wringer
The K-Edge Chain Catcher maybe be the best little component you can buy for your bike. It saves you from chipping your frame that you have been saving up for years. As well as from dropping your chain as your about to win your next race.



If you don't want to drop your chain ever again I suggest going with the K-Edge chain catcher.
Every bike should have one
Familiarity:

I've put it through the wringer
It will make your life so much easier. I cant count how many times the k-edge has saved me in a race.



It's a small price to pay when buying a new bike. You'll save your frame and more importantly your dignity.
It is a win win item!
Familiarity:

I've put it through the wringer
Expensive............crazy so! But worth it when changing chain rings and when you don't want that dreaded chain drop! Just wished I had thought of this little gadget. So bottom line is..................it's worth every penny!
$40 but in comparison to a $4k frame !!!! its a great investment and it works
K-Edge Chain Catcher - Braze-on
This little thing has saved me a few times this season. Such a simple little thing that makes such a big difference! It's one of those things that you can't really appreciate, but thinking about it now I realise my chain never dropped this season!
I can't believe this hasn't been made earlier, popped it on my 7 year old dura ace 7700 FD works like magic, no more dropped chains on bumpy roads. and it looks pretty cool too, the red matches my frame nicely. seems a little pricey for something i probably could have had the school metal shop make for me for free in college