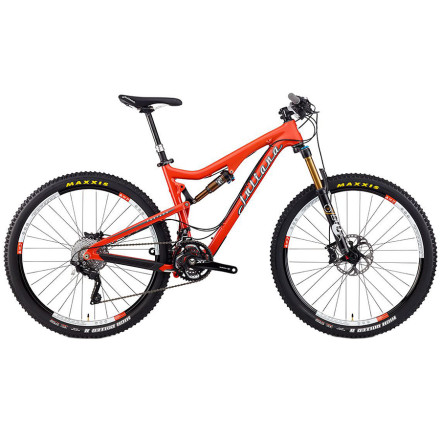 Detail Images

Community Images
Description
The queen of the dirt.
Carbon fiber, VPP, FOX Racing Shox, and Shimano XT components are enough buzz words to make any knobby-tire enthusiast weak in the knees. Add to the picture 27.5in wheels and 125mm of travel and you've got a recipe for mountain bike of the year. But, the Juliana Furtado Carbon Primeiro Complete Mountain Bike isn't for the masses that determine that.
Instead, it's designed by a decorated rider for a much smaller sect of the mountain biking population. The female rider. What started as a flower in Santa Cruz's line of bikes, Juliana is now its own division of SC headed by --you guessed it --Juli Furtado.
This means that each model meets her expectations -- not Joe Sixpack's. If you take a look at the saddle, bars, and cranks of this Joplin Carbon Primeiro you'll see that they're sized proportionally for female riders. Not to mention the 27.5in wheels being more nimble and easier to package in the smaller chassis women require.
By having proportionate components, you can enjoy the benefits of a carbon fiber frame out of the box. And, one of those advantages, aside from the obvious -- weight -- is it allows the frame to offer superior line-holding stiffness. The front triangle is constructed as once piece. Rather than have components produced separately, and then bonded or wrapped, the carbon fibers are continuous around tube junctions to distribute loads and absorb impact energy better.
One thing that you can't see without cutting the frame in half is that it looks as good on the inside as it does on the outside. There's nothing there except smooth carbon, this actually prevents stress risers in failure prone areas of the frame. For that reason too, there are no riveted or bonded-on cable and hose guides--they're incorporated into the original layup.
That layup provides stiff and solid mounting points for the latest generation of VPP rear suspension. The upper and lower links flatten out the shock rate and provide a more active feel to the early part of the axle path. The suspension allows the rear wheel to move up and back as you ride over a bump, and it balances the downward force of pedaling with the pulling force of the chain through its link configuration and axle path. The resulting movement makes it easier to roll over a bump or through a dip, and the suspension doesn't change whether you're in the saddle or not.
The Juliana Furtado Carbon Primeiro has a carbon fiber upper link that shaves weight and enhances lateral stiffness. Its counterpart on the bottom is alloy, and it has easily-serviceable grease ports. The pivots for both links have stout, 15mm locking collet axle-pins so they won't creak or loosen, and they run on intricately-sealed bearings that should last the life of the frame.
The VPP suspension of this Juliana yields 125mm of smooth travel damped by a FOX CTD rear shock with Kashima -- a lightweight, reliable shock that features an intuitive interface for simple, on-the-fly suspension tuning. It has three distinct settings; a firm 'Climbing' setting, medium 'Trail' setting, and a plush 'Descend' setting. This keeps operation straightforward and intuitive for beginners and experts alike.
Complementing the CTD rear shock is a 130mm FOX 32 FLOAT CTD fork with Kashima, too. Like the 142 x 12mm rear axle, the fork sports a 15mm thru axle for stiffness. A hand-laced and tensioned wheelset composed of DT 350 hubs, 14/15 gauge butted spokes, and WTB i23 rims spin around those axles. For tires, knobby Maxxis High Roller 2.3 tubeless tires provide a nice mix of speed and grip.
The drivetrain is a 3x10 Shimano XT group, including the front and rear derailleur, shifters, cranks, and cassette. Stopping the Carbon Primeiro are a set of 160mm rotor Shimano XT brakes. Finishing off the build are Juliana Compact handlebars, Easton EA70 stem, and Thomson seatpost with a Juliana Primiero saddle perched atop it.
The Juliana Furtado Carbon Primeiro Complete Mountain Bike comes in orange and sizes Small, Medium, and Large.
Share your thoughts
What do you think of the
Juliana
Furtado Carbon Primeiro Complete Mountain Bike
? Share a...
would it be possible to swap to a 2x10 set-up on this bike?
I am 5'9 and currently ride a medium 2014 stumpjumper comp. Would this bike be a good fit?
Hey Amy, this bike is a 3x10 as is. but some customization is possible. And at your size, I think the large would be a pretty good fit in this bike because of its shorter top tube than the Stumpy.


What is the stand over height of the small...
What is the stand over height of the small Furtado Pimeiro and the Hard Edie?

Best Answer
Hey there! Thanks for visiting the site, I'd love to help you with you fitting questions.

I'm very familiar with Santa Cruz's sizing.

The stand-over on the Furtado is 28.0" according to their site.

With the Intense Hard Eddie: With some general math, 25.8"

http://www.competitivecyclist.com/intense-cycles-hard-eddie-expert-complete-bike-2014?ti=U2VhcmNoIFJlc3VsdHM6aGFyZCBlZGRpZToxOjE6aGFyZCBlZGRpZQ&skid=INC000C-NAK-S

However, there are more technical questions I can ask to get a better idea of you and your sizing, if you would like to speak about options. You can reach me at 801-736-6396 ext 4368

Keri in the bike department!

Questions to consider:

? What size/model bike are you currently riding?
? Are you comfortable with your current fit?
? What is your saddle height? This measurement is taken from the center of the bottom bracket, along the seat tube, to the top of the saddle.
? What is your stem length?

Either way, I hope this is helpful to you to get you onto the dirt!



Part 2 of 2
Familiarity:

I've used it once or twice and have initial impressions
Over all, the bike was peppy and fun. I see a very strong place for it on the trails. I'm not confused by it all and it very much stands it's ground as a bike tailored specifically to suit women's needs with out compromising on 'big boy' standards. It's refreshing to see a bike out there that is ready for the ladies with out the ye ol' "Shrink it and Pink it" ideals. Way to go Juliana.

Check out her story here: http://www.julianabicycles.com/
Part 1 of 2
Familiarity:

I've used it once or twice and have initial impressions
So, like, 27.5 is going to go everywhere because it makes a ton of sense. It's appealing to me, who has a more playful style when riding, not necessarily the most aggressive lady out there, but I certainly ride hard. I love climbing just as much as I love getting shuttled and flying down a Mountain. I'm about 5.4/5.5 and I've never really had an issue with my 29ers, but after getting on the Juliana, I can see why this wheel size would appeal to smaller riders. This is not just a fashion trend. It's here to stay and I'm happy that Santa Cruz is jumping on such a great opportunity to expand for a more versatile riding experience.
In my humble opinion, 3x10 has lots of overlap. 2x10 should have enough gears to get you where you wanna go. But hey, it's kind of a personal preference. I would go 2x10 because it's simple. With that said, I wasn't upset to be riding a good ol' 3/10 set up again. It didn't interrupt my ride but we all know what we want and I prefer otherwise.I found the Fox 32 Float FIT CTD to be very user friendly. I was able to play with it accordingly and without fumble. The 130 mm fork and the 125 mm rear was just enough for me and seemed to make sense to those I'd imagined to be the riders of the Juliana.
Sizing: The bike?s handlebar reach felt really uncomfortable for me and the thin handlebars were awkward. I have pretty small hands and even though they were definitely easier to grip, my hands kept falling asleep. I've come to the conclusion that I need something more ergonomically correct for me and these are not the route I'd go. I was on a small (which I usually ride) and I think I rushed the process a bit to get on her. In retrospect, I should have been on a medium (which is never). It felt a little undersized and perhaps that's because I am 99.9% always on a unisex/male specific bike.

Initial Impressions
Familiarity:

I've used it once or twice and have initial impressions
For reference, I am 5'3" and 120 lbs and tried the size Medium. I am an intermediate rider, but I know very little about the tech side of bikes/components etc...I just like riding.

After trying a monstrous 29er and feeling
discouraged, I had the chance to take the Juliana Furtado in Carbon for a spin during Outerbike In Moab.

WHAT A DIFFERENCE! The bike felt so responsive, manageable, and predictable. Climbing posed no problem, and I felt comfortable with the ease of shifting gears as we ascended the rock on the Klondike Bluffs trails.

Decent was a blast, I felt really confident and in control on this bike. My last bike had a steep head tube angle of 69 and I was so much happier on this bike at 68 degrees.
I'm saving up for a bike in 2014 and this is currently at the top of my list. I do want to check out the men's version before I pull the trigger on this one, but so far I'm thrilled with how she rides.