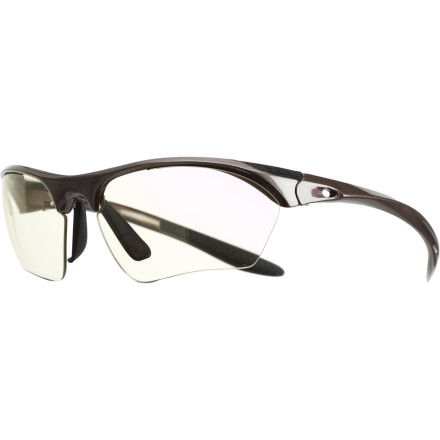 Detail Images

Community Images
The Julbo Trail Sunglasses use Zebra photochromic lenses to adapt to nearly any lighting conditions and keep you seeing clearly as you travel through the mountains. Whether you're starting a hike deep in the woods or climbing a rock arête under a sunny sky, these Julbo sunglasses darken and lighten to just the right tint. The Trail Sunglasses even have an anti-fog treatment, because all the technology in the world does you no good if you can't see out of the lenses.
Julbo Zebra Light Lens Details
Super light
Familiarity:

I've used it once or twice and have initial impressions

Fit:

True to size
I use these glasses for morning and evening rides and have used them a handful of times, I really like how light they are on my face, much much more comfortable then a non performance type of sunglass for bike riding. They come with a very high quality hard case and an elastic band to attach for more aggressive activities such as trail running or mountain biking. I would recommend these for anyone needing a pair of high performance shades that will transition in the morning or evening hours of light transition
I have owned the Julbo trails for about 8 months and I must say they are a solid pair of glasses. They are very well constructed and have survived numerous falls of of crags. One time I dropped them over 75 ft on a rappel! The photochronic lenses work well, there have been only a couple instances in months of use where the lenses failed to adjust quickly to light and this was usually after extreme changes in light intensity. My one complaint is that the plastic nose pieces sometimes slide off there metal holders. I have almost lost them a couple of times and am considering a glue intervention. One last thought on Julbos service; about a month after purchasing my trails the lenses began to bubble and I sent the glasses in under warranty. Julbo was extremely helpful in replacing my lenses free of charge and promptly had my glasses back to me. Cheers to Julbo for good service and a high quality product!
The good:
Flexible lenses (really soft). No way you can break or shatter.
Good fit and coverage
I like the lens color. Everything seems so much vivid and HiRes. After I take them off after few hours of use I feel like I see life in B&W and I get sad. Really addictive.
If i run on trails into the evening they adjust pretty nice to the light available.
The bad:
They do not get that dark unless you stare directly in the sun (for my taste).
The lenses are soft and flexible (remember?) so they scratch kind of easy. So be nice to them.

Note I own the red zebra ones.
where I can get it in Indonesia
where I can get it in Indonesia
A good question to ask Julbo directly. Here's a link to worldwide dealers b/c I'm a nice guy.http://www.julbo-eyewear.com/en/dealer_locator.html
Look good but used Oakleys in preference when recently traversing the Himalayas through all light, snow storm to bright 40 degree daylight. For photochromic shades there are too dark to begin with. The extra neck band is not necessary, too much weight and space.
Very nice pair of glasses. The Trail glasses fit a little wide, so i returned them for the Instinct with the same photochromatic lense. The lenses are very nice, excellent for trail running. Definately recommend the Trail model (if you have a larger head).
Photochromic doesn't work
The glasses fit great and the antifog works but I can't see any change in the lenses.
I can see clearly now...the sun is gone
Seriously, where have these glasses been all my life? I read about the Julbo Trail glasses in Runners Magazine and what stood out about these glasses, as opposed to the others they reviewed, was the photochromic lenses that adapt to different light conditions. These glasses do NOT disappoint in this regard (or any other for that matter)! They are easy on the eyes (no more squinting). In addition, they are exceedingly comfortable. I was surprised to read the review that stated the glasses were not comfortable because, well, I don't have a "conventional" nose (I've been asked more than once if I've ever broken my nose...the answer, by the way, is no...it just came that way) so, more often than not, it is difficult for me to find glasses that fit and are comfortable. These glasses seem to mold to your face (no pinching, no jiggling). They are so lightweight and comfortable that I often forget I'm wearing them. As a result, though I purchased the Julbos for running, I now wear them just about everywhere. My eyes have never had it so good.
Okay, lest you think that the Julbo Trail glasses have given me rose-colored vision, I do have one suggestion for improving them. It seems to me that it wouldn't be too difficult to place some type of absorbent strip across the top of the frame that would catch and absorb perspiration. I find that, during a run, I must take off my glasses and wipe away the perspiration pretty consistently. If they could make this improvement, the Julbo Trail glasses would be PERFECT! As it stands, they're still darn remarkable.
I've been using these for a month or so for Mountain Biking in sun and mixed trees and shade. I used to have a hard time with the changing light. So much so that I had taken to just using clear lenses so I could see in the trees and squint in the open sun. With these glasses that is a thing of the past. They are so good at changing with the light I don't even notice I'm changing from one to the other anymore. They are under an ounce in weight and have great ventilation for those hot uphill climbs! The tint enhances the contrast so I'm actually seeing the trail better (old eyes). Might seem a bit light if you were in out on the water in bright light but I haven't used them there yet. I see the other review comment about the nose guard. When I first got them I thought the same thing but by rotating the guards out a little it changed the angle of the rubber pieces to a very comfortable fit.
We sent them back because they simply are not comfortable. The nose brace cuts into the skin too much. The lenses are awesome.