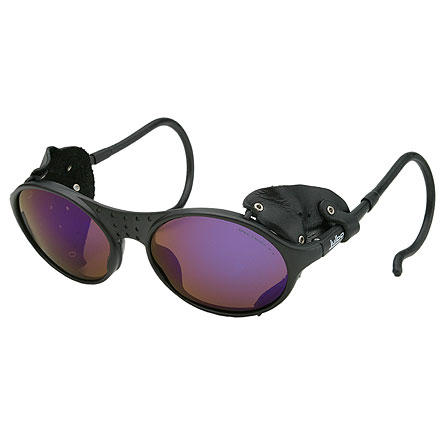 Community Images
The Julbo Sherpa is the choice of budget minded explorers. Let's face it, expedition costs are not cheap. Add multiple air fares on top of mountains of expensive gear and food and there's not much left over for incidentals. The Sherpa offers full bright light protection, reducing visible light by 88% with Julbo's Spectron X3 lens. Moldable temples, removable side shields, and polycarbonate lens all come included. Huge value at under fifty bucks! (Good lookin' shades, too.) Excellent choice for skiers, snowboarders and mountaineers alike.
Where it's made, thank you
Where it's made, thank you
Best Answer
They are manufactured in France.

Hope this helps.
Perfect for mountaineering in Colorado!
Familiarity:

I've put it through the wringer
At the lower altitudes met in Colorado (<15,000'), you generally do not need the super duper, dim the lights to nothing, eye protection. I find the "Spectron 3+" lenses to be perfect for around here. They keep my eyes from getting snow blindness, they keep me from having to squint, but they let enough light through to put them on at the beginning of a route in the early morning light. This is important because I do not want to be fiddling with my glasses halfway up a 2,000 foot snow couloir. The side shields are excellent! I wear contacts and the shields keep the wind out of my eyes which prevents my lenses from drying out. The shields are also removable, but the mechanism seems flimsy. Another HUGE point is the case. It is streamlined, so you can put it in your pocket if you plan a multi-day climb. It also works! Story: I once went against my instincts and left my glasses off at the beginning of a climb. Halfway up I went to put them on as the sun came up full force. I had the case in my hand when a large rock struck me in the head causing me to drop the case with the glasses in it. I watched the case tumble the 1,500 feet over ice and rocks to the snowfield below. I wrote them off as gone forever. After completing the climb with burnt eyes and the snow looking blood red, I found the case in the snowfield. The entire setup was intact, no damage! Love these things!
OK for the money no frills
For a cheap pair of glacier glasses they get the job done. I think they are much more suited for a larger frame head. I think the design is a little flawed as they lack the proper articulation to fit the curvature of the face. I find on my face there is a lot of light still getting through which is not totally optimal, but I think some of the other Julbo glasses do a much better job with coverage. I find this pair of glasses does not really allow the periphery vision to engage as much as some of the more modern wrap around glasses do. The side shield material is a little tough and not as maleable as I would like and I end up futzing with it more than desirable. The lenses are just ok, but what can you really expect for 45 dollars. I think for the price they can get the job done but no bells and whistles. I personally use these as my back up and they seem to get the job done when in need. If you are looking for a fancy pair of glasses don't even think about it. If you want something simple, inexpensive and adequate then these could work for you.
I took this glasses on my trip to mt. Aconcagua, I used them for 15 days, they are very confortable, they work very fine at hot tempetures (110 Fº) as well as in low tempetures 0º F, I used them on the summit they, they cover pretty well the wind and the hard case helps a lot to throw them in your bagpack
These glasses are really large. They provide good coverage, but you do look like a Sherpa wearing glacier glasses from the old days. They block a lot of light, but aren't polarized. Fit securely with bend earpieces (wrap all the way behind ear) and are lightweight. At the end of the day, I have no reason to take my Oakley Half Jackets off in favor of these.
not the best, but work great for super bright days out in the snow. no need to spend a ton of money if you do not plan on spending extended times on a glacier. great buy for the average snow traveler.
Write your question here... Can I put...
Write your question here...
Can I put prescription lenses in this frame?
Depends on where you go to and what type of vision you have. If you have astigmatism and are near or far sited, then your prescription may not work depending on the severity of your acuity. Different manufacturers may or may not have the capability to do so, so shop around and don't take one no for a final answer.
http://opticus.com/Products/Lenses/index.html
Not fancy or adjustable but worked great for what I needed.
I think Opticus (http://www.opticus.com/) can put Rx lenses in these frames. Call them they are very accommodating!
Thats, Like, Your Opinion Man
I love these glasses. They are great for blue bird days in the snow. The rubber on the ear frames is cheesy but once it comes off it performs just as well. My friends think they are dorky but the are very effective at making me look like a raccoon.