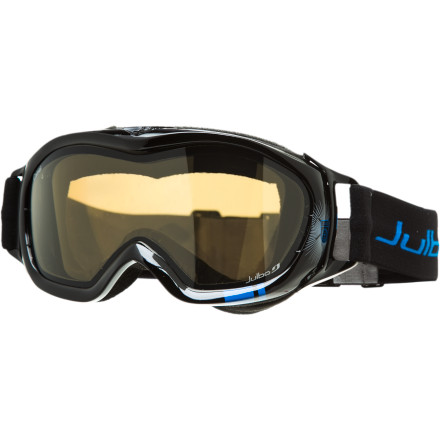 The Julbo Revolution Goggle's Camel Polarized Photochromic lens enhances your vision in any light conditions by automatically adjusting tint and eliminating glare. The Camel lens' brown color also increases contrast while protecting your eyes so you can spot terrain variations more easily.

Photochromic Camel Lens automatically adjusts to changing lighting conditions to optimize your ability to detect variations in terrain
Polarizing filter eliminates blinding glare for optical clarity
Brown lens color shades bright light and increases contrast
Lens covers a wide spectrum of light conditions, from bright sunlight to overcast skies, so you never need to switch lenses
Large frame fits a wide variety of faces (medium to large) and allows for optimal, obstruction-free peripheral vision
Offset strap, articulated headband clip, and pivoting joint on goggle strap for improved helmet compatibility
15mm outrigger extensions on each side of the goggle easily clear the sides of your helmet for a perfect fit
Two loops on the sides of the strap allow for quick, symmetrical adjustment
Silicone strap grips your helmet to prevent slipping
What do you think about this product?
Have questions about this product?
Glen Plake introduces Camel lens