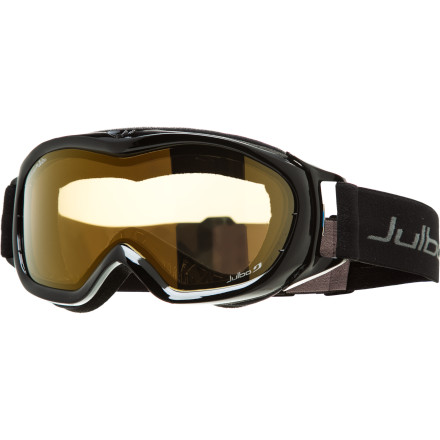 Whether you're a seasoned expert or just learning to make turns, good vision in variable light conditions is a must. With its Zebra Photochromic lens, the Julbo Revolution Goggle has the ability to adapt to changes in the light, ensuring your vision is always at its best. Then consider the anti-fog performance and comfortable anatomic fit, and it becomes clear that this revolution is here to stay.

Photochromic Zebra cylindrical lens adapts to changing light (lens lightens on cloudy mornings and darkens when the sun comes out) for optimized visibility in a wide range of light conditions
Anatomic frame shape comfortably hugs the contours of your face
Anti-fog lens with Air Flow keeps your vision fog free
Soft face foam provides a snug fit and is comfortable against sensitive skin
Extended outrigger on the straps provides complete helmet compatibility
Full silicone strap grips your helmet to eliminate slipping
Easy-clip buckle provides simple on and off
One of my faorite goggles
Familiarity:

I've put it through the wringer
Anti fog, photochromic lens that actually work. My go to goggles from a few pairs. Little smaller frame than I would like but no problems with fogging to date. Love the lens..all day/ every day sun or full on storm. See the picture for the 3" an hour storm. Strap has nice extention piece which is handy for a helmet. Surprisingly..actually worth the $ IMO.
Glen Plake introduces Zebra lens
Julbo Revolution Goggle - Zebra
Very Good, but areas of improvement
Gender:

Male

Familiarity:

I've used it several times
The Photochromic sensitivity and range are really, really good. I purchased these right before my 9 day vacation at Powder Mountain, UT, and had no difficulty with the light. I didn't feel the need to squint at all on blue bird days, and my friends told me that my eyes were pretty difficult to see, since the lens had darkened so much. The photochromic feature was also good during cloudy/snowy days, and while my friends were switching or taking their goggles off for night skiing, mine stayed on, and did pretty well. The lens would not fare well in a direct comparison to 3 different lenses of high quality (bright, cloudy, night), but that's missing the point. These lenses are outstanding for changing weather conditions, and when you don't want to buy 2-3 different pairs of goggles.



The contrast and quality of the lens were pretty good, though not the best I've worn. I thought the quality of the lens and filtering of light was not as good as my iridium lenses from Oakley (my favorite to date). But there wasn't any noticeable lens imperfections such as waviness or spots.



I had two issues with them. First, the lenses seem to scratch very easily. I am all about buying quality, and protecting it as such, so I'm pretty delicate with cleaning and storage. For my Bolle's and Oakleys, it took me at least 15-20 ski days before I started seeing noticeable scratches, but I saw a scratch on the inside (from wiping) of the Julbos on my 2nd day... pretty frustrating. Second, I thought the fit closest to my temples was a bit weird. Hard to describe, but I feel like the pressure between the temple region (higher pressure) and my nose and forehead (lower pressure) was not consistent. This of course could be because I have a gigantic melon for a head.



All in all, I would buy them again, but I would definitely hope they improved the durability of the lenses.


I have a goggle fit issue that weighs heavy...
I have a goggle fit issue that weighs heavy on my mind.

I wear medium size eyeglasses (5-1/2 in hinge to hinge tip, lenses 1-5/8 in high) and am looking for a right size goggle frame.

Hi,

Could anyone, please, measure the width of the face hugging foam ?window? in its widest point on this Julbo goggle? Also, what is the width of this goggle in its widest area EXcluding all the swinging gizmos holding the strap? This will help me figure out it my glasses will fit in. I don't mind having the glasses frame temple arms being pushed in by the foam on both sides.

Thanks


It is a med to small frame..not very suitable for glasses imo.5" foam to foam. Another 3/4 inch of swish there max. 2+ on the height at the lens. They do make a bigger framed version which would work. Try the Julbo Orbiter.
The first time I wore these on the ski...
The first time I wore these on the ski slopes they fogged up on me. Is there something I can do to prevent this?


saliva. also, wear one less base layer and use your pit-zips.
Best Answer
Surprising as they are anti fog. And geenrally work well. For gawd's sake don't spit on them! get a no fog cloth and wipe them down. Make sure your hat/helmet/clothing aren't blocking the top, bottom and side events.
Very Sassy Goggles!
Gender:

Male

Familiarity:

I've used it several times
These goggles are awesome!! They work perfectly and besides their performance expect to get a lot of compliments esp if you are wearing a white/red jacket. They look sick!! They are awesome!! Get the red/white one!