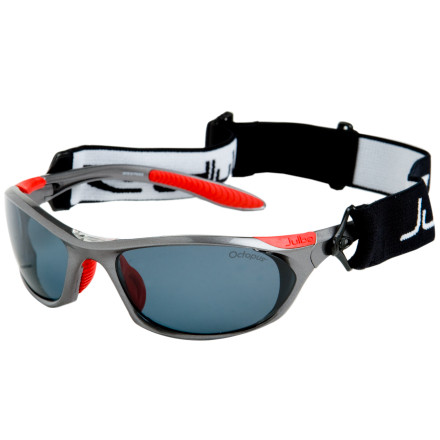 Detail Images

Community Images
The Julbo Race Sunglasses feature Octopus X3-4 Lenses which change tint to provide clear vision in a variety of lighting conditions. While Julbo designed these sunglasses for high-speed pursuits like mountain biking, Alpinist Magazine was so impressed it bestowed the Mountain Standards award to bring the Race to the attention of climbers. Basically, these glasses do just about everything—very well.
Does this have the Parabolic Nose System?...
Does this have the Parabolic Nose System? Thanks.
It doesn't look like they has the Parabolic Nose System, but they've got the Flex Nose pads and SideGripTech temple pads instead.
Julbo Octopus Lens Details
I find conflicting info regarding octopus...
I find conflicting info regarding octopus sunglasses. They are listed as polarized, and are listed as NOT polarized. Tech comments include kudos for their polarized lenses as well as comments to the contrary. SO, ARE THEY or AREN'T THEY POLARIZED???
The Julbo Octopus Lenses are polarized. Check out this link to the Julbo site: http://www.julbousa.com/lenses/octopus/


Big frames or tiny head?
Gender:

Male

Familiarity:

I've used it several times
Picked these up to replace some Natives that were just plain worn out. My second pair of Julbo's. I made this purchase to compliment my mountaineering Julbo glasses. They look stylish enough for town and seem more versatile than my other pair (can't remember the name of them).

Similar to my other pair, these fit just a little bit big for my face. I don't think I have a shrunken Bettlejuice head or anything, but maybe I do. Lens works well in various lighting conditions but are just a little dark when transitioning from full sun to wooded shade. Quality is great, they stay in place well considering they are just slightly too big for my mug. Price is steep; so let's hope they hold up better than my Natives.
Good sunglasses for Arizona
Just got these a month ago and here in AZ it is hot and sunny. They work as expected both in terms of the darkness and good ventilation. I dont think the photochromic works as well as I had hoped for, such as moving into a parking garage for example. They never fog even with hard bike rides.
Lens are really great. They effectively fight water splashes and almost don't fog. I was wearing them when a ran marathon and they behaved nicely. The only problem I had with them: removing elastic band wasn't easy. I even found a special page on Julbo site that explains how to remove the band, but it wasn't easy anyway.
I love this pair if it fits me well; used it once on the foggy SF Twin Peaks for a run. Stayed clear the whole time. I had to return it as the frame put deep indentations on my face. Have to find something that fits my facial structure.
I bought my Julbo's 18 mo ago...loved Everything about them but so did someone else. Stolen along w/bike. When I went shopping for replacement...no cord, just elastic band. No one here in Hood River carries them, and 62 yr-old G'ma would like a deal...
is this misprint lens=polycarbonate , I...
is this misprint lens=polycarbonate , I thought all julbo are NXT polyurethane and thats why they cost so much
yes this is a misprint . The Octopus lens is an NXT lens which is a Polycrabonate Ballistic Material . Anti Fog, Photochromatic and Hydrophobic properties are laser ecthed into the lens.
Julbo Race - Octopus Lens
I use these sunnies for work as a high ropes instructor and they have NEVER fallen off my head while up on the courses. The lens has NEVER fogged up, and I can even wear them in the forest under the thick canopy, they adapt really well.
This year I am doing a Diploma in Outdoor Reacreation and I think they will get a real test then. I bought them for this course, and I know they will do the trick.
I haven't used the strap yet but it looks like it will come handy when I go rafting, and for water sports where I really don't want to lose them.
They didn't come with a cleaning cloth which is a pain, but they're easy enough to get your hands on. The csae is big, but great.
The only bad thing is; I feel that the red rubber on the sides will come out one day. Maybe I'm just too paranoid about my new toy, but it feels a bit flimsy.
Over all; LOVE THEM!!!! And they look good on too.
These glasses blew me away when I removed them from their hard case. Light, crystal clear, and very stylish, these glasses offer a very wide field of view, granting you a great deal of peripheral vision. Also, the polarizing effect is very strong, which I like. My eyes were relaxed all day. I also like the smoke tint as opposed to the amber tint of the zebra lens - The octopus lens keeps color true while adding vibrance and dynamic range. I am overall very pleased with these glasses and will use them for everything from playing squash with the headband on, to ice field research expeditions. Julbo is not a name that people think of first when someone mentions sunglasses, but they definitely are for me.
I do you think this glasses will suit for...
I do you think this glasses will suit for do some monteneering and treking in high altitude in Peru ? Do you know if they are approximatly larger as the nomad ?
These are just a little bigger than the Nomads. They should be great for high altitude and glacier conditions. The lens provide some features you don't necessarily need for your applications (like water repellency and polarization), so you might find better value with some other lenses, but these will certainly do you for everything you mentioned plus more.