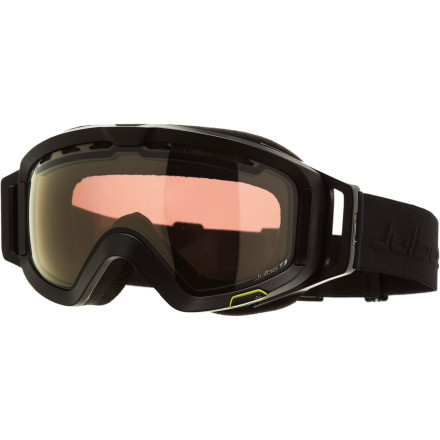 The clean, freeride-inspired lines of the Julbo Orbiter Goggle will probably distract you from the fact that you are looking at one of the most high-tech pieces of eyewear that you will ever hold. Once you put the Orbiter on, though, you'll forget about the style and marvel at near-optical perfection. Julbo gave its Falcon Lens a photochromic coating that goes from dark to light in seconds and a polarizing filter that eliminates glare so you can see clearly in almost any light conditions.
Photochromic Falcon Lens automatically adjusts to changing lighting conditions to optimize your ability to detect variations in terrain
Lens covers a wide spectrum of light conditions–from bright sunlight to overcast skies, so you never need to switch lenses
Spherical lens provides distortion-free peripheral vision
Fast Photochromic response means your lens adapts quickly to changing light conditions
Copper color enhances contrast; permits 9-20% visible light transmission
External oil-repellant coating prevents oily fingerprint marks and aids in the dispersal of water and snow
Internal coating prevents fogging
Large frame fits a wide variety of faces (medium to large) and allows for optimal, obstruction-free peripheral vision
Offset strap, articulated headband clip, and pivoting joint on goggle strap for improved helmet compatibility
15mm outrigger extensions on each side of the goggle easily clear the sides of your helmet for a perfect fit
Two loops on the sides of the strap allow for quick, symmetrical adjustment
Silicone strap grips your helmet to prevent slipping
What do you think about this product?
Have questions about this product?
Glen Plake introduces Falcon lens