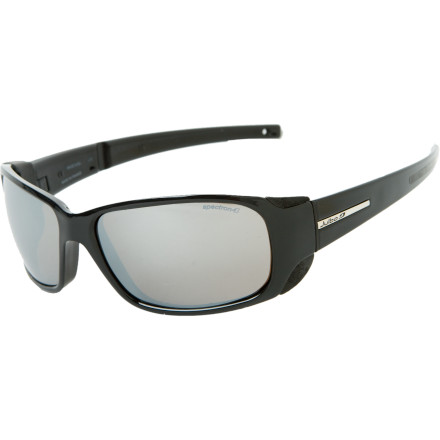 Colors

Detail Images

Community Images
Description
Mountain-loving shades.
With the giant burning orb high in the sky, your skis on your feet, and your Julbo Montebianco Sunglasses blocking out the wicked alpine rays, you're all set to have another unforgettable tour full of perfect powder turns.
All Julbo sunglasses provide 100% protection from UVA, UVB, and UVC radiation
Spectron 4 polycarbonate lens is lightweight and durable to withstand abuse while repelling or skiing
A flash finish coating filters visible light through a slight mirror coating
The lens also features an anti-glare treatment to block out distracting reflections on the snow, water, or rocks
Lens only allows 5% of visible light through, which is ideal for the bright, snow-covered alpine but isn't intended for driving
Curved temple arms, temple grip pads, and an attachable cord secure the Montebianco to your head so you don't drop it over a thousand-foot cliff
Removable side shields protect your peripherals from wind, snow, and dust so you can maintain clear vision while skinning or climbing at high altitude
Hard to beat.
Familiarity:

I've put it through the wringer

Fit:

True to size
Owned a pair of the Montebianco for two years. I wear them all the time on the snow & water where conditions can be extreme, and these Julbos give my eyeballs the relief they need from the brights.

Good fit and excellent lens quality.

Also have a "not funky" looking style unlike many other mountaineering glasses, so if you happen to stumble into the streets or a restaurant wearing them, you won't look outlandish.

Proving durable so far too.

What's not to like?
Great simple glacier glasses
Familiarity:

I've used it several times
I used to use the Julbo Colorado which look goofy, are uncomfortable, and fog up easily. These are way better, essentially a normal sunglasses frame with lenses dark enough for snow travel in the high mountains.



Not much to it. Just works.
Montebiancos are muy buenos
Familiarity:

I've used it several times

Fit:

True to size
These are pretty solid for being on the economical side of glacier glasses. I've worn them for several weeks now and have not been disappointed. The frames may feel plastic, but lenses are quality. The instructions mention you shouldn't drive with them on because of the darkness, but I didn't think they were that dark. They really increase the contrast on snowy days. I don't bother taking the side shields on and off--I just leave them on all the time. I'd recommend them to anyone looking for an inexpensive pair.
Great lenses
Gender:

Male

Familiarity:

I've used it several times
I used these on a Mt Shuksan mountaineering trip recently. They delivered what I was looking for, great eye protection. I had some fogging issues that were solvable by removing the side shields or just moving the glasses slightly. My only issue is that I wasn't able to ever quite get the fit just right, but each tweak made it a bit better. The fit issues I struggled with were a tendency to slip off my face and a bit of a hotspot above my right ear.I suspect these may work a bit better with a wider face. However, I couldn't have been happier with the sun protection and clarity.
Does anyone have a problem with the lenses...
Does anyone have a problem with the lenses fogging up? I've used mine a couple of time and they fog up as soon as I start moving.
I had some similar issues. If I just moved them a little bit away from my face enough air entered to clear the fog up. If I was working really hard, removing the side shields did the trick.
Best Sun coverage, u buy now!
Just read Rob Wykoff's review, he's backcountry.com's foremost expert on sunglasses.

These things fit so perfect they feel like they snap into my head and cover my eye from every angle from the sun (they are dark!)...

...and everyone that wears them at bc.com (6 people I know of) all say the same thing, u buy now!
I've had these glasses for over a year now and wear them when climbing in the WA Cascades. These glasses block sunlight and light reflection off of snow very effectively. My only complaint is that after several hours the arms of the glasses start to dig into my head just above the ears. So far its only been a minor annoyance.
Which Julbo high altitude glasses are good...
Which Julbo high altitude glasses are good for small faces?
The nomad fits almost everyone... I have worn them and i have a large face but if you take the side shields off my girlfriend can wear them no problem.
These will fit pretty big due to the tall lenses
Awesome glass, but Rx beware!!!
I got these glasses intending to add some prescription lenses to them. Mind you, I live in a rather urban area of northern Los Angeles, and finding a place that digitally cuts the lens was almost impossible. After I was able to find a place to do it, it was going to be over $500 not including the cost of the frames. There were extra costs added in for scratch resistance, polarization, and snow mirroring, but come! On to the glasses… They are awesome! They fit my large face really well, and are extremely light and comfortable. I recommend them to anyone with a medium sized face and above. My wife has a rather small face, and they fit her, they just look a little over the top big on her face. Julbo makes some awesome French made glasses, and their customer service is top notch. I called to order a strap for these glasses, and they sent it to me free of charge! That's really rare these days.

Please note that I wear these glasses for mountaineering, backpacking, and snowshoeing. I also have them on whenever I decide to wear my contacts. They fit great, are made extremely well, and look damn good!!!
Julbo Montebianco - Highly Recommended
Just got back from testing the Julbo Montebianco Sunglasses in the Sierras. With base camp set on Peaklet, we spent three days skiing and exploring the zones around Mt. Humphrey's and Mt. Locke. Being sunny spring in the Sierras, my new Montebianco glasses with the Polarized Spectron 4 lens were put to the test straight away. From skinning and booting during the day to recouping at base camp in the afternoons, my new Julbos delivered exactly what I had hoped they would: unparallelled protection from the powerful spring sun, a comfortable and customizable fit (the arms are pliable allowing you to mold them for just the right fit), and crystal-clear optics. The removable side shields are great - on the longer/harder climbs, I popped them off and stashed them in my pocket to let my face breathe and to make sure perspiration did not get trapped inside. Highly recommended.
The sun is no match for these sunglasses! If you are on Snow or Water and need some serious sun protection these are great. They are Super Dark, not for evening driving or indoor use so if your buying these for late night clubin' they may not be for you. If you spend lots of time outside, get some!! you will love them!