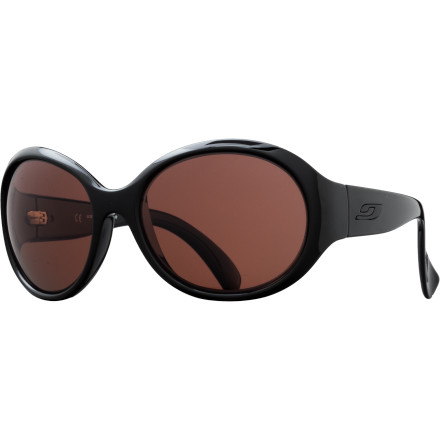 Julbo Marquises Sunglasses - Women's - Falcon Polarized Photochromic Lens
View Larger Image
Videos

Community Images
You may be not be jet-setting royalty but you can certainly look the part when you step out in the Julbo Women's Marquises Sunglasses with Falcon Polarized Photochromic Lens. And because wearing your ultra-stylish sunglasses at all times is vital to maintaining your absolute fabulousness, Julbo outfitted the Marquises with the advanced Falcon lenses that rapidly adjust to your surroundings to offer ideal vision in at different light levels. Because you certainly wouldn't want to stumble over unseen obstacles or trip on stairs when you step indoors on a sunny day―that would completely shatter your carefully cultivated image.
Photochromic Falcon lenses automatically adapt to changes in light levels, offering 9-20% visible light transmission depending on conditions
Lenses' Behind the Windshield technology makes them get darker when you're in the car, so they're particularly suitable for driving
Polarization eliminates horizontal glare from things like water, the hood of your vehicle, and the road
Copper color of lenses accentuates contrasts for more comfortable vision
Anti-reflective coating reduces strain on the eye by removing interference glare
Oil-resistant coating makes it harder to leave fingerprints on your lenses
Base 8 curvature offers a wraparound fit for great peripheral vision and protection
What do you think about this product?
Have questions about this product?
Julbo Falcon Lens Details
Julbo Marquises Sunglasses